A320NEO
Yesterday Airbus' A321neo with the GTF took to the skies. This is the most complex flight test program underway at present. Each of the neo aircraft has to test both engine types. The table below provides an idea of where the program was as of yesterday. Continue reading →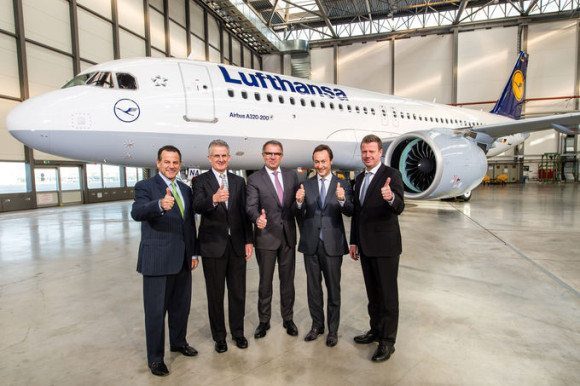 Lufthansa Group, Airbus' largest airline customer and operator, marked a step in aviation history today by taking delivery of the first A320neo. From left to right: David Hess, EVP and Chief Customer Officer, Aerospace, United Technologies – Robert Leduc, Pratt & Whitney President – Carsten Spohr, Chairman of the Executive Board and CEO of Deutsche Lufthansa AG. – Fabrice Brégier, Airbus President and CEO – Klaus Roewe, Airbus Senior Vice President, Head of A320 Family Programme.
This is a big step for Airbus as it delivers the first of the next generation single aisle aircraft. Boeing's MAX is likely to have its first flight soon and Bombardier's first C Series goes to its launch customer in the 2Q16 (SWISS, also to a Lufthansa airline). Kudos to Airbus for starting after Bombardier, and delivering earlier.
[UPDATED with Lufthansa information]
The first Lufthansa Airbus A320neo (registration D-AINA (MSN 6801)) is expected to… Continue reading →
Airbus announced their 2016 pricing and they added a 1.1% increase across the line. So what does this look like? After all, no customer pays retail.
Since each customer deal will see prices vary by many factors, we will stick to the retail prices to illustrate our points. Let's start with single aisle aircraft pricing since 2010. Continue reading →
First it was Qatar. Now its IndiGo. Airbus has been doing a great job moving its neo program along. The program's sales are substantially ahead of the competing 737 MAX. Everything looked so good until mid-December.
IndiGo's reaction to the delay is not exactly positive. And they have 250 on order, so this is not a customer anyone would like to annoy.
Moreover its not just the neo that is now running late. The A350 program is also behind scheduled deliveries. That program has seen slow deliveries this year – hopes are much higher for 2016.
Airbus' CEO pointed to a "cabin equipment supplier" issue on the A350. They have not yet pointed any fingers for the neo program ("industrial reasons"). And there's little point in doing so.
Airbus has aggressively grown its market share in orders by effectively marketing the neo. It also missed a market beat by… Continue reading →
Airbus announced that its A320neo, powered by Pratt & Whitney PurePower® engines, has received joint Type Certification from the Federal Aviation Administration (FAA) and from the European Aviation Safety Agency (EASA).
"Today's announcement marks a significant milestone for the Airbus and Pratt & Whitney team," said Greg Gernhardt, president, Pratt & Whitney Commercial Engines. "We initiated our partnership on the A320neo in December 2010 with the goal of helping our mutual airline customers continuously improve aircraft performance and operating economics. Pratt & Whitney is proud that the PurePower engine is the launch engine on the A320neo and will contribute to more than 16 percent fuel burn savings when airlines enter into service. We continue to work closely together to support aircraft deliveries to customers as they embark on a new age in aviation."
Airbus announced Pratt & Whitney's award-winning PurePower Geared Turbofan™ engine as an engine option for its A320neo… Continue reading →