airports
The Hong Kong government announced that the new system of air traffic control will not operate until it is shown that it is safe and reliable. At the center of the dispute, the existing radar system would have to be withdrawn in December 2012 due to "lack of capacity and limited functionality", but air traffic controllers continue to use it.
Experts and insiders believe the new system unreliable. During a test run last year, controllers lost the monitoring of aircraft for 10 seconds. Subsequent tests in July showed a "catastrophic failure" of the system as it did not respond to the test by inspectors. The Housing and Transport Bureau brought in a consultant from overseas to advise on the safety and reliability of the system before it can become operational.
British National Air Traffic Services is thought to be a leading contender for the role because of their previous relationship… Continue reading →
In unusual news, the airline based in the Cape Verde Islands (TACV) started year round service to the United States and uses Providence, RI as its gateway.
The 757 used by the airline can reach gateways with far better market potential. Take a look at the chart for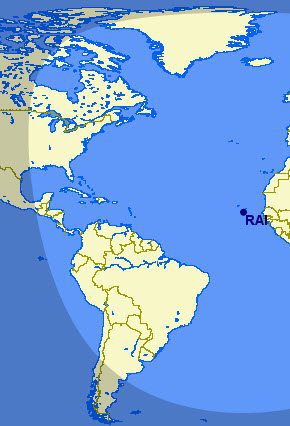 a 4,000NM range from RAI, the airport code for Praia. Even if the 757 wasn't going to use its full range, there are many other cities that would seem to have better potential.
But apparently there is a Cape Verdean community of sufficient magnitude to justify the route. Besides a new route always creates its own economic momentum.
For those living within easy reach of PVD, it might be of interest to know that Cape Verde offers some of the most pristine beaches in the world. In the "old days" when South African Airways used to refuel on SAL… Continue reading →
This morning the FAA reported that it had "restored full air-traffic operations at the high-altitude facility in suburban Aurora, Ill." See here for more details on what was done.
Well can we see this in the data? Not yet is the short answer. Though cancellation rates at ORD and MDW have returned to normal (yesterday, ORD had only 27 flight cancellations including for maintenance and crew-related issues and MDW had none), on-time performance still lags. The following charts are from masFlight, with whom we collaborated to see how much recovery has in fact occurred. There is no doubt that the system is much better now than it was. But it is not back to where it was yet. Tomorrow we will be able to see how today turns out.
First let's look at departures. The FAA says flights departing within 15 minutes of schedule time are "on-time". The dotted… Continue reading →
I had the unfortunate experience today of having a flight canceled due to weather. It happens, as its winter and I live in the north. But the impending cancellation was quite clear to anyone who watched a weather forecast that projected 8-12 inches of snow, high winds and low visibility that would be peaking at about the time of the flight.
Yes, I am a pilot and understand aviation weather more than most customers, but so do the airlines. Yet somehow, my flight wasn't formally canceled until well after the snow started to fall, about an hour before departure, when it became absolutely clear that even if the flight could make the airport, passengers likely couldn't without undue risk. Why wait until the last possible moment to cancel a flight?
So what? I could have easily made an earlier flight, which left early morning with unused and empty seats,… Continue reading →
Air travel is becoming more stressful in the US – fuller flights than ever and airline consolidation virtually assures things are not going to get better for travelers. Indeed the economic laws of oligopoly teaches us that non price competition is where we are headed. Typically, in a highly competitive environment, low costs are the differentiator in a commodity market, but in an oligopoly, prices remain artificially high and costs matter less. The chances of this meaning anything positive for a traveler is really low. Continue reading →