UPDATE DLR – Initial findings of test flights of an Airbus A350-900 using pure sustainable aviation fuels (SAFs) show that the unblended fuel produces fewer particulates and improves fuel efficiency. As such, 100 percent SAFs seem to confirm claims that they reduce the impact of aircraft emissions on the climate. The findings were mentioned in a press release from Airbus, Neste, DLR, and Rolls-Royce. In a separate announcement, Embraer and Pratt & Whitney will also test pure SAFs. Tests confirm pure SAF reduces aircraft emissions.
The four companies plus the National Research Council of Canada and the University of Manchester work together in a research program called ECLIF3, which stands for 'Emissions, Contrails, and Climate Impact from Alternative Fuels'. The program was started early this year and runs into late 2022 or early 2023 to demonstrate the effects of using 100 percent SAF made through different processes.
In the past months, airframers, engine makers, and airlines have been consistently pushing regulators to speed up the approval of pure SAFs, as they are seen as a key ingredient to making aviation carbon neutral. For safety reasons, current rules allow blends of only up to fifty percent SAF. While electric, hybrid-electric, and hydrogen might solve the emission problems on short to medium-haul flights, pure SAFs and synthetic fuels are seen by many as the only option to continue long-haul flights while at the same time reducing emissions by up to eighty percent. Earlier this year, Airbus and Boeing announced new initiatives to increase the production of SAF. Currently, only 0.1 percent of all fuel used by commercial aviation is SAF.
Follow the A350
As part of the roadmap towards certification of 100 percent SAFs, ECLIF3 is looking at the actual emissions from aircraft using this unblended fuel. For the program, Airbus provided its A350-900 FlightLab testbed registered F-WXWB, powered by two Rolls-Royce XWB-84 engines. Fuel supplier Neste provided SAF from hydra-processed esters and fatty acids (HEFA).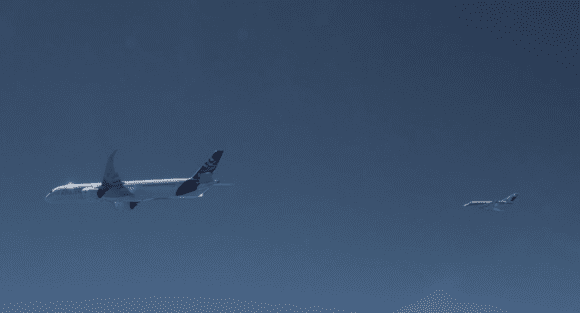 The Falcon 20E trails the A350 some 100 meters behind to collect emission samples from both engines. (Airbus)
During the tests, emissions from both XWB engines using the HEFA fuel were compared to those of conventional kerosene. Data were collected by probes on the trailing aircraft at 100 meters distance, a Dassault Falcon 20E from the German Aerospace Center (DLR) based at Oberpfaffenhofen near Munich.
DLR data show that tests were done on April 10, 14, and 16, with the Falcon meeting the A350 each time off the coast near Monaco. On April 10 and 16, the test flights followed a pattern along the French coast while on April 14 they flew South to stay West of Corsica. Each flight took some three hours.
A DLR spokesperson says that the first two flights were done with pure SAF in one engine, but on the third flight, it was used on both engines.
Initial findings look promising
On the initial findings, the Airbus press statement says:
"The research team found SAF releases fewer (soot) particulates than conventional kerosene at all tested engine operating conditions, which points to the potential for reduced climate impact and improvement in air quality around airports."
"In addition, SAF has lower density but higher energy content per kilogram of fuel compared to conventional kerosene, which brings some aircraft fuel-efficiency advantages due to lower fuel burn and less fuel mass to board to achieve the same mission. Detailed analysis by the team is ongoing."
DLR adds: "Data evaluation is ongoing, but the data look promising. We found a significant reduction in soot particles for 100 percent HEFA. NOX and CO2 are trace gases, not particles." That the tests confirm that pure SAF reduces aircraft emissions and especially that of carbon particulates is crucial, as they are responsible for the formation of contrails that contribute to climate change.
A second series of ECLIF3 tests has resumed in November, testing both 100 percent SAF and a blend of HEFA and Jet-A1 fuel. Ground tests are also part of the program to quantify the effect of SAF on air quality. "The three flights in April were test measurements. In November, we performed a complete campaign which aimed at measuring and quantifying the emissions and the ice crystal number in contrails arising from burning 100 percent HEFA Biofuel or Jet-A1 respectively at different engine thrust settings and at different flight altitudes of the A350", the DLR spokesperson adds.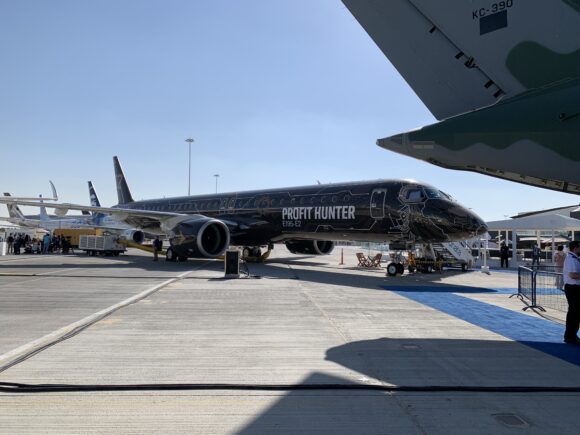 Embraer and P&W join forces on SAF research
On November 30, Pratt & Whitney announced that it has signed an MoU with Embraer to test pure SAF on an E195-E2 powered with P&W Geared Turbofan engines. The two companies will formulate a plan for ground and flight tests but haven't specified a schedule for this. Both Embraer and P&W have expressed their intention to work on reducing carbon emissions. Embraer recently unveiled its Energia sustainability concepts for electric, hybrid-electric, hydrogen, and SAF for small aircraft, but sustainable aviation fuels will also be key elements in reducing emissions on the current E2-jets and the future turboprop. 
"Pratt & Whitney has been active in SAF testing and certification for almost two decades. We will strategically continue to support 100 percent SAF flight tests for key customers that expand SAF uptake, including partnering with Embraer to test the E-Jets E2 aircraft on 100% SAF as part of their 2050 net-zero emissions target," said Graham Webb, Chief Sustainability Officer at Pratt & Whitney, said in a media statement.
"We are committed to continually enhancing the efficiency and performance of our products, and by further extending their compatibility with SAF, we will enable our customers to operate as sustainably as possible," said Arjan Meijer, President, and CEO, Embraer Commercial Aviation.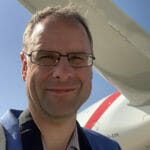 Active as a journalist since 1987, with a background in newspapers, magazines, and a regional news station, Richard has been covering commercial aviation on a freelance basis since late 2016.
Richard is contributing to AirInsight since December 2018. He also writes for Airliner World, Aviation News, Piloot & Vliegtuig, and Luchtvaartnieuws Magazine. Twitter: @rschuur_aero.