In the US market, which is by far the largest for in-flight WiFi, there is a looming battle between traditional market leader Gogo and upcoming ViaSat.  Gogo has the largest footprint with "10 airline partners, 6,000+ connected aircraft, 67 STCs obtained, 55+ million inflight internet sessions to date." By contrast, ViaSat offers a "high-capacity Ka-band network hosting in-flight broadband for commercial airlines, with JetBlue and United as inaugural customers".
Gogo pioneered the business of in-flight connectivity, starting with an air to ground solution (ATG).  More recently they have developed a Ku solution they call 2Ku.  Gogo argues that its solution uses a much larger network of Ku satellites to enable passengers and airlines to exploit high speed data links.  Man of Gogo's airline clients want to offer and exploit connectivity over water away from the US mainland, where the ATG system works.  The ATG system does not offer the bandwidth of a satellite solution.  So Gogo wants to transition as many aircraft to the 2Ku standard.
The challenge is that ViaSat has a very disruptive business model.  As they explained to us, they do not want to charge passengers for connectivity.  "What do you pay for a Coke now? Nothing. You should pay the same for connectivity."  There is a fee paid by the airline of course.  But, ViaSat offers much more bandwidth because it uses Ka.  They believe they have so much bandwidth passengers will never experience what they do now with Gogo's ATM.  Moreover, ViaSat says they easily trump any Ku option.
Which brings us to the recent spat between Gogo and American Airlines.  Clearly it looks like American could be swayed by the ViaSat proposition.  Here is a more detailed background story.  When the American Airlines vs. Gogo story first broke, Gogo's stock price dropped sharply.  It has recovered, but the threat from Ka is clearly understood by the market.  Ka is apparently a better technology that has been developed to focus a beam on a moving target.  Ku was developed for static beams and is best used for TV signals.  This is the explanation given to us by Inmarsat, a market leader in satellite networks.
Gogo is going to fight to keep American.  Meanwhile ViaSat will likely grow its market share.  JetBlue and United clearly are not unhappy with their connectivity. The JetBlue situation is especially compelling.  Gizmodo ranked JetBlue's solution the industry's fastest and its free.
But, don't think Gogo hasn't thought this through.  Here's their response to the question about competing with the ViaSat model: "We offer our airline partners different models to choose from that fall into to two basic categories – retail or airline directed. 
Retail basically means turnkey for the airline.  We set the pricing and offer a revenue share back to the airline.
Airline directed is more wholesale where the airline charges what they want (including choosing not to charge passengers) and they pay Gogo for the data consumption.
We believe in giving our airline partners choice.  Sure, it's compelling to say it will be free, but to Gogo it's a decision that will be made on an airline to airline basis.  For example, you ever get a free Coke on Spirit Airlines?  Take baggage fees as another  example.  Most charge something for checked bags, some don't.

In sum, we are building flexibility for our airline partners to do what they want to do with the service.  One thing is for sure, though, there is no such thing as free Wi-Fi.  Whether the airline pays for it, passengers pay for it or a third party sponsor pays for it, someone ultimately has to pay for it."
So the story continues.  Microwave Journal offered this analysis. The winner here is the traveler because competition is only going to improve the bandwidth.  And, ultimately, its bandwidth that's worth paying for.  If you can get real high speed Wi-Fi in-flight, with stability like you experience on the ground, that is worth something.  It doesn't matter who's paying for it. Travelers don't care if its a Ku or Ka signal.  Just make it fast and stable.  That said, let the technology battle continue because it will drive improvements that would not exist absent competition.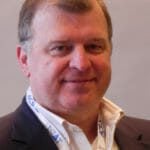 Co-Founder AirInsight. My previous life includes stints at Shell South Africa, CIC Research, and PA Consulting. Got bitten by the aviation bug and ended up an Avgeek. Then the data bug got me, making me a curious Avgeek seeking data-driven logic. Also, I appreciate conversations with smart people from whom I learn so much. Summary: I am very fortunate to work with and converse with great people.