Turkish Airlines produced a second-quarter operating profit, but after-tax a loss of $62 million has remained. The airline especially benefitted from higher revenues from its cargo operations, it reported on August 10. Turkish' delight over Q2 operating profit.
The $62 million loss compares to $-327 million for the same period of 2020. The operating result was $159 million positive versus $140 million negative last year. Profit from main operations was $114 million. Q2 revenues were $2.176 billion versus $901 million last year.
Whereas passenger revenues dropped by 57 percent to $1.159 billion compared to 2019 levels, Turkish Cargo almost equaled this result as it produced $941 million in revenues, up 45 percent from last year. Cargo had 26 full freighters at its disposal plus a number of modified passenger aircraft. In the first quarter, Turkish reported a $61 million profit.
Turkish says that "thanks to the lower cost base and wide flight network, the Group realized a faster recovery than its competitors in financial and operational results; especially due to faster recovery in ethnic and opportunistic leisure passenger segments."
HY1 loss of $1.0 million
For HY1, a minimal loss of $1.0 million remained compared to $-654 million between January and June 2020. The operating result showed a $146 million profit versus a $442 million loss. Profit from main operations was $73 million. Total revenues were $3.972 billion versus $3.434 billion. The airline carried 14.6 million passengers, of which 7.7 million were on the international network.
Turkish reduced its personnel costs by $375 million in HY1, thanks to pay agreements with unions but also to the devaluation of the lira against other currencies. The agreement will extend until the end of the year and so will benefit the airline in the coming months. Other savings include passenger services and catering.
Capital expenditures on the fleet have been reduced as Turkish has canceled orders for ten Boeing MAX 8s, with deliveries of thirteen aircraft deferred. It has until the end of December to decide what to do with forty options. The restructuring of its commitment will have a 'very positive' result on Capex between 2021 and 2028.
During HY2, Turkish plans to take delivery of six MAX 8s, three MAX 9s, three more Boeing 787-9s, one A321neo, but also of one A319ceo, while it will dispose of four A330s, two A320ceo's, two A321ceo's, and one 737-800. It will also wet-leases on six cargo aircraft.
The carrier expects that Q2 has been a turning point and that it will remain cash flow positive for the rest of the year. Cargo revenues are expected to grow as well as the airline considers adding more modified passenger aircraft to the cargo network. It plans to bring capacity back to 75-80 percent in the current third quarter, up from 56 in Q2. Its network includes 331 destinations in 127 countries.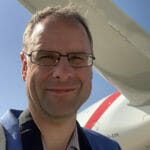 Active as a journalist since 1987, with a background in newspapers, magazines, and a regional news station, Richard has been covering commercial aviation on a freelance basis since late 2016.
Richard is contributing to AirInsight since December 2018. He also writes for Airliner World, Aviation News, Piloot & Vliegtuig, and Luchtvaartnieuws Magazine. Twitter: @rschuur_aero.