Uganda Airlines is planning to launch long-haul services to Europe, the Middle East, and the Far East later in 2022. Longer-term, the airline is looking at services to India and even China, it confirms to AirInsight. Uganda Airlines plans more long-haul services this year.
During a presentation of the Ugandan Ministry of Works and Transport on January 20, it outlined some of the airline's plans. A spokesperson of Uganda Airlines confirms these plans are correct. "We have plans to expand our international network, which started with flight operations to Dubai. We plan to expand to Europe, the Middle East (Saudi Arabia), and the Far East. Feasibility studies are still ongoing for our prospective routes that include UK, India, and China among others."
Uganda Airlines also confirms reports in Ugandan media that it is in discussions with the Civil Aviation Authority (CAA) in the UK and Europe's EASA about the conditions for starting services to Europe. "It is true, we currently working with UK CAA, to concretize on our London flight operations. It is in the same spirit that we had earlier started talks with EASA, then Brexit happened."
The carrier said in early 2021 that it had secured slots at London Heathrow for direct services to and from Entebbe, but is hasn't been able to use them as Covid travel restrictions in both the UK and Uganda prevented the airline from launching services. Another reason was that the Uganda Civil Aviation Authority failed to clear the airline for long-haul services.
Eventually, the carrier received approval, but instead of London operated its first long-haul service with its Airbus A330-800 to Johannesburg in May. It added Dubai to the network in October but had to stop operating the service from December 28 following a directive from the UAE government. Uganda is one of the African countries that have flights suspended after rising Covid cases.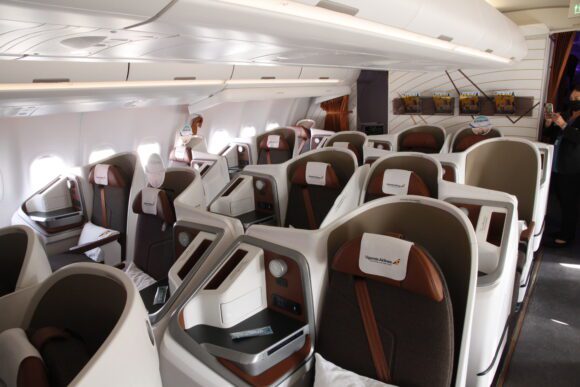 Business Class onboard the Uganda Airlines Airbus A330-800. (Richard Schuurman)
Uganda Airlines says it still has its Heathrow slots and is ready to start London services, but this depends on the approval from the regulators. The carrier is also looking at expanding its network within Africa to Goma and Kisangani in Congo, and Lagos in Nigeria. Another topic on its list is connecting to more partner airlines. Emirates is currently is the most prominent partner, besides Hahn Air and APG Airlines. The partnership with Emirates includes a codeshare agreement. Uganda is in the process of completing two interline agreements with Emirates and Qatar Airways. 
Uganda Airlines was formed in 2018
Uganda Airlines was formed in 2018 as the successor to Air Uganda, which suspended operations in 2014 after its Air Operator certificate was revoked. For domestic and regional operations, it used four Bombardier CRJ900s. The long-haul fleet consists of two Airbus A330-800s, which were ordered during the 2018 Farnborough Airshow. The first arrived in December 2020 and the second in January 2021. Only last August, the carrier received approval from the Ugandan authorities to operate the A330. One of the aircraft has been parked for almost a year. The A330-800 was on static display during last November's Dubai Airshow. It has 20 Business Class, 28 Premium Economy, and 213 Economy seats.
The airline has been successful on routes to Bujumbura, Juba, and Mogadishu, hitting load factors of seventy percent, according to the Ministry of Work and Transport. Since September, it has also been operating cargo flights. Due to the effects of the Covid crisis, revenues have been lagging behind at just 34 percent of the 64.5 percent that was planned for the first half-year of FY21/22.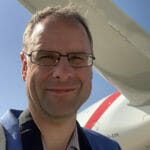 Active as a journalist since 1987, with a background in newspapers, magazines, and a regional news station, Richard has been covering commercial aviation on a freelance basis since late 2016.
Richard is contributing to AirInsight since December 2018. He also writes for Airliner World, Aviation News, Piloot & Vliegtuig, and Luchtvaartnieuws Magazine. Twitter: @rschuur_aero.