Wizz Air is likely to incur over a half billion loss for its full financial year 2022 as it expects the current fourth quarter to suffer an even higher loss than in Q3. The ultra-low-cost from Central Eastern Europe reported a €213.6 million operating loss for the October-December period, it reported on January 26, blaming it on a combination of travel restrictions and costs related to the ramp-up of capacity. Wizz Air's losses grow thanks to Omicron.
With Omicron impacting bookings in the current fourth quarter (notably January and February), Wizz Air expects the Q4 loss to be higher than the €213.6 million in Q3. With a €334.9 million nine months loss so far that includes the Q2 loss announced in November, this will likely push the result to over €-500 to €-600 million, depending on how long it takes for bookings to recover. Yet, Wizz CEO Joszef Varadi is upbeat about the continued recovery this spring and a near-full recovery for the summer season.
The €213.6 million operating loss compares to €141.9 million for the same period in FY21. The net loss was even €267.5 million versus €116.4 million. The ULCC earned €408.4 million in revenues, up from €149.9 million. At 7.8 million, the number of passengers carried increased by over 243 percent. The load factor was 77.1 percent, up from 63.4 last year. Revenues per passenger decreased to €52.35 from €66.07 last year, with ancillary revenues also down by 12.4 percent to €35.95 per passenger.
Whereas unit fuel costs increased by 22.9 percent to €1.24 per available seat kilometer, costs excluding fuel (CASK) were 41.5 percent lower to €2.67. Staff costs were up by 85.7 percent in Q3 as the carrier continued to ramp up capacity and hire 1.500 new employees. It should have a workforce of 6.700 this summer. The carrier says it is on track to return to 2019 cost levels this spring as it benefits from 25 percent capacity that was unused in Q3. Wizz has €1.4 billion in liquidity, down from €1.67 at the end of September.
London Gatwick base to grow
Wizz Air continues to build its network and bases. The most important is London Gatwick, where Wizz Air UK secured former Norwegian slots. It will base another four aircraft to bring the total to five. Although some Norwegian slots are at unfavorable times, Varadi says that bringing in inbound flights from Wizz Air Hungary should make Gatwick operations attractive. It will open new bases in Cardiff and Doncaster/Sheffield as well. Rome Fiumicino will get a fifth aircraft. Aircraft numbers at other bases in Europe are unchanged to that announced in November.
The carrier will base seven aircraft in Kyiv (Ukraine) instead of the eight reported in November. Ukraine is a very strong market and continues to be so even during the current military and political tensions. If these would escalate, Wizz is able to quickly move capacity and based crew from Kyiv to elsewhere, but will also return as quickly as possible if the situation normalizes.
Wizz Air Abu Dhabi will double its fleet from the current four to eight aircraft from October as it expands its network into the Gulf region and Central Asia. The carrier celebrated its first year in service on January 15 and has announced new routes to Krasnodar (Russia), Yerevan (Armenia), and Nur-Sultan (Kazakhstan) from next month.

Wizz Air plans to grow its fleet from 179 this year to 383 in 2027. (Wizz Air)
New order needs confirmation
The airline will have a fleet of 170 aircraft this summer. It took delivery of eight Airbus A321neo's in Q3 and returned two A320ceo's to the lessor. The agreement for 75 A321neo's and 27 A321XLRs announced in November at the Dubai Airshow still needs approval from its shareholders during a meeting in February, just as the right to acquire fifteen extra aircraft. The purchase rights on another 75 A321neo's need to be confirmed to firm orders no later than December. Including the Dubai order, Wizz Air has 34 A320neo's, 248 A321neo's, and 47 A321XLRs on the backlog. This excludes the fifteen aircraft and purchase rights. Fleet renewal will bring structural cost benefits as well as improve its carbon footprint.
Although Wizz Air's losses grow thanks to Omircon, Varadi is optimistic for the next financial year. "We are coming out of Covid as a structural winner", said Varadi. "FY23 should be a good profitable year." He isn't worried too much about the effects of inflation on the appetite for travel. He sees a surge in demand and expects lots of offers from travel companies that will keep people flying, although there might be an over-capacity.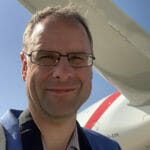 Active as a journalist since 1987, with a background in newspapers, magazines, and a regional news station, Richard has been covering commercial aviation on a freelance basis since late 2016.
Richard is contributing to AirInsight since December 2018. He also writes for Airliner World, Aviation News, Piloot & Vliegtuig, and Luchtvaartnieuws Magazine. Twitter: @rschuur_aero.