In the US we have seen that airline consolidation has generated a much more robust and profitable industry – which is great for employees, stockholders, and management.   But less good has come the way of the paying traveler.
The first thing travelers are likely to be thinking about is airfares. However, the average US domestic airfare decreased to $344 in the third quarter of 2016, down 8.8% from $377 in the third quarter of 2015, adjusted for inflation as reported by the U.S. Department of Transportation's Bureau of Transportation Statistics. Helped, of course, by lower oil prices during that time.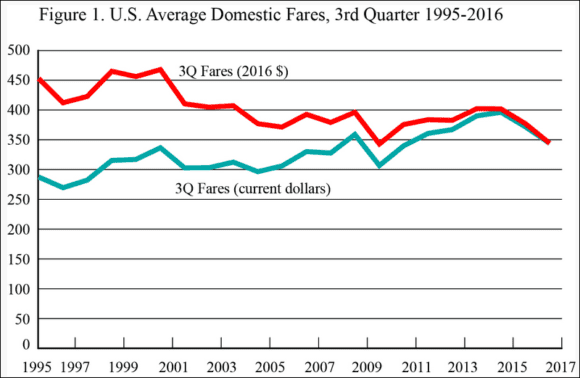 So we are paying less in real terms.   Based on the data we have, it seems the change fees and bag fees, on average, add about 3% to the typical fare.  While these fees have generated extra dollars for airlines, the overall impact has not driven up effective ticket prices by as much as we might have expected.
How about system efficiency?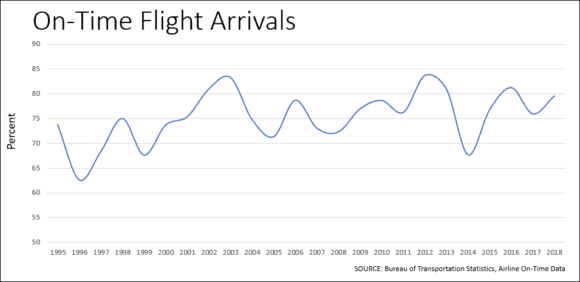 The industry has slowly improved its on-time performance too, but it is quite variable.
So how about the softer stuff – like the mythical comfort?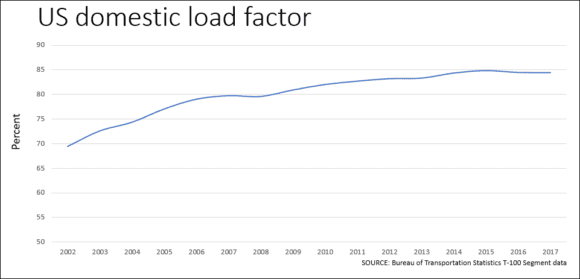 As we can see this has most certainly gotten worse.  What does this suggest? Consider that between 2000 and 2017, on average 88% of the US domestic airline fleet was single-aisle aircraft. This next chart says a lot about the implication of the previous item.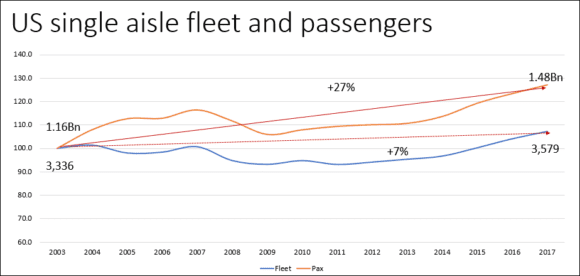 US domestic traffic grew by 27% between 2003 and 2017 while the single-aisle fleet grew by 7%.   This gives a better sense of what that load factor issue looks like. While we may be paying less for that fare, we are also getting less by way of "comfort" because flights are much fuller.
But there's more to it than fuller flights.  In 2014 USAToday published this story.  Airlines have been adding more seats to the aircraft.  So while load factor looks high, it felt much tighter in 2017 because there are more seats.  For example, Southwest' 737-700s have gone from 137 seats to 143.  American, Delta, and United tightened the pitch in the back, and charges a premium for the old pitch now euphemistically called "Main cabin extra", "Comfort +" and "Economy comfort", respectively.
This provides a new perspective on the concept of airlines "average "profit per passenger" of the seven largest U.S. airlines was $17.75 — for just a one-way flight — and the average profit margin across those seven airlines was 9% in 2017". Maybe, but those airlines are carrying a lot more people per flight.  Along with the bag fees, seat fees, and other ancillaries, how else to explain the industry's sharp rise in profitability? Lower fuel price helped of course. But consolidation along with less price competition and more squeezed travelers are surely key drivers.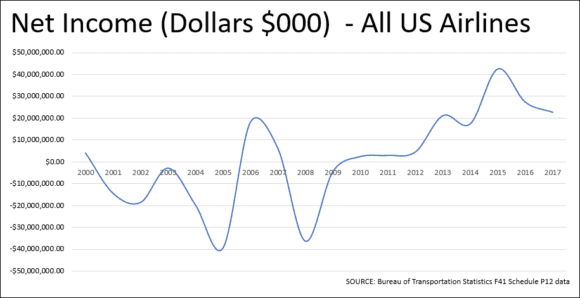 The bottom line
Don't get fooled by the average fare dropping over time.  US airlines have managed to give a little on price but taken away more in terms of "comfort" and increase revenue from "fees".  Less costs more.
Perhaps the worst element is the absence of new entrants to keep the oligopoly competitive. (Overnight we lost another brand, Virgin America) Consumers need competition to keep the industry working to attract their business.  The industry also needs more competition to keep it at the peak of its game.  Consolidation has been a panacea for the industry and its stakeholders. But not for consumers.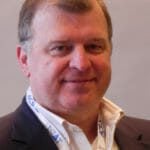 Co-Founder AirInsight. My previous life includes stints at Shell South Africa, CIC Research, and PA Consulting. Got bitten by the aviation bug and ended up an Avgeek. Then the data bug got me, making me a curious Avgeek seeking data-driven logic. Also, I appreciate conversations with smart people from whom I learn so much. Summary: I am very fortunate to work with and converse with great people.