Update – US airlines have pledged to increase the number of sustainable aviation fuels (SAFs) to three billion gallons (11.6 million liters) in 2030. Airlines for America (A4A) announced the revised commitment on September 9, when a number of US airlines presented their sustainability plans during a White House round table. US airlines commit to 50 percent more SAFs.
A4A's members committed themselves to two billion gallons in 2030 only last March, but have now upped their targets by fifty percent. "A4A member carriers have embraced the need to take even bolder, more significant steps to address the climate crisis", said A4A President and CEO Nicholas E. Calio.
To meet the new target, the airline industry needs the support of the government and industry to guarantee the availability of sufficient SAFs in the US. A number of initiatives is well-advanced to increase production, like Fulcrum BioEnergy that has just completed a new facility in Reno (Nevada). It targets a production of 33 mllion gallons per year from 2022. LanzaJet hopes to complete a new refinery in Georgia next year and wants to produce one billion of SAFs per year in 2030. In July, SkyNRG Americas partnered with Boeing to scale up SAF production, initially on the Pacific Westcoast. Velocys, Gevo, and World Energy plan to annually produce a combined 600 million gallons.
United Airlines, which has sourced SAF's from Los Angeles-based World Energy for a number of years, announced a new initiative on September 9. The airline and Honeywell will make a multimillion-dollar investment in Alder Fuels. As feedstock, Alder uses biomass like forest and crop waste. Through its United Airlines Ventures project, the airline is committed to purchasing 1.5 billion gallons of SAFs from Alder Fuels, which is additional to a previous contract with Fulcrum for 900 million gallons. Honeywell offers its UOP EcoFining process for the production of SAFs.
"Alder's technology revolutionizes SAF production by enabling the use of widely available, low-cost and low-carbon feedstock", said CEO Bryan Sherbacow. "The industry is now a major step closer to using 100 percent SAF with our drop-in fuel that accelerates the global transition to a zero-carbon economy." Current regulations prevent the use of more than fifty percent blended SAFs on commercial aircraft, but there is a worldwide push to get to 100 percent in the very near future. Various flight tests by Boeing and Airbus have demonstrated that 100 percent SAFs can be used reliably.

Delta Airlines has committed to use ten percent SAFs in 2030, sourcing the fuel from Neste, Gevo, and Northwest Advanced Bio-fuels. American Airlines will purchase ten million gallons of SAFs in 2025 from Prometheus Fuels, which uses the innovative technology of carbon capture and renewable energy to produce an efuel. Alaska will source SAFs from SkyNRG Americas, while Southwest has partnered with the National Renewable Energy Lab to develop production capacity for sustainable fuels. Express carriers are also committing to SAFs, with DHL planning to use thirty percent in 2030.
SAF production needs government support
During the White House round table, A4A stressed that SAF production needs positive government policy support. Nicholas Calio suggested a $1.50-$2.00 per gallon SAF blender's tax credit, which is in line with the $2.00 credit in the Sustainable Skies Act. He also called for more public-private SAF research, development, and deployment programs, such as a new SAF and low emissions technology grant program under consideration by Congress. Only then it will be possible to meet the target set for 2030 and the 2050 goal of becoming net-zero on carbon emissions.
The US is not alone in promoting the use of SAF. In July, the European Commission presented its Fit for 55 policy plan that includes increasing the share of SAFs available to the airline industry to two percent in 2025, five percent in 2030, and 63 percent in 2050. Earlier this week, British Airways unveiled its "BA Better World" campaign that also includes more production and use of sustainable aviation fuels.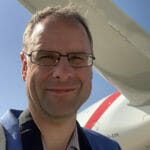 Active as a journalist since 1987, with a background in newspapers, magazines, and a regional news station, Richard has been covering commercial aviation on a freelance basis since late 2016.
Richard is contributing to AirInsight since December 2018. He also writes for Airliner World, Aviation News, Piloot & Vliegtuig, and Luchtvaartnieuws Magazine. Twitter: @rschuur_aero.