Virgin Australia seems to have escaped insolvency and liquidation after Bain Capital Private Equity has been selected as the preferred buyer of Australia's second airline, it emerged on June 26. Bain has entered into a sale and implementation agreement with the administrators led by Vaughan Strawbridge.
Virgin Australia filed for voluntary administration on April 21 with debts of around $5 billion and insufficient liquidity to survive the Covid-19 crisis. It sought $1.4 billion in government support but this was rejected.
A Deloitte team of administrators led by Strawbridge started a process to restructure and refinance the airline and find one or more buyers as quickly as possible. Out of a dozen potential interested parties four serious ones emerged by mid-May: BGH Capital, Cyrus Capital Partners, Indigo Partners, and Bain.
After BGH and Indigo Partners left the bidding process, it was thought the combination of the two US-based funds Bain and Cyrus together would buy Virgin Australia. Cyrus has been a partner with Virgin Atlantic in trying to buy UK-regional airline Flybe in early 2019, but the attempt prematurely ended as Flybe collapsed in March just before the worst of the Covid-crisis hit.
"Bain will cement our future"
The combination of Bain and Cyrus also failed to happen, so Bain Capital will now continue as the sole candidate to complete a deal with Virgin Australia Group. "Bain's investment will cement our future as a major Australian carrier, secure thousands of direct and indirect jobs, and ensure we can continue to bring competition to millions of customers for many years to come", CEO Paul Scurrah said in a written statement.
Bain Capital's expertise in distressed investing and aviation qualifies it for a solid business case for Virgin Australia, it said. On its website, Bain says it has made over 940 primary and add-on investments in technology, industry, healthcare, and financial and business services realizing $111 billion in revenues in 2018.
In its own press release, Bain Capital says it is committed to protecting as many jobs at Virgin Australia as possible. The airline employs some 10.000 people while another 5.000 are indirectly employed. Staff will be offered voluntary leave.
Bain says it is committed to Virgin Australia's regional services and plans to make additional investments as it will do in data and data technology. It wants the airline to emerge from voluntary administration with a strong balance sheet that makes it resilient for the future.
"Our investment and plan for the airline will support and celebrate Virgin Australia's unique culture and project as many jobs as possible for the short and medium-term in a way that will make significant jobs growth possible", Bain Capital's managing-director in Australia, Mike Murphy, said.
Former shareholders
No details have emerged about how the former shareholders will assist in the resurrection of Virgin Australia. The airline was owned by Etihad (20.97 percent), Singapore Airlines (20.03), Nanshan (20.01), HNA (19.86), and Virgin founder Richard Branson through his Corvina Holdings (10.02). With all having troubles on their minds themselves, a full divesting of the Australian airline is obvious.
Before the voluntary administration, Virgin Australia operated a fleet of 133 aircraft including the Boeing 737-700 (2) and -800 (73), 777-300ER (5), Airbus A320 (2), and A330-200 (6), plus a regional fleet of 14 Fokker 100s and 14 ATR 72s. It has 40 MAX 8s on order.ands of direct and indirect jobs, and ensure we can continue to bring competition to millions of customers for many years to come.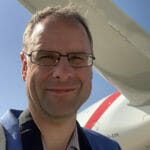 Active as a journalist since 1987, with a background in newspapers, magazines, and a regional news station, Richard has been covering commercial aviation on a freelance basis since late 2016.
Richard is contributing to AirInsight since December 2018. He also writes for Airliner World, Aviation News, Piloot & Vliegtuig, and Luchtvaartnieuws Magazine. Twitter: @rschuur_aero.