Chinese airframer Comac hit an important milestone on June 28 when it simultaneously delivered three ARJ21 regional jets to the country's biggest airlines: Air China, China Eastern, and China Southern Airlines. For the type, it means a breakthrough as until now it has been used mainly by Chengdu Airlines and smaller regional airlines.
Today's ceremony happened at Comac's Assembly Manufacturing Center at Shanghai Pudong, where three ARJ21s for the new customers were parked next to each other.
Air China, China Eastern, and China Southern all announced their orders for 35 each of the ARJ21-700 on August 30 last year, at the time boosting the order book to 596 from 22 airlines. The order was seen as recognition of the ARJ21 but at the same time came as no surprise as the government always expected the majors to buy Chinese aircraft.

China Southern's first ARJ21. (Comac)
Actually, China Eastern on February 26 founded a dedicated regional airline to operate its ARJ21s, and later on the 20 C919s it has on order: One Two Three (OTT) Airlines, the name related to the traditional Chinese culture of Lao-tzu. The first airport OTT will operate the type from is Shanghai's Hongqiao.
All three airlines have opted for a 90-seat all-economy cabin with seats positioned in a 2 by 3-configuration.
China Eastern founded OTT Airlines to operate its China-made fleet. (Comac)
The history of the Comac ARJ21 confirms that developing a clean sheet airliner can be exhausting. The program was launched back in 2002. Commercial Aircraft Corporation (Comac) designed the ARJ21-700 as a 78-90 seater not dissimilar to the Boeing 717/McDonnell-Douglas MD80-series, but with a shorter fuselage, Antonov-designed wings and two General Electric CF-34s at the back. The aircraft has a 1.200-1.700nm/2.200-3.700km range. The -900, a longer version seating up to 105 passengers is still contemplated, as are a business jet and freighter version.
The first test aircraft rolled out of assembly in December 2007. First flight was on November 28, 2008, but it took another six years to complete certification and another 1,5 before the ARJ21 was ready to enter service. This happened on June 28, 2016 (coincidently the same date as today's delivery ceremony) to Chengdu Airlines. Chengdu has 30 aircraft on order and currently operates 20. Since July 2019, Genghis Khan Airlines has five in operation out of 25 on order plus 25 options, while Jiangxi Airlines has two in service since May this year out of five on order. On June 10, all three airlines simultaneously took delivery of another ARJ. Including two aircraft registered with Comac Regional Aviation and Comac Business Jet, 27 ARJ21s had been delivered until June 28.
Production in Shanghai has resumed after it has been impacted by Covid-19 in the first quarter of the year.
Other customers include SPDB Financial Leasing (15 +15 in November 2018), HNA's Urumqi Air (20 firm in November 2018). The only non-Chinese customers are lessor GECAS (5 ordered in 2008) and the Republic of Congo (4).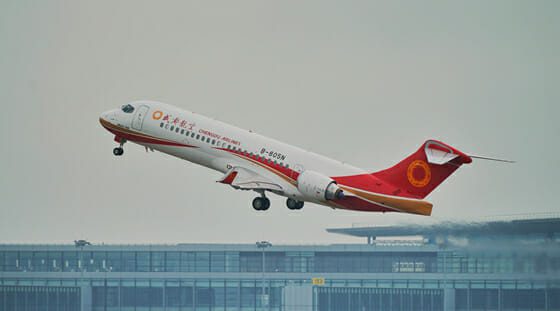 Chengdu Airlines is the first operator of the ARJ21. (Comac)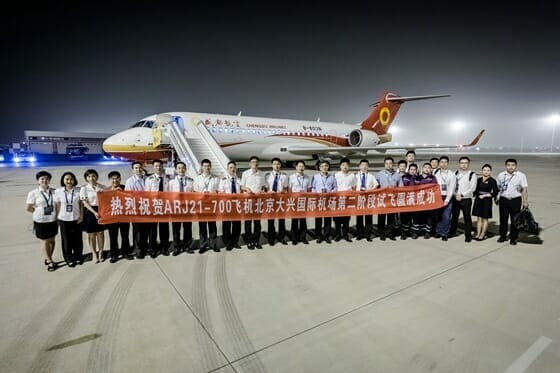 Not without reliability issues
Since its entry into service, the ARJ21 has flown some 900.000 passengers on domestic services with Vladivostok in Russia so far the only international service offered by Chengdu. As the first operator of a new type in a small fleet, Chengdu Airlines has had to endure numerous technical and reliability issues. Comac has improved on this by offering updates and executing additional testing, especially in rigorous cold-weather in Harbin (Northeast China).
Back in April 2018, Comac quoted Chengdu's vice president Zhang Fang as saying dispatch reliability was 97.19 percent, which is well below the 99+ percent targeted as acceptable by Airbus and Boeing. In April 2019, Zhou Huangxing of Comac's Operations Support Department said daily utilization during the previous winter season had been 6.3 hours. "The delay/cancellation rate per thousand flights due to mechanical reasons is not greater than that of a mature aircraft type in the same period ."
The ARJ21 has been described as the pathfinder for Chinese-made civil aircraft. It will bring valuable experience to Comac for the development of the C919, which has 305 firm orders. This twin-engine is in the Airbus A220/Embraer E2-series league and some months ago was referred to by IAG's Willie Walsh as a potential aircraft. Comac is taking its time since the May 2017 first flight, with four aircraft currently active on the test program.
Then there is, of course, the development of the Chino-Russian CR929 widebody, but don't expect any first flight to happen well into the second part of this decade.
In order to force a breakthrough in international sales, the ARJ21 will have to demonstrate to the Three Majors it is doing its job.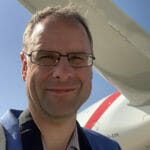 Active as a journalist since 1987, with a background in newspapers, magazines, and a regional news station, Richard has been covering commercial aviation on a freelance basis since late 2016.
Richard is contributing to AirInsight since December 2018. He also writes for Airliner World, Aviation News, Piloot & Vliegtuig, and Luchtvaartnieuws Magazine. Twitter: @rschuur_aero.