The commercial aviation world has been turned upside down.  And at the very pinnacle of that swing is Embraer.   Embraer is the world's third-largest aircraft OEM, which is a remarkable performance when you consider some of the storied brands that have disappeared. What is the challenge for Embraer's E2?

That Embraer has survived, despite Brazil's politico-economic vagaries, is impressive.  This could only have happened because Embraer builds high-quality and highly competitive products.  The company's light business jets are class leaders.  Its regional jets are the only western produced aircraft in that segment today.  Embraer also embarked on an ambitious program to develop a military freighter that competes with the venerable Lockheed Martin C130.  The new aircraft, the KC-390, is flying for the Brazilian Air Force and recently conducted its first aerial refueling.  That is something Boeing's KC-46, derived from the 767, has had some challenges with.
Within the commercial side of Embraer, its top-of-the-line models are the E2 family.  These aircraft are major updates to earlier models, now referred to by most people as the "E1".  The family consists of three models, seating from 80 to 146 in dual-class configuration. 
Embraer was the last to move on an update of its E1 models, which were only seven years old when the update program was announced.  The update was forced on them because Bombardier developed the C Series, which added to market pressure at Airbus to develop its A320neo family and that begat the Boeing 737 MAX.
The big shake-up that Bombardier caused ended up with that company exiting commercial aviation.  The C Series became the Airbus A220 and has sold reasonably well even through the pandemic.  The A320neo family sold better than Airbus expected, while the MAX suffered more than 1,000 cancellations, but has remained popular with several key existing 737 operators.
What about Embraer?  As the last mover, it had the advantage of knowing what to respond to in the competitive space.  Embraer calibrated its E2 family based on customer input – the E175-E2 remained the same size but went slightly overweight in terms of the US Scope Clause.  Because of this, Embraer undertook this project last and slowed it down because its E175 was still selling well.  The E190-E2 was also left dimensionally the same as the E190, just as customers requested. But it is a much better-performing aircraft with new wings and engines.  The E195-E2 saw some growth as well as a new wing and engines, also making it a much better economic performer than the E195.
Consequently, Embraer was able to upgrade capabilities and performance, but at a lower cost than Bombardier.  Embraer also ensured it remained out of the Airbus and Boeing crossfire, which Bombardier did not, since their larger CS300 competed with the Airbus A319neo and Boeing MAX 7.
When Bombardier folded its C Series into a deal with Airbus, the writing was on the wall for Embraer and Boeing.  Though these two firms had been on good terms, the A220's emergence forced them to undertake a much deeper and more serious conversation.  A transaction was approved, and considerable planning work was accomplished to bring Embraer's commercial and regional aircraft into Boeing.
Unfortunately, Boeing eventually walked away from the deal with Embraer, and most observers would ascribe that to the MAX fracas rather than anything Embraer did or did not do.  Outside of Boeing, virtually everyone in the industry believed that Boeing would have benefitted substantially from having E2s available for sales campaigns during the pandemic.  Airbus certainly saw interest in the A220 remain stable, if not grow.  These lower seat capacity models are the best aircraft for a period of sharply reduced traffic flows ("right-sized" as the term goes).
Given that history, let's focus on what's next for Embraer.  First, let's look at the E1 family because that is the foundation upon which Embraer must build.  Its E2 family orders are most likely to follow the industry logic of first replacing older models.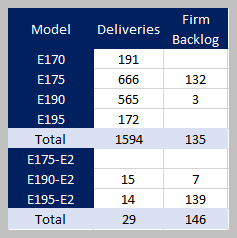 The table shows the tremendous critical mass Embraer has with the E175.  By far the most popular model, it is the only new-build western regional jet that falls within US Scope Clause. Because it has been so successful, there is less pressure on Embraer to rush the E175-E2 into the market.  This is fortunate as the E175-E2 has attracted no market traction. The table also shows how strong the E190 was, relative to the E195. When we look at the market response to the E2, we see that the E195-E2 has become the more popular of the two larger models.

This is a crucial item – Airbus has also seen greater interest in the A220-300 than the -100. Airbus and Embraer offer something new and highly effective in the sub-150 seat segment.  Despite Southwest's recent MAX7 choice, Boeing does not. 
What is clear is that the E2 order pace has been slower than it was with the E1.  Embraer faces the same challenge Airbus does with its A330ceo and A330neo – the replacement model came sooner than the original model aged out.
The greatest threats to Embraer's E2 family prospects are:
US Scope Clause will not move to allow the E175-E2 to serve US regional airlines

The collapsed Boeing deal puts Embraer up against Airbus directly


The pandemic cut back airline fleet growth and renewals. This sword cuts both ways, as E2 jets are right-sized for a post-pandemic comeback.
There is little Embraer can do about these three items.  All are out of its control and each requires its own response.
Scope Clause
Our view is that, over time, this will eventually move to allow larger aircraft.  But, because of entrenched interests, US airlines may have to undertake a fundamental shift in their fleets.  Essentially, mainline airline pilots may be given smaller aircraft to operate.  We see this already at Delta with the A220-100.   One would think that this shift of mainline pilots to operate 100 seaters could also suit Embraer, and provide an upward mobility path for regional pilots "graduating" to the mainline carrier for somewhat higher "B-scale" pay that remains lower than the 150 seat mainline jets.
Embraer vs Airbus
This is a nasty place to trade. Being a part of Boeing would have leveled the playing field for Embraer.   For Embraer to succeed requires novel and creative thinking which has been a core strength for the company in previous crises.  Its E2 competes favorably with the A220 in all aspects but range.  That is not an insurmountable hurdle for an aircraft that will primarily operate domestically on short-haul or medium-haul routes.  For example, Helvetic used its E195-E2 to fly from Zurich to Central Africa conducting a Swiss pandemic-related traveler recovery mission.  Each leg was several hours long and handled without any issues.

The most difficult challenge for Embraer is competing on complex deals. For example, JetBlue where Airbus was able to be "creative" on A320neo orders provided the A220 was selected.  Embraer has essentially two narrow-body offerings against Airbus' eight.  Where a customer is looking for a sub-150-seater and there are no complications, Embraer can take on the competition. However, Airbus also has much deeper financial resources to make an irresistible financial offer.  That is a problem that Embraer needs help with – perhaps from the Brazilian Export Bank.  There could also be attractive packages put together with lessors.  This will be a major area of creativity for Team Embraer to solve. We are confident that they are up to this.  Moreover, there should be many deals that are not complicated and allow for an A220 vs E2 competition.  Certainly sufficient deals to take Embraer through 2026, when its earliest E1s start to age out and require replacement.

Pandemic
The pandemic will end and time helps Embraer just it helps everyone else.  For example, by 2026 many E1 models will be ripe for replacement.  There is good reason to believe that Embraer has a pole position for these replacements.  Embraer has an excellent reputation for product support. We are highly confident that Embraer will convert current E1 customers to E2 and the example here are KLM and AZUL which have already started that process.  Moreover, many customers already appear to favor the larger E195-E2.  In addition, it is important to note that arguably Embraer's most important customer, KLM, has exercised options and ordered more E195-E2s. 
What else can Embraer do?
Turf protection is obviously very important.  That means knowing your customers and staying close to them. But there are lessons Embraer can draw from Airbus and Boeing.  Chief among these is to develop a convertible freighter using E1 models.  By 2026 capital values on the E190 and E195 should make these aircraft attractive for conversions.  There is a growing market for lightweight and medium freighters.  The E1s could provide an excellent alternative.  By ensuring its E1s have a second life, customers will be even more inclined to consider E2s. If the conversion process is undertaken in Brazil, Embraer would save or even create high-skill jobs.  The Brazilian government would see this as a valuable outcome worthy of support. 
Rapid reaction is another Embraer strength.  Being smaller than Airbus and Boeing comes with an often-overlooked advantage.  Look at how many variants Embraer has delivered among its E1 models. The E170 came in four versions. The E175 comes in six versions. The E190 came in eight variants and the E195 came in three.  Embraer has a proven track record of tweaking models to meet customer needs and requirements.  Embraer is second to none in commercial aviation engineering – which is what Boeing really wanted and probably still needs. 
Summary
Embraer faces some steep challenges, no argument there.  But among the smaller OEMs, it is Embraer that has weathered previous crises that saw old established brands like BAe, Fokker and SAAB disappear.  Embraer's survival tells you they are still a good bet.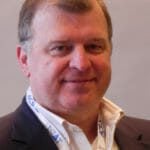 Co-Founder AirInsight. My previous life includes stints at Shell South Africa, CIC Research, and PA Consulting. Got bitten by the aviation bug and ended up an Avgeek. Then the data bug got me, making me a curious Avgeek seeking data-driven logic. Also, I appreciate conversations with smart people from whom I learn so much. Summary: I am very fortunate to work with and converse with great people.