Bombardier
Visiting the Pratt & Whitney Customer Center today afforded us an opportunity to look at what is hanging from the roof and see wings from a different angle.  In the following images we show the new aircraft that will be sporting the GTF in future.  Then by way of example we show some other aircraft to proide perspective on how wing layout has evolved. Continue reading →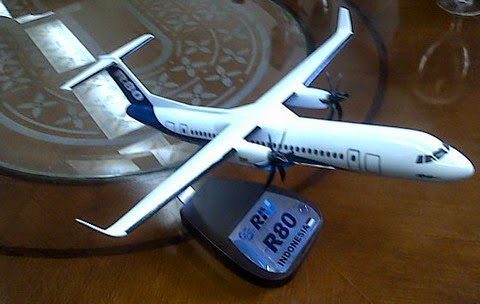 Indonesia is going to try again to enter the turboprop market. In the 1990's they had a project called IPTN N250 which was not successful.  Only two were built before the Asian financial crisis stopped the project in 1997.  But in aerospace, hope springs eternal.
Recently a report indicated a revival of the concept, and the revised idea is quite a step forward.  Indeed the CEO of the firm heading the project has described the new project as "better".  Well he has to. Continue reading →
Frequently industry analysts get caught up in the vast amount of minutiae this industry generates.  We decided to step back and take a 50,000 foot look at the industry and came up a few charts we find illustrative and interesting.
Taking the global fleet and breaking it down by regions gives us the first chart.  Three markets are clearly crucial and make up 75% of the market.  Numbers in the columns represent the fleet type size.  The bold numbers indicate how much of the global fleet is based in the region.
The smaller markets are rather similar in extent.  Turboprops represent 9.8% of the market, narrow body aircraft are 71.5% and wide body aircraft make up 18.8%. Continue reading →
Last year the first Airbus Market Survey in Latin America provided valuable insights on how airline executives in the region perceive market evolutions and fleet requirements.  Airbus has just launched their 2014 Airbus Market Survey in Latin America.
In the 2013 results Airbus discovered that:
Intra-regional connections was the top long term network development opportunity
The market has a "very optimistic near-term outlook"
Criteria for new aircraft is driven by fuel burn, revenue generation ability and fleet rationalization
Airlines need to see savings of 15% to transition to same generation and 25% to transition to next generation
Best age to replace aircraft is between 8-12 years or a 15-20% cost improvement
With that backdrop, let's look at this market.  The table shows the regional fleet earlier this year.  Over 77% of the fleet is narrow body (single aisle).  This is why the intra-regional market shows up… Continue reading →
To the beat of traditional Japanese taiko drummers, Mitsubishi rolled in their new MRJ. About 3 1/2 years behind schedule, the aircraft apparently has been noted for high quality workmanship already.  Mitsubishi is building 78- and 92-seat versions  developed at a cost it estimates at $1.7bn. The company plans to conduct a first flight in June, with the larger model available first. Continue reading →