Bombardier
The following table summarizes firm orders announced at the Paris Air Show for the major aircraft manufacturers.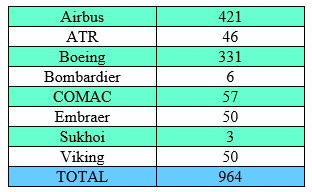 Airbus orders included: Continue reading →
No pictures today as we were busy with presentations and meetings.
We caught a few presentations on video.
Bombardier's C Series numbers from Rob Dewer. The team was all smiles when they could tell the world that they have beaten their brochure numbers. Asking around we could find nobody who could recall this being done before. So it's quite an achievement. Notice on the wing bend video, the wing has not broken. This is virtually a certainty that the airplane can be stretched using the same wing – and we all know how Bombardier feels about stretches. They've never seen one they didn't like. So despite the denial, they must be considering it. Continue reading →
The show has not officially started, but Bombardier offered the media a "sneek peak" at their new C Series.  Below are a number of videos from the event.  We asked about the spacing between C and Series.  We are advised this is to make all the aircraft names consistent.  Going forward each will also have a color – the reason for this selection is yet to made clear. The C Series name will be blue, the Q will be green and the CRJ will be red.
First up, Captain Mark Elliott – C Series Liaison Pilot and the man who brought the Swiss CS100 to le Bourget. He noted the aircraft performed exactly as expected and had lots of fuel left when it landed.  The CS300 did a stop because it had to since it has not yet been certificated to fly the range and… Continue reading →