Bombardier
Viking Aircraft, which currently produces the Twin Otter, has acquired the type certificate and production rights to the CL-415 Water-Bomber from Bombardier, as well as the aftermarket rights and type certificates for the earlier CL-215 and CL-215T water-bombers.  This is an ideal fit for Viking, which earlier acquired the rights for multiple de Havilland models from Bombardier, ranging from the DH-1 Chipmunk to the DH-7 STOL commuter aircraft.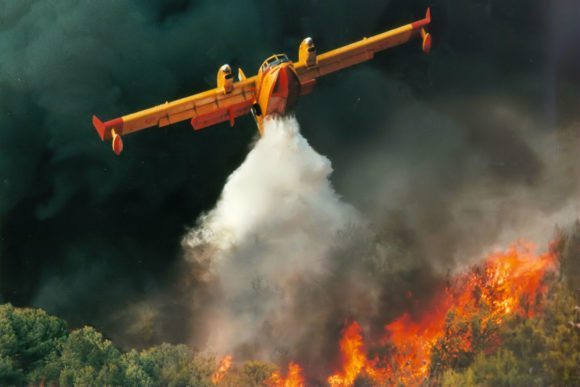 Currently, Viking produces the Twin Otter 400 and has delivered more than 100 aircraft to 29 countries since launching that model in 2007.  Can it do the same with the water-bomber?
There is certainly a need for water-bombers, as forest fires continue to erupt annually in North America during the summer, and Australia during their summer.  The advantage of the water-bomber is that it can quickly re-load by "scooping" water from a river or lake, mix that water with… Continue reading →
2016 is the best year the CSeries has had.  Besides the spate of orders, yesterday Bombardier won certification from EASA and the FAA for the CS100.
"Bombardier Commercial Aircraft announced today that its CS100 aircraft has been awarded Type Validation by the European Aviation Safety Agency (EASA) and the Federal Aviation Administration (FAA) following a comprehensive testing program. The EASA and FAA validations follow the CS100 aircraft Type Certification awarded by Transport Canada in December 2015."
With the EASA certification, Swiss will get its delivery in June with EIS set for July.  The certification milestone sends signals to potential customers.  The timing couldn't be better (delays excepted).  We are eight weeks away from the biggest aviation event of the year.  Bombardier can be expected to splash a lot more at Farnborough than it could in Paris last year.
For the Paris show, Bombardier was under… Continue reading →
Air travel is a very safe mode of travel, with few accidents and a trend line that points to increasing safety year by year.  The following chart shows worldwide airline fatalities per million passengers from 1976 through 2014.  The trend line shows that safety is continuing to improve for the industry as a whole. Continue reading →