Bombardier
Frequently industry analysts get caught up in the vast amount of minutiae this industry generates.  We decided to step back and take a 50,000 foot look at the industry and came up a few charts we find illustrative and interesting.
Taking the global fleet and breaking it down by regions gives us the first chart.  Three markets are clearly crucial and make up 75% of the market.  Numbers in the columns represent the fleet type size.  The bold numbers indicate how much of the global fleet is based in the region.
The smaller markets are rather similar in extent.  Turboprops represent 9.8% of the market, narrow body aircraft are 71.5% and wide body aircraft make up 18.8%. Continue reading →
Last year the first Airbus Market Survey in Latin America provided valuable insights on how airline executives in the region perceive market evolutions and fleet requirements.  Airbus has just launched their 2014 Airbus Market Survey in Latin America.
In the 2013 results Airbus discovered that:
Intra-regional connections was the top long term network development opportunity
The market has a "very optimistic near-term outlook"
Criteria for new aircraft is driven by fuel burn, revenue generation ability and fleet rationalization
Airlines need to see savings of 15% to transition to same generation and 25% to transition to next generation
Best age to replace aircraft is between 8-12 years or a 15-20% cost improvement
With that backdrop, let's look at this market.  The table shows the regional fleet earlier this year.  Over 77% of the fleet is narrow body (single aisle).  This is why the intra-regional market shows up… Continue reading →
To the beat of traditional Japanese taiko drummers, Mitsubishi rolled in their new MRJ. About 3 1/2 years behind schedule, the aircraft apparently has been noted for high quality workmanship already.  Mitsubishi is building 78- and 92-seat versions  developed at a cost it estimates at $1.7bn. The company plans to conduct a first flight in June, with the larger model available first. Continue reading →
Macquarie AirFinance has placed an order for 40 CSeries aircraft, with options for an additional 10, providing a boost to the program.  All of the orders are for the larger CS300 model, with deliveries scheduled between 2017 and 2019.  This increases firm orders for the CSeries to 243, with 563 total commitments including options and purchase rights, and the company is approach its goal of 300 firm orders upon entry into service.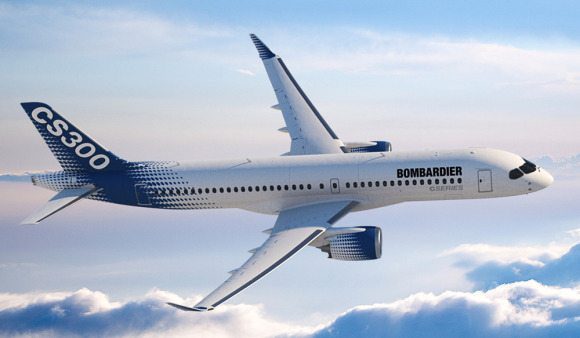 The selection of the CSeries by a leasing company is significant, as it indicates that the aircraft finance community also perceives a strong market for the aircraft.  Macquarie is the third leasing company selecting the aircraft, joining LCI and Ilyushin Finance.  Macquarie AirFinance currently manages 136 jet aircraft leased to 73 operators in 43 countries across six continents.
Stephen Cook, Chairman of Macquarie AirFinance, said "We welcome the addition of Bombardier's CS300 to… Continue reading →