Bombardier
Macquarie AirFinance has placed an order for 40 CSeries aircraft, with options for an additional 10, providing a boost to the program.  All of the orders are for the larger CS300 model, with deliveries scheduled between 2017 and 2019.  This increases firm orders for the CSeries to 243, with 563 total commitments including options and purchase rights, and the company is approach its goal of 300 firm orders upon entry into service.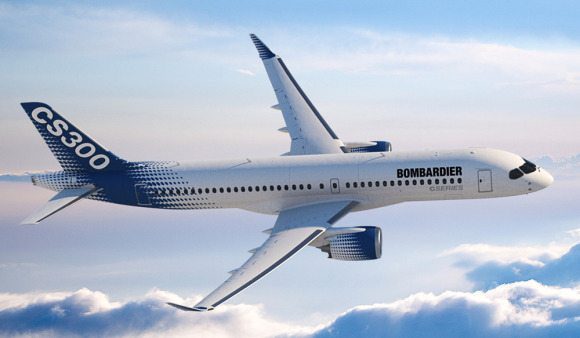 The selection of the CSeries by a leasing company is significant, as it indicates that the aircraft finance community also perceives a strong market for the aircraft.  Macquarie is the third leasing company selecting the aircraft, joining LCI and Ilyushin Finance.  Macquarie AirFinance currently manages 136 jet aircraft leased to 73 operators in 43 countries across six continents.
Stephen Cook, Chairman of Macquarie AirFinance, said "We welcome the addition of Bombardier's CS300 to… Continue reading →
A conversation with Rod Sheridan at ISTAT.
The most brutal area of commercial aerospace is the single aisle market. Competition between Airbus and Boeing is fierce.  So fierce that new entrants rightly fear the news these giants are going to increase production.  The pool may be growing bigger, but it is also getting tougher to enter as the two OEMs swamp the market with aircraft.  Between them, Airbus and Boeing are heading into a situation that sees them delivering over 100 single aisle aircraft every month.
Take a look at the situation from another angle.  Airbus and Boeing are doing very well selling single aisle aircraft.  The chart illustrates the state of play.  Even at ~100 aircraft deliveries per month, with no new orders, the two OEMs have over five years of production in backlog. (Note how much better Airbus is doing in the largest size. )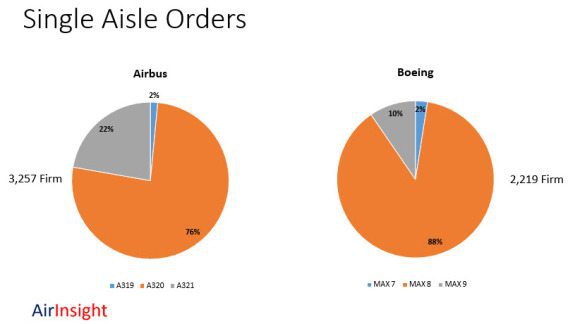 Now consider this. … Continue reading →
Overnight two deals announced by Republic Airways appear complex.
Embraer:
Lost a deal with Flybe in the UK for 20 E-175s and defers delivery on four. Flybe and Embraer agreed to reduce an outstanding deal for 24 E175s on order by 20 aircraft.
Won a deal for 50 E-175s at Republic (for United Express) – transferring the Flybe order plus more. United anticipates deliveries will begin in July 2015 and continue through the summer of 2017. The new aircraft will replace large turboprop airplanes and older, less-efficient aircraft and are in addition to 70 E-175s whose deliveries began this year for other carriers to operate as United Express.
Embraer's backlog is net +30.
Bombardier:
Flybe gets 24 Q400s, leased from Republic. So this is not a new order for Bombardier.
The deal is a sublease and will "supplant 21 of the same aircraft type whose lease periods are ending over… Continue reading