Bombardier
Today Mitsubishi announced its first flight plans for October – "Latter half of October 2015" is their language.  The flight is planned for an hour.  We are in an era where first flight dates are not announced this far ahead and with equally liquid time periods.  MRJ must feel some confidence that they would even publish this – we have seen first flight windows announced a week ahead to media with no certainty whatsoever – a sort of "be here between day X and day Y".  To be fair OEMs planning such events have to contend with all sorts of variables – recall the CS300 first flight in December last year when the weather was predictably awfully cold and unsettled. But that's Montreal weather for you.
MRJ is equally careful:

This is a big moment for MRJ – it is intent to break into the small… Continue reading →
Both Ilyushin Finance and Bombardier appear to be on the verge of coming to terms that will preserve the company's orders for 39 C Series aircraft that previously appeared in jeopardy. This is good news for both Bombardier and IFC, as the sanctions imposed by Canada precluded development bank financing. IFC's chairman Alexander Rubitsov indicated the "I'm feeling we may reach a compromise" with respect to the C Series order.
Apparently, after the C Series debut at the Paris Air Show, the attitude of private bankers shifted regarding the C Series, and banks that would not consider asset-backed financing appear to be changing their mind, after watching the CS300 fly and touring the CS100 on static display.
Marketing the aircraft outside of Russia is a new strategy for IFC, and they are hopeful of new agreements with operators before the end of this year. Both Bombardier and IFC believe that… Continue reading →
Superjet had earlier bragged about getting orders at MAKS 2015.  A deal with Iran is no surprise and was expected.  Then came news of a deal with Jordan being in the works. And a deal with Kazakhstan.
This was followed by a Russian government-backed leasing group GTLK (State Transport Leasing Co.) signing for 32 SSJs on the first day of Moscow's MAKS airshow.  They also ordered options for another 28 aircraft. GTLK signed an agreement with Russia's Yamal Airlines to lease 25 SSJs.
Next, Ilyushin Finance signed a trilateral LoI under which Cambodia's Sky Angkor Airlines wet-leases an SSJ from Russia's Red Wings. Ilyushin will deliver two more of the aircraft to Sky Angkor under an operating lease. The 12-month wet-lease starts in December and when this expires the two new SSJ100LRs will be delivered by Ilyushin.
To date, there are 56 SSJs in… Continue reading →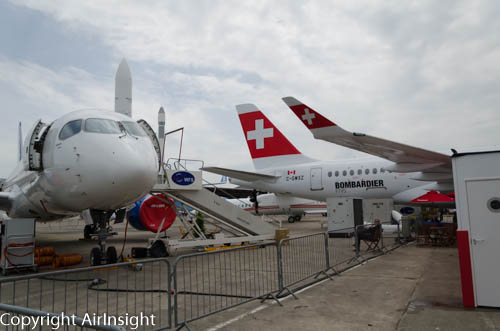 Yesterday we got to speak with Rob Dewar, C Series program GM and Vice President at Bombardier. Earlier in the day the company's share price rose on the better news flow and realization that no new delays were coming. It is telling that the market's natural disposition is to expect bad news from Bombardier.
We had a few questions for Rob. Continue reading →
In the last few years, aircraft OEMs have built up record backlogs, particularly for re-engined narrow-body aircraft.  With record order levels over the last few years, the big OEMs are planning production increases to meet the strong demand.
But if we take a look at the long-term industry trends, we now appear to be in the beginning of a cyclical correction, and the next down cycle is already here.  The only question is how deep the correction will be, and how long it will last.  Our view is that 2016 and 2017 will not be stellar years for aircraft orders, as the high demand for new technology narrow-body aircraft has been to a great degree satisfied.
The following chart shows orders and deliveries from 2000-2015, which we have estimated by proportionally extending the first seven months through year end.   Given the trend, even this estimate may… Continue reading →