Bombardier
Iran has been under sanctions on commercial aviation since 1995.  Its airlines fly old aircraft and safety has been compromised frequently.  The national fleet averages 22 years old.  One report suggests that 100 grounded aircraft could come back into service once parts can be bought.
For the fleet still operational, Iran has had to suffer service disruptions of all sorts. In the EU, fuel supply has been a frequent problem.  During sanctions an estimated 1,700 people have died in Iranian aircraft crashes.
Take a look at this 727 doing an emergency landing in 2011 without an operational nose wheel. It is a remarkable flying skill that nobody got hurt – there were 94 passengers and 19 crew on this flight. Continue reading →
Abu Dhabi Aviation, which provides support for oil projects in the Middle East, has ordered 2 Q400s to add to its fleet, which already includes one Q400, one Q300 and two Q200 aircraft.  Nadir al Hammadi, their Chairman stated "our operation of Bombardier commercial aircraft spans over 20 years and the acquisition of the Q400 NextGen turboprop, with its exceptional performance and superior payload capability in our challenging operating environment will allow us to serve our customers effectively."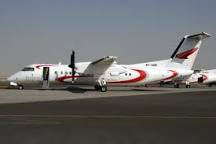 This order joins orders from Air Cote d'Ivorie, lessor Palma Holding for Ethiopian, and Nok Air for Q400s and Iraqi Airways for a commitment for CSeries.
Despite the Dubai show seemingly looking like an Airbus and Boeing tsunami, other orders are coming in.   Most notably, an order for 16 CS300s from Iraqi. Iraqi Airways, the national carrier of Iraq,  signed an LOI to acquire five CS300s plus options for another 11 CS300.
Bombardier now has booked orders and commitments for 419 CSeries aircraft, including firm orders for 177 CSeries aircraft. Some 16 customers and lessees have joined the CSeries aircraft program.
Bombardier also announced another interesting order from Thai carrier Nok Air which placed a firm order for two Q400NGs and has took options for two additional Q400NGs, as well as purchase rights on four others. Bombardier confirmed that Nok Air will be the launch customer for a new extra capacity seating option, which will allow the Q400NG to accommodate up to 86 passengers. This move puts the Q400 in the 90-seat capacity that… Continue reading →
Bombardier has announced two orders for the Q400 from African carriers at the Dubai Air Show, with orders from Air Côte d'Ivorie   and from lessor Palma Holdings for aircraft destined for Ethopian airlines.
The order for Air Côte d'Ivorie consists of 2 firm orders and 2 options.   "The dual-class-configured Q400 NextGen aircraft is ideally suited for our market; it will support passengers' requirements and integrate well into our fleet," said Rene Decurey, Chief Executive Officer, Air Côte d'Ivoire.  "Additionally, in West Africa, where average fuel prices are among the highest in the world and the highest on the continent, the fast, fuel-efficientQ400 NextGen turboprop airliner is the most cost effective and flexible regional aircraft solution for our operations."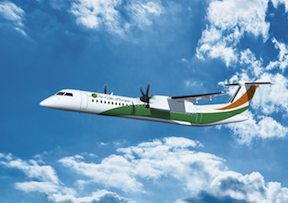 Palma Holding Limited has order 4 Q400s with 4 options, with Ethiopian Airlines as the initial Q400 customer for the leasing company based in Dubai.  Ethiopian is… Continue reading →
If you wondered just how much time and effort goes into airline fleet strategy, here's a briefing by one of the industry's leading experts. Lufthansa has occasional events they call an "Academy", where they have senior managers explain the "behind the scenes" aspects of running the airline. This briefing was given by Nico Buchholz, Lufthansa's Executive Vice President Lufthansa Group Fleet Management. For those of you attuned to the industry, he provides great insight. There are a few nuggets here too.
The entire presentation is about 75 minutes. YouTube does not allow us to store such long videos so we have to break it up into parts.
Part 1

Continue reading →
Nico Buchholz, Executive Vice President Lufthansa Group Fleet Management, spoke with us today at a Lufthansa Academy event.