Bombardier
The most brutal area of commercial aerospace is the single aisle market. Competition between Airbus and Boeing is fierce.  So fierce that new entrants rightly fear the news these giants are going to increase production.  The pool may be growing bigger, but it is also getting tougher to enter as the two OEMs swamp the market with aircraft.  Between them, Airbus and Boeing are heading into a situation that sees them delivering over 100 single aisle aircraft every month.
Take a look at the situation from another angle.  Airbus and Boeing are doing very well selling single aisle aircraft.  The chart illustrates the state of play.  Even at ~100 aircraft deliveries per month, with no new orders, the two OEMs have over five years of production in backlog. (Note how much better Airbus is doing in the largest size. )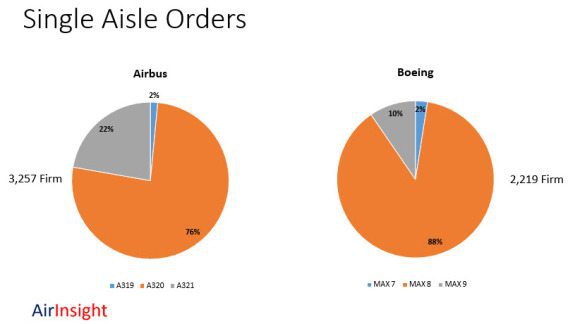 Now consider this. … Continue reading →
Overnight two deals announced by Republic Airways appear complex.
Embraer:
Lost a deal with Flybe in the UK for 20 E-175s and defers delivery on four. Flybe and Embraer agreed to reduce an outstanding deal for 24 E175s on order by 20 aircraft.
Won a deal for 50 E-175s at Republic (for United Express) – transferring the Flybe order plus more. United anticipates deliveries will begin in July 2015 and continue through the summer of 2017. The new aircraft will replace large turboprop airplanes and older, less-efficient aircraft and are in addition to 70 E-175s whose deliveries began this year for other carriers to operate as United Express.
Embraer's backlog is net +30.
Bombardier:
Flybe gets 24 Q400s, leased from Republic. So this is not a new order for Bombardier.
The deal is a sublease and will "supplant 21 of the same aircraft type whose lease periods are ending over… Continue reading
The CSeries returned to flying yesterday, September 7th, with FTV2 making a short flight at Mirabel with the modified engines from Pratt & Whitney installed.  The flight was routine and uneventful.  The photo below from Bombardier shows FTV2 flying yesterday.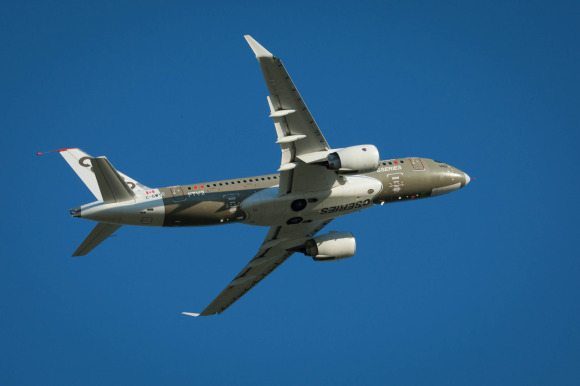 Now that the aircraft has resumed test flying, that should provide additional confidence for prospective customers that the program is back on track.  Two key questions about the program emerge.  First, can Bombardier quickly ramp-up test flying to achieve the 1.6 hours per plane per day needed to conclude the 2,400 hour program by next summer, for second half 2015 entry into service?  Second, will the resumption in flying result in additional customers who may have wanted to announce at Farnborough, but were skittish about ordering an airplane that was unable to fly at the time, and the optics it may have had with shareholders… Continue reading →

Recently CityJet's new owners (INTRO Aviation) attracted attention when they mentioned the airline's re-fleeting was considering the CSeries and Superjet.  The backdrop here is that CityJet has struggled under ownership by Air France/KLM.  Even though it operates out of London City, a potentially high yield market.
We asked INTRO's Managing Director Peter Oncken a few questions.
We understand that INTRO is focusing on LCY as part of a re-fleet decision process.  Can you explain this thinking please?
The present setup of Cityjet has been the main reason why we got involved with Cityjet in the first place. LCY is a rather secluded market as the positioning is strategically interesting for point to point business traffic and provides dominantly high yield traffic due to limited competition from LCC. The reason is that the airport cannot be served by aircraft which are not certified for this… Continue reading →