Bombardier
Standing in -20 degree weather alongside runway 24 in Mirabel Ernie Arvai captured the first flight on video.  The flight had been delayed one day because of inclement weather.  In the end, the sky cleared but it got no warmer.  This may go down as the coldest first flight on record.
Ernie spoke with Canada's BNN about the aircraft today also – Play
From the video it is obvious just how quiet the Pratt & Whitney GTF is – its remarkably quiet.  There can be little doubt that aircraft using this engine will be welcomed at airports with neighboring dormitory communities.  Bob Deluce at Porter called the CSeries the"Whisperliner".  He's right.  This eerily quiet aircraft could probably serve Billy Bishop in downtown Toronto with less noise impact than exists at present.
LOT Polish Airlines regional subsidiary will be closing its doors and liquidating as of 31 March, and is refunding tickets from April forward.  This is the result of a government decision made by the Polish treasury, which owns 62.1% of the airline.  That department indicated that "there was no prospect of profits in the foreseeable future". Continue reading →
Following the aerospace industry closely does not always give one the necessary perspective.  We decided to step back and take a look at the bigger picture and share these charts with our readers.  The idea in stepping back is to get a sense of what is going on within the industry by seat segments.  The information is illuminating. Continue reading →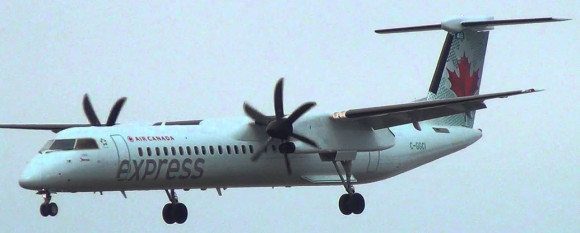 Bombardier secured an order with Chorus Aviation, which operates Jazz, a Canadian regional airline based in Halifax, for 13 Q400 aircraft with options for an additional 10.  These aircraft will operate under a capacity purchase agreement with Air Canada as Air Canada Regional.
Combined with an order for 5+10 Q400s from GE Capital on December 31st, the backlog for the Q400 is increasing again, after reaching low levels in 2013 that had analysts speculating on the future of the program.  Backlog for the program has now extended for more than 30 months at current production rates from orders in the last 12 months alone. And this excludes a Russian production deal currently stalled because of political issues.  If that 100 airplane deal survives the current political firestorm over the Ukraine, that would further solidify the program in the short term. Continue reading →