Boeing reported a first-quarter net loss of $-561 million compared to $-641 million in the same quarter last year, it said on April 28. The Group's operational loss was $-83 million versus $-1.353 billion in 2020. Revenues were lower as the 787 delivery pause cost Boeing precious money.
Revenues were down by 10 percent to $15.217 billion, but Commercial Airplanes saw 31 percent lower revenues to $4.269 billion from $6.205 billion. The division benefitted from welcome income from 58 MAX and five P8 deliveries this quarter. The 787 pauses cost Boeing revenues, as no Dreamliners left Everett and North Charleston between October 14 and March 26. Boeing, the FAA, and suppliers worldwide have been going through rigorous detailed engineering analyses to check for quality issues with fuselage sections. Only two were delivered this quarter, all in the last days of March, with seven more until today.
In January, CEO David Calhoun said that there were some eighty undelivered 787s that needed checks and potentially rework on a skin flatness issue of the inner mold line on aft fuselage sections 47 and 48. This inventory has grown to about 100 by late March.
In February, tier-1 supplier Spirit AeroSystems said it had also done some rework on the nose section 41, while Leonardo and Kawasaki Heavy Industries have checked their fuselage sections, 46/44 and 43 respectively.
'Pausing 787 deliveries right thing to do'
In a statement to Boeing employees today, Calhoun says that the 787 delivery pause "was the right thing to do and is another demonstration of our unrelenting focus on quality and the long-term health of our business. The time we are investing now in the 787, and across all of our programs, is driving stability and will position us to be stronger when the market recovers." During the investor's call, he added: "These fit and finish issues with respect to the joints in our fuselages were just nagging problems, difficult problems. And we applied real engineering talent and expertise to that, new process controls, new lines of communication with our supply side so that we're not surprised by that stuff anymore and we can eliminate rework moves that ultimately travel with the product."
Calhoun expects the majority of the 100 787s in inventory will be delivered during the remainder of this year as Boeing works tail number by tail number through the lot. Despite lower volumes, Dreamliner unit costs have held up pretty well, CFO Greg Smith said. Smith, who will retire from Boeing in July after thirty years, repeated his words from the January 27 FY20 presentation that any changes to volumes and market outlook might result in a reach-forward loss on the Dreamliner program, of which production moved to a single location in South Carolina in March.
Calhoun denied there is an unwillingness with airlines to take 787 deliveries now that long-haul demand is weak: "There is no unwillingness, it is only about the logistical timing" of getting the rework done in time. April should see some ten deliveries as the learning curve on the rework comes down and cycle time is improved.
MAX deliveries paused
Following the latest electrical issues on the MAX, Calhoun (whose term has been extended by five years) said that deliveries have been paused. "April deliveries will be very light", he said. "We are working closely with the FAA and our customers to address electrical issues identified in certain locations in the flight deck of select 737 MAX airplanes. (…) We are finalizing the plans and documentation with the FAA to outline the process required for operators to return their airplanes to service. Upon approval by the FAA, we expect the work to take a few days per airplane — and we will continue to focus on safety, quality, and transparency through this process."
By the end of March, there were some 400 MAX stored and in inventory, of which some are to be remarketed after original customers have canceled the orders. Calhoun still expects half of the inventory to be delivered this year. For now, Boeing sticks with a low production rate that will gradually increase to 31 aircraft per month in early 2022. "The company will continue to assess the production rate plan as it monitors the market environment and engages in customer discussions."
Calhoun is expecting the MAX to be certified in China in the second half of the year, opening up (re)deliveries to important customers and lessors. These will help to lower production costs and improve program margins. Abnormal production costs associated with the MAX will stay in the previously forecasted range of $5.0 billion, with $3.1 billion spent to date.
Boeing reduced liability costs for the MAX from $9.3 billion by $4.9 billion through cash payments to customers and other forms of compensation, including $1.2 billion paid in Q1. The OEM has settlement agreements covering approximately $2.5 billion of the remaining liability balance of $4.4 billion.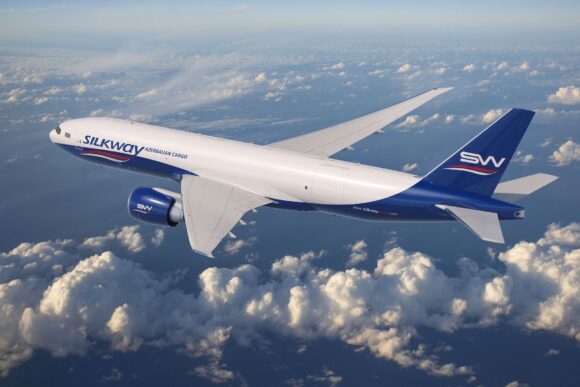 Silk Way West Airlines ordered five 777Fs. (Boeing)
On the 777X, Calhoun is pleased with the progress made on the test and certification program. He shared no new details on the redesign of the electrical actuators on the wings of the 777X except that Boeing and international regulators continue to work closely on all aspects of the aircraft. Calhoun must have pleased Emirates' Sir Tim Clark when he confirmed that the first 777-9 is set for delivery in late 2023. Clark said recently that he has no visibility on the program and that deliveries could slip to 2024 or maybe even 2025. 777X cash flow is set to improve in 2023 and should become break-even in 2024-25, Smith said. The peak of cash flow has been in 2020.

The production rate for the 777 and 777X has been reduced to two per month. This won't change despite a welcome order today from Silk Way West Airlines from Azerbaijan for five 777Fs, the first that will join a fleet of 747-400s and 747-8Fs. The Silk Way order confirms strong demand for freighters. In Q1, Commercial Airplanes delivered 77 aircraft compared to fifty last year and received orders for 100.
Positive cash flow expected in 2022
Boeing's operating cash flow improved from $-4.302 billion to $-3.387 billion, thanks to higher MAX deliveries and despite the lower 787 deliveries. Core operating margin also improved from -10.1 percent to -2.3 percent. By the end of the quarter, net cash available stood at $21.9 billion, so there is no need for additional liquidity right now. At $63.6 billion, the consolidated net debt remained unchanged compared to Q4 last year.

Global Services suffered from lower volumes, with earnings from operations down by 38 percent to $441 million and revenues down by nineteen percent to $3.749 billion. The branch delivered the 50th 737-800 Converted Freighter.
Boeing expects to return to cash positive in 2022, but this entirely depends on how the pandemic and the market develop. "The next six months will be very challenging for our airline customers, especially in affected markets like Europe", Calhoun said. Smith added the return to positive cash flow is "going to be plus or minus month over month, quarter over quarter, so it's going to be a little bumpy." Domestic recovery in the US outpaced expectations, but international traffic will remain weak until at least 2023-2024.
No hurry to make up market share on Airbus
When asked if Boeing is planning to make up lost market share on Airbus, Calhoun replied that he is in no hurry to do so:  "I can't make up for the production gap that we created on our own right for that entire year. I can't make up for that. And so I'm not going to try to regain that ground. I'm simply from this point forward going to try to hold our own with respect to what I think is our rightful share. I will also bring the rates back in the most stable fashion I can conceivably bring them. So I will pace that, and I think that is good for Boeing, I think that is really good for shareholders. So it's all a question over what period of time do you want to measure it. I'm confident that over a longer period of time, we'll get back to where we need to get to and I'm confident in the product line. I always have been and I continue to be. And I think some of the recent activity suggests that. When you look at the applications that we're actually putting into our airplanes to work for, I think we're in a pretty decent place."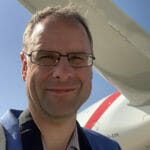 Active as a journalist since 1987, with a background in newspapers, magazines, and a regional news station, Richard has been covering commercial aviation on a freelance basis since late 2016.
Richard is contributing to AirInsight since December 2018. He also writes for Airliner World, Aviation News, Piloot & Vliegtuig, and Luchtvaartnieuws Magazine. Twitter: @rschuur_aero.