The confirmation of the order for twelve Airbus A350-1000s concludes the first planning phase of Qantas for its ultra-long-haul Project Sunrise. The next is the introduction of the type in 2025 and launching the nineteen to twenty-hour flights. So what is the aircraft like? A closer look at the Qantas Project Sunrise Airbus A350-1000. And we also look at the other types the airline ordered today.
The aircraft
The A350-1000 test aircraft that taxied straight into the Qantas hangar for the media event after her early-morning arrival in Sydney is more or less the same one that the carrier will get in 2025. "This isn't an -1000ULR", an Airbus spokesperson stresses again on the phone to AirInsight from Sydney. That's in contrast to the A350-900ULR, which got the Ultra Long Range designation thanks to some tweaks like an extra fuel tank.
Even without the 'ULR' addition, the A350-1000 that Qantas gets will have this same feature: a 20.000-liter center fuel tank within the wing box and identical to the one on the -900ULR. This gives the aircraft its 9.700 nautical miles/18.000 kilometers range, the same as that of the -900ULR. That a Qantas graphic of the type showed 8.700nm has been a "typing error", the spokesperson says.
The -900ULR can go the distance with 173 seats, although Singapore Airlines has just 161 on board. The Qantas -1000 will have 238 seats compared to 372 in a standard, three-class -1000, so this shows you how the Project Sunrise version trades in capacity for range: extra fuel and fewer passengers. The aircraft will most likely stay within the specifications of the standard -1000, like Maximum Take-Off Weight: "The -1000 is certified to 319 tonnes MTOW and any additional needs will be determined during the certification process." There will be no change to the Rolls-Royce Trent XWB97s.
On the way into Sydney (via Perth), test aircraft MSN059 did some useful long-haul tests and measurements. These will be repeated when she returns to Toulouse in the coming days.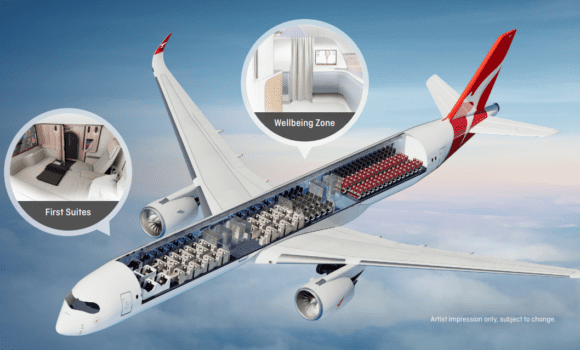 The cabin
Qantas has shared preliminary concepts of the cabin but is still fine-tuning its ideas. The 238 passengers sit in four areas: First, Business Class, Premium Economy, and Economy. Mind you that the seat number is just two seats less than the 236 that Qantas offered on the pre-Covid non-stop Perth-London Heathrow flights on the Boeing 787-9.
First Class is at the front of the cabin and features six fully enclosed suites in a 1-1-1 layout. They come with a separate recliner lounge chair, a bed, and a wardrobe, plus a 32-inch flat-screen. The modern look reflects that of other recent Qantas cabin products but is far more 'plush' than First Class in the A380, which has no privacy doors.
Behind First are 52 Business Class suites, all with direct aisle access. Although referred to as a 'next-generation suite', it builds on the product offered on the 787-9. There is a bar for self-service.
In between Business Class are galleys and toilets, but they are in a central position that offers passengers and crew plenty of space in the areas of Doors 2 Left and Right to stretch their legs and walk around.
Aft of Business is Premium Economy, with forty seats at forty-inch pitch each. This will be a new seat, says Qantas, building on the product that is currently on the A380 and 787-9. At the back of the aircraft is Economy (as always…), with 140 seats at a 33-inch pitch. Crew bunks are at the very end of the aircraft.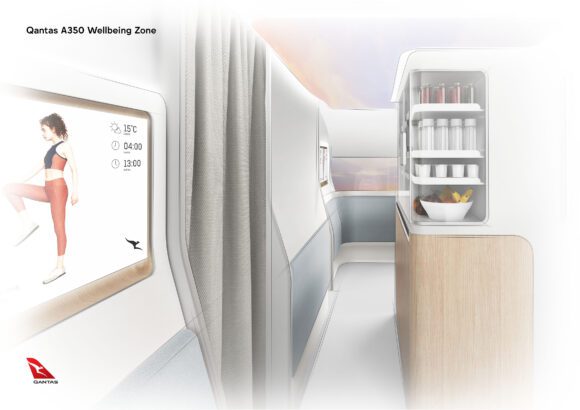 Between Premium Economy and Economy is the 'well-being zone', where passengers can relax and do some physical exercises and do a walk around the central galley. On the left are the curtains to Premium Economy. (Qantas)
What makes the Project Sunrise A350-1000 stand out from any other aircraft (except the A380) is the 'well-being zone' that is between Premium Economy and Economy. Qantas offered just some initial renderings of the area, which seems little more than a galley at Doors 3 where you can literally walk around and have a refreshment. The place is intended for standing up, so without seats, to promote doing some physical exercise. Screens on the walls offer some advice. This well-being zone must have come straight from the lessons learned from the three Project Sunrise research flights in 2019 when passengers/guinea pigs did physical exercises in the back galley of the 787-9.
"The A350 and Project Sunrise will make any city just one flight away from Australia. It's the last frontier and the final fix for the tyranny of distance", said CEO Alan Joyce at the media conference. A non-stop flight from Sydney to London will slash some four hours of travel from the 23 hours 50 minutes that Qantas currently needs for QF1 via Darwin, likely becoming Singapore again once Covid restrictions have been lifted. Saving four hours will most certainly come at a price. With three years to go until the first Project Sunrise flight, Qantas hasn't given any fares yet. But for comparison, we selected a single trip on May 17 that costs you $1.556 in Economy, $3.648 in Premium Economy, $8.229 in Business Class, and $8.890 in First Flex.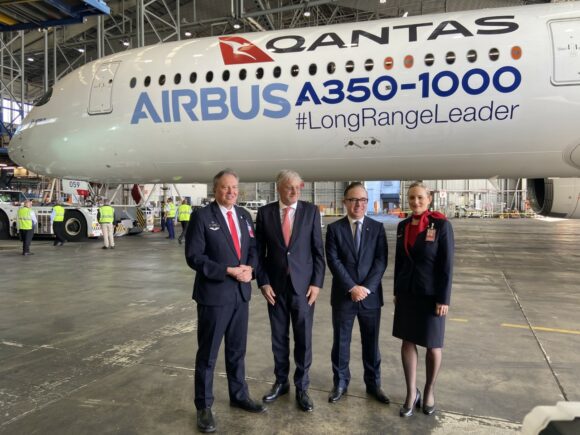 Airbus Chief Commercial Officer Christian Scherer (second from the left) and Qantas CEO Alan Joyce (second from the right) celebrate the order announcement in the Qantas hangar in Sydney, next to A350-1000 test aircraft MSN059 with special decals. (Airbus)
Sydney-New York JFK will be another non-stop service. Right now, you can only get there with Qantas with a stop-over in either Los Angeles or Dallas Fort Worth and a connecting flight with American Airlines, taking you around nineteen hours. That will cost you between $2.000-2.500 in Economy, $4.876 in Premium Economy, between $10.923-11.923 in Business, and no First available despite operating the A380 to LAX.
Getting the business case right for Project Sunrise was a key factor to be confirmed in 2019. Qantas hasn't said how the numbers add up now to make the project profitable. But expect the focus on the premium customer (52 Business and forty Premium Economy) to bring in some good money. First will be for the happy few (as always…), 140 pax in Economy good base yields. Add to this the economies and efficiency of the A350-1000, and Qantas should have got its calculations right.
Qantas says that Capital expenditures on Project Sunrise will be the highest between FY25 to FY27 when the twelve A350s will be delivered through 2028. It estimates a Capex for FY26 of around $1.2 billion.   
A321XLR
The airline also confirmed its in-principle agreement from December for twenty A220-300s for QantasLink and twenty A321XLRs for Qantas, plus 94 options. The A220s will be delivered from 2023, the first XLR in the second half of 2024. Qantas Group also converted twenty A320neo's on order for subsidiary Jetstar into A321XLRs. The airline gets its first of eighteen A321LR this July. Including the original (and now amended) order for 45 A320neo's and 64 A321neo's, Qantas Group has now orders and options for 299 Airbus narrowbody aircraft. All will be powered by Pratt & Whitney Geared Turbofans. The new aircraft replace 95 Boeing 717s and 737-800s.
Especially the A321XLR opens up new opportunities for Qantas and Jetstar. With their 4.700nm/8.700km range, they bring new areas in Southeast Asia and the Pacific region within reach, like Hong Kong, Bangkok, and Avarua.
Graphic comparing the range of the Airbus A321XLR to that of the Boeing 737-800 that it will replace. (Qantas)
Trading update
Qantas also published a trading update today, fresh on the back of closing its third quarter of FY22. Although it didn't offer detailed Q3 numbers, the airline says that domestic traffic is over pre-Covid levels with capacity at 110 percent of 2019. International traffic is also seeing strong demand but is curtailed by continued travel restrictions. Capacity should grow to fifty percent in Q4 (July-September) and seventy percent in Q1 2023. Cargo remains well above pre-pandemic levels.
The Underlying EBITDA for HY2 until the end of September is expected to be between $450 and $550 million. Q4 should produce a positive underlying EBIT on domestic operations, but the full-year EBIT will produce a significant loss. Fuel costs are ninety percent hedged for HY2, but Qantas and Jetstar will try to compensate for higher costs by increasing domestic routes in July and August and by reducing some capacity. Qantas expects to return to profitability in 2023, thanks to one billion in cost reductions from a company-wide restructuring. During Q3, net debt has been reduced from $5.5 to $4.5 billion. The Group has started hiring 2.500 new staff that are needed for the coming twelve months.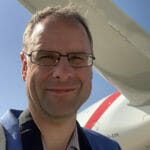 Active as a journalist since 1987, with a background in newspapers, magazines, and a regional news station, Richard has been covering commercial aviation on a freelance basis since late 2016.
Richard is contributing to AirInsight since December 2018. He also writes for Airliner World, Aviation News, Piloot & Vliegtuig, and Luchtvaartnieuws Magazine. Twitter: @rschuur_aero.