Airbus provided this PR today: "An Airbus A220-300 flight test aircraft will visit six Asian destinations as part of a demonstration tour across the region. After a stopover at Seoul's Incheon Airport the aircraft heads to Yangon (Myanmar), the first location of the demonstration tour. The aircraft will then visit Hanoi (Vietnam), Bangkok (Thailand) and Kuala Lumpur (Malaysia) before heading north to Nagoya (Japan).
The A220 is the most modern aircraft in the 100-150 seat market. It delivers unbeatable efficiency and passenger comfort in its size category, with 20 percent lower fuel consumption than previous generation aircraft. The A220 being used for the demonstration tour in Asia is an Airbus flight test aircraft fitted with a typical single class passenger cabin.
During the A220 demonstration tour, customers and media will be offered a close up view of the aircraft's outstanding characteristics, comfort and performance that benefit both operators and passengers alike."
This image accompanies the release.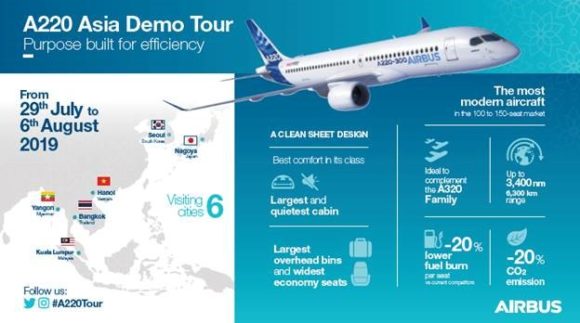 This release is interesting because it comes closely after a similar mission by Embraer showing off its E195-E2. The pressure is on.  In the release, the item that is especially noteworthy is this:  the aircraft is an A220-300 fitted with a typical single class passenger cabin.  Airbus confirmed the A220-300 flight test vehicle features a cabin layout of 143 seats @ 32"/31"/30"/29" pitch. The various pitch have been purposely implemented to showcase the passenger comfort level of the aircraft to future customers.

We recall several years ago at Farnborough when Bombardier did a private showing on the C Series to Tony Fernandes from AirAsia.  This visit was a concern for Airbus as this was not where they wanted Tony Fernandes to go.  In 2013 Bombardier announced they could offer the CS300 with 160 seats.
Why send a single class cabin on a demo tour?  The answer is that the aircraft is being aimed at the region's LCCs.  AirAsia is right at the center of the target.  What Bombardier could not do – get Tony Fernandes over the line – Airbus hopes to do.  All Airbus needs is one LCC customer from this trip and the one-upmanship war starts.   No LCC can allow a competitor any advantage.  This market is hot for LCCs as rising incomes make air travel affordable.  The A220-300 is light enough to allow service into the plethora of short runways across the region – runways to small for an A319.  Tony Fernandes knows this.  He toyed with Bombardier on this in 2017 and even back as far as 2012.
2012 saw this analysis by CAPA. The case for the C Series back then is stronger now.  AirAsia's needs an efficient aircraft for long thin routes has grown.  Secondary market opportunities have also grown.  An order from AirAsia this time should not be surprising.
But here's a kicker.  An AirAsia order starts an arms race.  Who benefits from this? Not just Airbus – Embraer does too and it may have earlier delivery slots.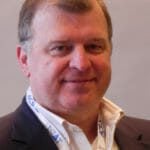 Co-Founder AirInsight. My previous life includes stints at Shell South Africa, CIC Research, and PA Consulting. Got bitten by the aviation bug and ended up an Avgeek. Then the data bug got me, making me a curious Avgeek seeking data-driven logic. Also, I appreciate conversations with smart people from whom I learn so much. Summary: I am very fortunate to work with and converse with great people.