Airbus can look back on a strong first six months, but to make 2019 a good year a lot still needs to be done in HY2. At Commercial Aircraft the priority in the next six months is mainly on one thing: sorting out the A321neo production issues.
That was the message of Airbus President and CEO Guillaume Faury and CFO Dominik Asam at the July 31st results presentation. The task ahead is 'challenging', said Faury.
Airbus Group posted a net profit of EUR 1.197 billion, up from 496 million the previous year. EBIT adjusted was EUR 2.529 billion versus 1.162 billion. Revenues were up to EUR 30.866 billion from 24.970 billion. Free cash flow was EUR -4.116 billion, down from 3.797 billion.
Commercial Aircraft revenues improved by 30 percent to EUR 24.043 billion (18.546 billion) or even by 178 percent in Q2 to EUR 2.151 billion (773 million). This reflects the higher deliveries (389 versus 303) and ramp-up of A320neo production compared to last year. EBIT Adjusted for the segment improved by 170 percent to EUR 2.338 billion (867 million). Order intake was weak in HY1 and including cancelations ended at 88 compared to 206 last year. This does include 151 announcements from the Paris Air Show, while others still need to be confirmed.
Looking more specifically at Q2, Commercial Aircraft revenues were up 27 percent to EUR 14.346 billion, EBIT adjusted up 98 percent to EUR 1.802 billion.
Another backloaded year
Faury confirmed that 2019 will be another backloaded year with most deliveries likely in the final quarter as happened in the last years. The A320neo-family has been improving and sees positive effects of a steady ramp-up to 60/month from mid-year 2019. Engine supplies are stabilizing as production and technical issues with the Pratt & Whitney GTF and CFM LEAP are more and more in control.
The weak link is the A321neo with Airbus Cabin Flex (ACF) configuration. As COO Michael Schoellhorn and EVP Production & Services Philippe Mhun told Airinsight in May, assembling this version takes much longer due to manufacturing issues (flexing of the fuselage) and customer-related specs. ACF-issues have slowed down A321-production for about a year now. As more and more customers opt for the A321 and this sub-type in its LR and XLR-guise is becoming the most important member of the neo-family, Airbus has to act.
A321 will get a bigger share in production
Faury said today Airbus is studying various options on how to increase the share of the A321 in total neo-production. Part of that is solving the manufacturing issues at Hamburg's Final Assembly Line 4, which is dedicated to the A321neo and has been performing at a lower rate than the other ones in Hamburg and Toulouse. What should ease the situation is making the ACF the standard configuration, which was always planned.
As announcements in Paris confirmed demand for the neo-family stays strong. Production is sold out until and including 2024. That's why Airbus is having another look at ramping up beyond rate 63 from 2021 to keep up with demand, Faury said. He acknowledged there are some bottlenecks here, especially with suppliers being able to cope with the higher rate, especially the engine suppliers.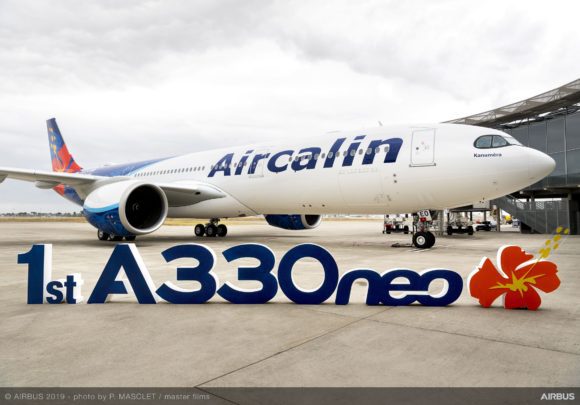 Air Calin received its first A330-900 on July 30. (Airbus)
Ramp-up of the A330neo is progressing 13 were delivered, but more deliveries need to be secured for HY2. The A350 is doing well at rate 10 per month and on-track to reach break-even by the end of the year, but Faury confirmed the wide-body market is in a difficult situation. There certainly is demand as the recent Air China-order shows, but Airbus is anxious to get more orders. Faury is certainly worried about the trade tensions following the US-threat of imposing tariffs on Airbus aircraft and components. If imposed, these tariffs will significantly affect deliveries to US customers and impact Airbus' financial results.
On the A380 Airbus has taken another EUR 75 million charge in Q2 for winding down the program, on top in addition to 61 million in Q1. CFO Asam expects another low, double-digit extra charge is needed as Airbus still negotiates with unions about the effect of closing-down the A380 on staff.
While happy to sign an MoU with Air France for 60 A220s and expecting to roll-out the first aircraft in Alabama in Q3, the former Bombardier C Series are eating into Airbus' free cash flow position and will continue to do so in HY2, Asam said. More time is needed to restructure the program and get costs at the level wished by Airbus.
Airbus confirmed its outlook for 2019 of 880-890 aircraft deliveries and expects EBIT adjusted to be 15 percent higher compared to 2018, with free cash flow in the range of EUR 4 billion.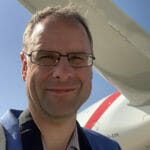 Active as a journalist since 1987, with a background in newspapers, magazines, and a regional news station, Richard has been covering commercial aviation on a freelance basis since late 2016.
Richard is contributing to AirInsight since December 2018. He also writes for Airliner World, Aviation News, Piloot & Vliegtuig, and Luchtvaartnieuws Magazine. Twitter: @rschuur_aero.