While the Covid-crisis is far from over, Airbus is confident that the world's economy and air travel industry will see no further disruptions in 2021. Based on this assumption, the European OEM expects deliveries of commercial aircraft to be on par with 2020 when it delivered 566 aircraft. Its pre-tax result should improve to around EUR 2.0 billion, up from last year's EUR 1.7 billion.
Despite this optimism, CEO Guillaume Faury warned during the February 18 fiscal year 2020-results presentation that the industry is still in a vulnerable position: "The path to recovery is not necessarily linear. We are still in an uncertain and volatile situation". In line with IATA forecasts, Airbus expects the recovery of short-haul traffic to 2019 levels not before 2023.
Airbus Group reported a EUR-1.133 billion net loss compared to EUR-1.362 billion in 2019. EBIT Adjusted was EUR 1.706 billion versus EUR 6.946 billion, EBIT Reported EUR -510 million versus EUR 1.339 billion. The Group's revenues ended at EUR 49.912 billion compared to EUR 70.478 billion, reflecting 34 percent fewer commercial aircraft deliveries. Order intake dropped by 59 percent to EUR 33.290 billion.
Free cash flow before merger and acquisitions and customer financing were EUR -6.935 billion compared to a positive EUR 3.509 billion in 2019. Net cash position was EUR 4.312 billion versus EUR 12.534 billion, with a gross cash position of EUR 21.4 billion.
Both Helicopters and Defence & Space contributed with positive results on EBIT and revenues.
EBIT commercial aircraft ninety percent down
Commercial aircraft reported an EBIT Adjusted of EUR 618 million compared to EUR 5.947 billion, a drop of ninety percent or EBIT reported of EUR -1.330 billion (plus 1.794 billion in 2019). This reflects lower deliveries compared to the 863 in the previous year and, as a result, lower-cost efficiency, especially on the widebodies. Revenues were down to EUR 34.250 billion compared to EUR 54.775 billion, reflecting lower sales (268 orders versus 768)
While much worse compared to the previous year, the trend has been of steady improvements that are reflected in the Q4 results. Thanks to more deliveries in the final quarter, EBIT Adjusted was EUR 1.259 billion or -47 percent, but in Q3 this was EUR 666 million (-52 percent) and in Q2 EUR -1.498 million compared to EUR 1.730 billion the same quarter of the previous year.
Faury and CFO Dominik Asam said the 2020 results and the improvement in Q4 reflect the adaptation Airbus has undergone in the past difficult year. "It confirms our set of measures has been effective", says Faury. The company took a EUR 1.202 billion provision on restructuring and Covid-related costs, the majority in the first nine months. The restructuring has resulted in some 3.500 employees leave Airbus with 131.349 remaining.
Thanks to government payroll programs, Airbus has been able to keep more staff on than was originally planned. However, some 6.700 staff out of the 15.000 to be furloughed will have to go and full benefits of the restructuring are expected in 2022.
Too early to talk about 2022 rates
The restructuring in commercial aircraft was needed as Airbus adapted its production rates for all models: from sixty to forty for the A320neo-family line, from ten to five for the A350, and the A330 from four to two. The exception is the A220, which will go up from four to five per month. Faury confirmed again that Airbus plans for a small ramp-up of the A320neo-family to rate 42 in the second half, but is wary to discuss the situation for 2022 and beyond as he is waiting for the "tipping point." Most likely, rates for the single-aisle aircraft will remain unchanged next year. Getting breakeven on the widebodies should be possible at the current low production rates but that will take time, Asama said.
Asked why Airbus is expecting deliveries to be on par with 2020 despite announcing a ramp-up in production in the second half of the year, Faury said: "Our guidance of flat deliveries seems to contradict with the production schedule, which we said in January would go slightly up on the single-aisle aircraft. We have made this guidance in a very uncertain situation. The impact of the crisis is quite uncertain for the first part of the year, but we expect better news in the second half of the year. That makes it difficult to make an assessment, but our guidance reflects what we think that can be reasonably expected."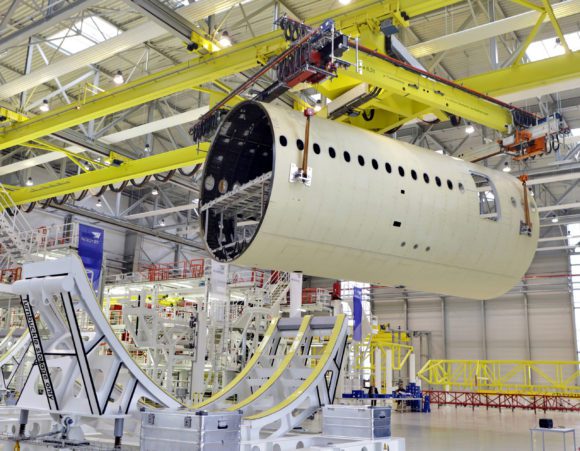 Airbus will keep its aerostructures businesses like Premium AEROTEC and
Stelia as a core business. (Premium AEROTEC)
Some whitetails in the inventory 
Faury said that at the end of the year, there has been a "three-digit number, so slightly below one hundred" of undelivered aircraft in its inventory compared to 145 in June and 135 in September. He confirmed a small but unspecified number are whitetails. In a January media presentation, CCO Christian Scherer said that Airbus won't build any whitetails in 2021.
A year ago, Airbus announced the end of the A380 program. It took another EUR 27 million in termination costs in Q4 or EUR 385 million for the full year. A charge of EUR 480 million on dollar pre-delivery payment mismatch and balance sheet evaluation was also made.
For this year, Airbus will keep its self-financed R&D investments stable at EUR 2.9 billion, with Faury hinting at preparations being fully underway for the development of the next generation of aircraft. This includes investments in technologies that de-carbonize aircraft.
Aerostructures to remain a core activity
Faury confirmed that the aerostructures business will stay within Airbus as a core activity. A couple of years ago, the company considered selling subsidiaries Premium AEROTEC in Germany and Stelia in France, but the thinking on this has changed. "When they have created some fifteen years ago, it was thought that at a point in time they could be divested. But also placing it in the wave of disruption and innovation that is coming, like decarbonization and the Digital Design, Manufacturing and Services (DDMS) approach, the connection between the design and the production system itself is probably far more important in the new digital world than it was before. Therefore, we think it really makes sense to keep it connected." Whether both companies will become fully integrated within Airbus or remain separate entities is still under review as part of plans to simplify its industrial business structure.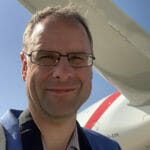 Active as a journalist since 1987, with a background in newspapers, magazines, and a regional news station, Richard has been covering commercial aviation on a freelance basis since late 2016.
Richard is contributing to AirInsight since December 2018. He also writes for Airliner World, Aviation News, Piloot & Vliegtuig, and Luchtvaartnieuws Magazine. Twitter: @rschuur_aero.