Longview Aviation Capital will continue to invest in the De Havilland Canada Dash 8-400 program but will take a time-out on the production as it explores options for a new production site. The Canadian investor reaffirmed its long-term commitment to DHC in a statement released on February 17.
In January, Airinsight took an in-depth look at the status of De Havilland Canada and the 8-400 after all had been very quiet from Downsview for the last few months. The company confirmed it had delivered eleven turboprops in 2020 but was unwilling to disclose the backlog on unfilled orders. Longview executive director David Curtis said in a June 17 investor event that the backlog was 20+ aircraft, but from our analysis, we reckoned De Havilland had only between ten and twenty firm orders. A number of frames have already been produced and are in storage.
In today's news release, DHC confirms that 'prevailing industry circumstances' have hindered the company to confirm new aircraft sales. Most likely, they are the 37 aircraft announced as letters of intent or memoranda of understanding at the 2019 Dubai Airshow. Without a backlog, DHC will pause production of the 8-400 until further notice. "De Havilland Canada's objective is to resume new aircraft delivery at the earliest possible time, subject to market demand." This "responsible and prudent measure" affects some 500 employees.
Downsview site abandoned later this year
The pause is used to terminate production at the current site at Downsview (Toronto), which was purchased from Bombardier in 2018 and where aircraft have been produced since September 1929. When Longview bought the Dash 8-program, it was known that the lease would expire by the end of this year while the runway would close in 2023. DHC has now begun preparations to leave the site in the second half of the year and move to another location. Where this will be hasn't been decided: "There are a number of excellent production site options in Canada." It doesn't say when it expects to have relocated.
8-400 will get a few updates
Once this has been done, De Havilland Canada plans to offer airlines an updated version of the 8-400. It says it will develop upgrades and modifications for both the passenger and freighter market. The cabin will get a make-over with bigger overhead bins. On the technical side, improvements will be made to reduce operating and ownership costs. Longview commits to a significant but unspecified capital investment in the customer services and support team, which forms the backbone for Dash 8 operations all over the world.
As David Curtis says in the statement: "While this evolution is taking place against the backdrop of unprecedented industry circumstances, we see a bright future for De Havilland Canada and the Dash 8. The Dash 8 is a segment-defining aircraft, and it has never been in better hands – strengthened by being part of a robust aviation portfolio with patient long-term ownership. We are also the only company to have successfully re-launched an out-of-production aircraft, with our team bringing the renowned Series 400 Twin Otter back into production. We are fully committed to the Dash 8 and intend to further enhance its capabilities and performance, and remain a leader of the regional aircraft market of the future."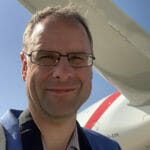 Active as a journalist since 1987, with a background in newspapers, magazines, and a regional news station, Richard has been covering commercial aviation on a freelance basis since late 2016.
Richard is contributing to AirInsight since December 2018. He also writes for Airliner World, Aviation News, Piloot & Vliegtuig, and Luchtvaartnieuws Magazine. Twitter: @rschuur_aero.