The Archer Aviation eVTOL has made its first hover flight on December 16, the US start-up announced on December 20. The Maker demonstrator aircraft hovered for an unspecified duration, nor the Archer provided details of the altitude. A picture on its website showed the Maker some fifteen to twenty meters above the ground. Archer Maker makes its maiden hover flight.
The two-seater was unveiled in June. In November, the CAA granted a Certificate of Authorization that allowed Archer to start flight tests. This followed extensive ground tests that demonstrated that the vehicle would be safe to fly.
The unmanned hover flight in California completed the first full system tests and the validation of the hardware and the flight control software. The Maker will now enter an extensive multi-year test campaign that should eventually lead to certification of the eVTOL in 2023 or 2024.
"With our first hover flight now completed, we're one major step closer to that goal and have proven that Archer can work at a fast pace without sacrificing safety or quality", says Archer's co-founder, Adam Goldstein, in a media statement. "Our team stands ready to continue that pace as we work toward launching an aerial ridesharing service in late 2024." Archer is already working on the four-seater production version of the Maker. It completed the conceptual design review in October and plans to fly it in 2023.
During Q3, Archer reported a $177 million net loss, on par with the $176 million in operating expenses and $1.1 million in capital expenditures. The Palo Alto company ended the quarter with $796 million in cash and cash equivalents.
Archer's order book got a huge book in February when United Airlines and Mesa announced their intention to purchase 200 Makers valued at $1.5 billion, conditional to the eVTOL meeting the airlines' requirements. United will also bring its expertise on board in airspace management. For now, United and Mesa remain Archer's only customers. Vertical Aerospace has secured commitments from American Airlines, Virgin Atlantic, and lessor Avolon. Embraer's EVE had some 800 orders. Airbus launched its CityAirbus NextGen in September.
Californian rival Joby Aviation is ahead of its rivals and has been test-flying eVTOL since 2019, doing over 1.000 flights. It performed a 150 miles test flight at its Big Sur site in September. Entry into service is planned for 2024. While it has partnerships with Toyota and Uber (acquiring Uber Elevate), Joby has failed to attract orders from potential operators.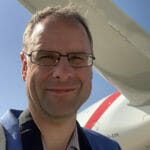 Active as a journalist since 1987, with a background in newspapers, magazines, and a regional news station, Richard has been covering commercial aviation on a freelance basis since late 2016.
Richard is contributing to AirInsight since December 2018. He also writes for Airliner World, Aviation News, Piloot & Vliegtuig, and Luchtvaartnieuws Magazine. Twitter: @rschuur_aero.