The outlook for AirAsia, one of Asia's biggest low-cost airlines, has received a serious dent after external auditor Ernest & Young issued an unqualified audit opinion about the ability of the airline as a going concern. The impact of the Covid-19 crisis makes the financial position very weak.
A day earlier, the Malaysian airline said that Covid-19 had delayed the issuance of its FY19 and Q1-2020 results. On the 7th, it released its FY2019 results, announcing a RM 283.213 million net loss for AirAsia Group Berhad. The net operating profit was RM 68.834 million on RM 11.8 billion revenues.
Liabilities exceed assets
In its opinion, Ernest & Young notes that by the end of last year current liabilities of AirAsia exceeded its total assets of RM 1.843 billion. The market situation has changed for the worse since then, as Covid-19 has restricted most of the airline's activities. Recently, there has been an improvement in the situation as domestic and interstate traffic to Indonesia and the Philippines have boosted tourism again. Since the staggered resumption of services in June, bookings, and load factors have gone up to 45-65 percent. AirAsia expects its business to return to normal by early 2021.
Yet, the auditors say: "These events or conditions, along with other matters as set forth in Note 2.1 and Note 48 to the financial statements, indicate the existence of material uncertainties that may cast significant doubt on the Group's and the company's ability to continue as a going concern."
"The financial statements of the Group and the company have been prepared on a going concern basis, the validity of which is dependent on successful recovery from the Covid-19 pandemic in conjunction with the actions undertaken by the government of the respective countries, favorable outcome of the ongoing discussions with the financial institutions and investors to obtain required funding and successful implementation of the management's plans for future actions." AirAsia shares dropped 17.5 percent on July 8.
Airline in talks about additional funding en equity
AirAsia has bolstered its liquidity position by RM 1.0 billion, of which a certain amount is guaranteed by the Malaysian government. Subsidiaries in Indonesia and the Philippines have also requested guaranteed loans. AirAsia Group plans to raise RM 1.4 billion to strengthen its equity base.
To reduce costs, the airline is seeking deferrals of payment obligations with lessors and to restructure fuel hedge contracts. A 15 to 75 percent salary reduction has been imposed on staff and the airline is looking to resize its organization.
In April, AirAsia announced it would defer deliveries of all Airbus aircraft. The airline has to take delivery of the remaining 13 A320neo's (out of 188 ordered) and 349 A321neo's (out of 353) and planned to have a fleet of 220 by the end of this year. AirAsia X has 30 A321XLRs, 78 A330-900s, and 10 A350-900s on order. Over the years, the Group has ordered 622 aircraft with Airbus.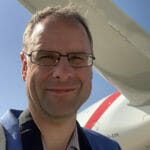 Active as a journalist since 1987, with a background in newspapers, magazines, and a regional news station, Richard has been covering commercial aviation on a freelance basis since late 2016.
Richard is contributing to AirInsight since December 2018. He also writes for Airliner World, Aviation News, Piloot & Vliegtuig, and Luchtvaartnieuws Magazine. Twitter: @rschuur_aero.