After all 2019 has been for Boeing, the year's orders and deliveries were expected to be at a historic low level. Still, the results presented on January 14 were even more somber. Boeing delivered 380 airliners while net orders including accounting changes ended deep red at -87.
Gross orders stand at 246 and include 113 787s and 68 737NG/MAX, 38 777s and 26 767/Tankers. But then there were -192 contractual changes, cancelations and conversions  resulting in 54 net orders. Including -141 accounting changes result in net -87 net orders.
Boeing lost 183 737 net orders from its books, including 73 MAX. Despite 45 cancelations and order revisions the 777 net score is only -4. The 777X program saw 23 net cancelations, including those from Emirates and Lufthansa while the program won a new order from British Airways.
The best selling airliner was the 787 at 74 net orders, but its gross result of 113 reveals even the Dreamliner lost some precious deals. Net orders for the 767/Tanker stand at 26, while 2019 was the first year since 1969 that the 747 failed to win any order.
With all MAX going straight into storage since March, deliveries reflect the unusual year. Boeing delivered just 127 737NGs, P8s, and MAX, a far cry of the 580 of the previous year. It made the 787 becoming top scorer at 158 deliveries compared to 145 in 2018.
Some 45 777s and 777Fs left Everett, slightly down from 48 the previous year. The resurgence of the 767 and Tanker program was evident as deliveries hit 43, up from 27. The Jumbojet performed even better in 2019 with 7 deliveries versus 6 in 2018. On December 31, Boeings net order backlog stood at 5.406.
The financial implications of all this will become visible on January 29, when Boeing presents its 2019 Q4 and full-year results.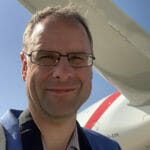 Active as a journalist since 1987, with a background in newspapers, magazines, and a regional news station, Richard has been covering commercial aviation on a freelance basis since late 2016.
Richard is contributing to AirInsight since December 2018. He also writes for Airliner World, Aviation News, Piloot & Vliegtuig, and Luchtvaartnieuws Magazine. Twitter: @rschuur_aero.