UPDATE – Boeing has taken a pre-tax non-cash charge of $3.460 billion on the 787 program as deliveries remain suspended over quality issues. Abnormal costs for the Dreamliner increased by $285 million in Q4 and total approximately $2.0 billion, with most being incurred by the end of 2023, it said on January 26 in its 2021 results announcement. Boeing also said that it is now offering a freighter version of the 777X to customers. Boeing takes $3.5 billion 787 charge and offers 777X Freighter.
Whereas American Airlines said last week that it is hoping to take delivery of at least four 787-8s from this April, Boeing isn't giving any guidance on the resumption of deliveries in the release of its results. "The company continues to perform rework on 787 airplanes in inventory and is engaged in detailed discussions with the FAA regarding required actions to resume deliveries. In the fourth quarter, the company determined that these activities will take longer than previously expected, resulting in further delays in customer delivery dates and associated customer considerations", the airframer says in its release. CEO David Calhoun said that the timing of resumption of deliveries is up to the FAA and that all customers have been fully updated.
Reach-forward loss to compensate for delayed deliveries
Analysts had expected a reach-forward loss on the 787 to happen already last year, but Boeing was able to account for the losses on the program elsewhere in its results. The $3.460 billion pre-tax charge will largely be for compensating customers for delayed deliveries. American said last week that Boeing has indicated that it will compensate the airline for the delays of its thirteen 787-8s on order. 
In a statement to staff, CEO David Calhoun says on the additional costs: "I view the financial impacts of this work as a long-term investment in a program that has significant runway ahead. We are taking the time now to ensure we're positioned well as widebody demand recovers. We'll continue to keep you updated as we progress toward returning to 787 deliveries."
Dreamliner production is at "very low rates" and will gradually return to five per month when deliveries are resumed. "We will run our rates as low as we can while we burn our inventory as fast as we can", Calhoun said on 787 production rates. There are 110 787s in inventory and all need rework on the door surrounds. It is this that is taking longer to complete as the rework on each individual aircraft needs to be analyzed and approved by the FAA. "While this hurts us near-term, we still believe it is the right thing to do, because long-term, we will sell a lot of these 787s for decades. So we have to work our way through this", said Chief Financial Officer Brian West.
In its consolidated statement, the "unfortunate" (Calhoun) $3.460 billion pre-tax charge is listed under "787 and 777X reach-forward losses" which will take years to recoup. Boeing took a $6.5 billion pre-tax charge on the 777X in its 2020 results. The $2.0 billion in abnormal costs is double that of what was expected. Boeing expects this cash flow to go out before the end of 2023.
In its comment, Bank of America says that "while the (pre-tax) charge is non-cash, it implies the company doesn't expect to recover those costs in future deliveries, then lower expected profits for 787 in the future. If we continue to see delays in the program we wouldn't be surprised to see further cuts to deferred production." On December 31, deferred production costs for the 787 stood at $11.693 billion, down from $15.153 billion in Q3 and $14.976 billion in Q4 2020. Cash margins on the 787 will remain positive and will significantly improve over time, West said.
MAX is now at a rate of 26 per month
On the MAX, Boeing is reporting continued progress. The program currently is on a rate of 26 aircraft per month, which will be increased to 31 in "early 2022." A further ramp-up is being studied as the MAX recently attracted new sales from Allegiant Airlines and 777 Partners for up to 130 aircraft. Calhoun said that a decision on further rate updates is not to be expected this quarter.
An important step towards more deliveries and sales is the approval of the MAX in China in December. China Southern made a test flight with one of its MAX 8s and is set to return the type into commercial service anytime soon. Boeing has 73 MAX for Chinese customers ready for delivery. Boeing delivered 245 MAX in 2021. There are currently 335 MAX in inventory that will liquidate through the year, with the last delivery expected by the end of 2023. MAX abnormal and liability costs are largely behind us, said West, with the remaining $2.9 billion in abnormal costs expected to be liquidated this year.
Boeing isn't experiencing supplier issues right now due to its current low production rates and inventory. "However, as we look forward to the industry recovering and production rate increases, the supply chain remains a key watch item for raw materials, labor availability as well as logistical challenges. We regularly monitor supplier health and have risk mitigation plans in place for critical components", said  Brian West. "As we prepare for future rate increases, we will continue to prioritize operational stability across the value stream." Omicron is causing some concerns over labor shortages. 
777X Freighter now offered to customers
Almost in between lines, Brian West remarked that Boeing is now offering a freighter version of the 777X to customers, but referred to future updates on sales campaigns for more details on the launch timing evaluation. Reuters reported on January 25 that Qatar Airways is close to signing an order for fifty aircraft. Boeing said last November during the Dubai Airshow that it needed more time to finetune the specifications of the freighter, which will be based on the 777-8.
Meanwhile, the 777-9 has performed 1.800 flight hours until the end of 2021. As with the 787 issues, Boeing refers to the FAA as to when it will get approval to start Type Inspection Authorization as the final step towards certification but hopes to get this soon. It still has scheduled delivery of the first aircraft for late 2023. As the result of increased freighter demand, Boeing will increase the production of the combined 777/777X from two to three aircraft per month from this year, West said.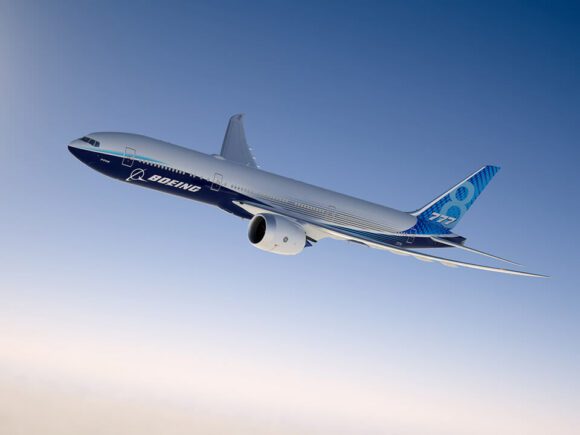 The Boeing 777-8 will likely form the basis of the 777X Freighter. (Boeing)
Group loss 4.3 billion
Boeing Commercial Aircraft reported a $6.475 billion full-year operating loss in 2021 compared to $-13.847 billion in 2020. Its revenues improved by 21 percent to $19.493 billion from $16.162 billion. BCA's operating margin also improved from -85.7 to -33.2 percent.
During Q4, BCA recorded a $4.454 billion loss versus $-7.648 billion in 2020. Revenues were almost flat at $4.750 billion versus $4.728 billion in 2020, driven primarily by higher MAX deliveries but offset by lower widebody deliveries. As reported earlier, Boeing sold a record-high 84 full-freighters, of which 42 777Fs and 38 767-300Fs.
Looking at Boeing Group's 2021 results, the company reported a $4.290 billion full-year loss compared to $-11.941 billion in the previous years. The operating loss was $2.902 billion compared to $-12.767 billion. Revenues ended at $62.286 billion versus $58.158 billion. The operating margin improved to -4.7 percent from -22 percent.
Group results for Q4 are: a $4.164 billion net loss (2020: $-8.439 billion), operating loss $4.171 billion ($-8.049 billion), revenues $14.793 billion ($15.304 billion).
On other divisions, Defense, Space, and Security reported a $1.544 billion full-year profit, slightly up from $1.539 billion in 2020. Its fourth-quarter ended at a $255 million loss, however, due to lower volumes and a $402 million pre-tax charge on the KC-46 Tanker program.
Global Services improved its profit by 348 percent to $2.107 billion from $450 million on 16.328 billion in revenues, up by five percent. This reflects higher volumes on maintenance and repair services, although the division took a $220 million inventory impairment.
GS activities include the Boeing Converted Freighter program, which will grow its capacity with ten new conversion lines until 2023. Boeing Capital produced a $551 million profit.
Boeing operating cash flow returned positive in the fourth quarter to $716 million but for the full year remained at $-3.416 billion, nevertheless a big improvement of $-18.410 billion in 2020. It reflects $1.7 billion in higher deliveries, more advance payments, and lower expenditures. Free cash flow in Q4 was $494 million, better than the breakeven that was anticipated by some analysts, and $-4.396 billion for FY21.
Net cash and marketable securities decreased by $3.8 billion to $16.2 billion since the third quarter, but then Boeing reduced its net debts by $4.3 billion to $58.1 billion.
Q1 2022 will be the lowest quarter of the year, but free cash flow will improve in Q2 and meaningfully accelerate in the back half of the year, preliminary thanks to higher deliveries of the MAX and 787. This should get 2022 deliveries to some 500, up from 340 in 2021. "That said, revenues could be impacted by 787 customer considerations and the delivery of 737 airplanes that were previously remarketed", said Brian West. In 2023, cash flow will be materially higher than in 2022.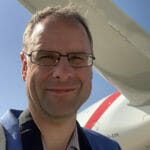 Active as a journalist since 1987, with a background in newspapers, magazines, and a regional news station, Richard has been covering commercial aviation on a freelance basis since late 2016.
Richard is contributing to AirInsight since December 2018. He also writes for Airliner World, Aviation News, Piloot & Vliegtuig, and Luchtvaartnieuws Magazine. Twitter: @rschuur_aero.