IATA released data showing that this year airlines across the world connected a record number of cities, with unique city-pair connections exceeding 20,000 for the first time. The annual percentage increase in the number of city pairs served was the largest since 2004 and represents a doubling of services since 1996 when there were fewer than 10,000 city pairs in operation.
The implication of this move should be clear to our readers – the change has been enabled by newer, longer range, aircraft.
Nearly three-quarters of the change between 2016 and 2017 came from within Asia and Europe.  Note that more city-pairs were added in the domestic China market in 2017 than within the whole of Europe combined.  As IATA notes: "China accounted for 11.4% of all city-pairs globally this year, up from 5.5% a decade ago."
China is especially interesting because there is a general assumption that high high-speed lows air travel growth. Yet even with a highly developed high-speed rail network in Europe, it too has seen strong air route changes and growth.
The implications are that as markets start to come on stream in China, more aircraft will likely be needed.  In September, Boeing released its forecast that states China will need 7,200 new aircraft over the next 20 years.  Not just China, by the wider Asian region also needs longer-range aircraft to connect communities.  Clearly, the same logic applies in all travel growth markets, Africa being another example.
While one naturally thinks about single-aisle aircraft as being the bulk of the growing demand,  bear in mind that as economies develop, urbanization accelerates.  It is the big urban areas that generate the greatest economic wealth and these areas also want more travel options.  Which brings us to another IATA chart.
Take a look at this presentation from IATA's media day.  Airport growth is not keeping up with urbanization.  Slot constraints are going to get worse, especially in the big cities. IATA then takes us through a series of options like slot pricing and auctions.
Of course, the way the problem is most likely to be solved is by deploying VLAs in these markets.  The airline offering the highest price for an auctioned slot would best recoup that investment by selling the most seats for that slot. Ergo, the case for the VLA remains as strong as ever.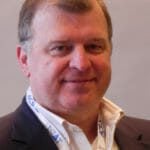 Co-Founder AirInsight. My previous life includes stints at Shell South Africa, CIC Research, and PA Consulting. Got bitten by the aviation bug and ended up an Avgeek. Then the data bug got me, making me a curious Avgeek seeking data-driven logic. Also, I appreciate conversations with smart people from whom I learn so much. Summary: I am very fortunate to work with and converse with great people.