A380
Airport congestion is coming to an airport near you. The A380, as at London Heathrow, may be the solution for peak period operations. The question is how congested must airports become before airlines are forced to move to very large aircraft such as the A380 at airports other than Heathrow?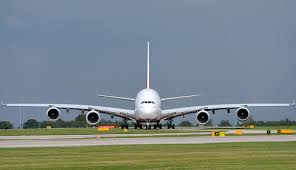 London's Heathrow Airport just released its operational figures for 2016, and 10% of all travelers through LHR arrived or departed on an A380, an increase from 8% in 2015 and 6% in 2014. A380s are expected to carry 12% of LHR traffic this year (2017), and if the trend continues, will carry 20% of Heathrow traffic by 2021.
Nine airlines currently fly the A380 to LHR, including BA, Emirates, Etihad, Korean, Malaysia, Qantas, Qatar, Singapore and Thai. That's nine out of 13 A380 operators. On a busy morning at LHR, the A380 seems to be becoming almost as ubiquitous as its… Continue reading →
December 2 is literally around the corner and Emirates is supposed to take delivery of its first Rolls-Royce powered A380. But it looks like this might not occur on the date. News out November 18th suggests that Rolls-Royce has not met its contractual obligations.
Sir Tim Clark, president of Emirates, is not a man to be trifled with. He has built the airline's remarkable success on the A380. He is committed to the aircraft, and it is the cornerstone of the airline's plans to move pretty much all major traffic flows over Dubai. At a media meeting in Berlin on the 18th he was unequivocal "We want the engines as prescribed in the contract".
Sir Tim gave no details. But there are apparently technical issues that need fixing.
Rolls-Royce pushed to win Emirates as a customer and secured a deal to power 50 A380s – that's 200 engines. … Continue reading →
News this week about Singapore Airlines not renewing the lease on its first A380 has caused a flutter. The considered opinion is that this is another piece of bad news for the Airbus program. The Wall Street Journal has this view: "But it is another symbolic hit for the double-deck aircraft, for which Airbus has struggled to find customers after investing about $15 billion to develop."
The news that Malaysian is also offloading its A380s is seen as bad news. But we believe this is not to be a reflection on the aircraft, but more a case of the airline not having the traffic and ability to exploit the A380. Back in 2003, Malaysia was pressed for a quid quo pro to allow its seafood products to have unrestricted access to the EU. While there were no direct links to an A380 order, that certainly helped with… Continue reading →