It appears the commercial aerospace world has coalesced into two camps.  We have called these the big and small duopolies.  However the line between these two is growing blurry.  This was something we first heard from Embraer's John Slattery in February, when he described a world that was more nuanced than a split market might indicate.
What do these two segments look like?
As of 1Q16, there were 31,068 commercial aircraft in service.  The next chart lays out the share between the biggest players.  The "Other" category includes the OEMs in the smaller chart.  The big four account for 85% of the market.
Moreover, as the bigger pie indicates, there sure looks like two duopolies.  When one looks at the backlog of these four firms, we note the following. There are 38,887 aircraft in the backlog, over 25% more than in service now!  The next chart shows how this backlog stayed relatively stable between 2011 and 2015.  Once again, the chart seems to make the case that there are two distinct duopolies.
The messy part, which Mr Slattery alluded to, is where the two duopolies meet – the clash zone.  The next chart illustrates the backlog in this zone since 2011.
Indeed for Embraer and Bombardier, the competition is no longer just between them. They are facing off against the big duopoly in the 100-130 seat market.  And, based on a few years of doing this, it looks like they are winning.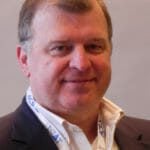 Co-Founder AirInsight. My previous life includes stints at Shell South Africa, CIC Research, and PA Consulting. Got bitten by the aviation bug and ended up an Avgeek. Then the data bug got me, making me a curious Avgeek seeking data-driven logic. Also, I appreciate conversations with smart people from whom I learn so much. Summary: I am very fortunate to work with and converse with great people.