UPDATED STORY – Indian low-cost carrier IndiGo ended its financial year 2020-2021 with an INR 58.064 billion after-tax loss. The result reflects the deep impact of the Covid-crisis, with a first wave and a long lockdown in March-May 2020 followed by the recent second wave from March this year that has resulted in many casualties. The airline said on June 5 it is seeing some "modest revenue improvements" since the last week of May but expects to be back at February levels only in the October-December quarter. The verdict: Covid-crisis continues to have a deep impact on IndiGo.
The INR 58.064 billion net loss compares to a negative 2.337 billion for the previous year, which runs from March to March. EBITDAR was INR 6.227 billion, down from 50.824 billion. Revenues dropped by 59.1 percent to INR 146.406 billion, although cargo revenues were up by 9.6 percent. Indigo's capacity for the full year was down by 52.8 percent. Cash burn increased from INR 150 million in December to 190 million per day in the final quarter.
First-quarter was the worst one
When we look at IndiGo's performance by quarter, we see that the first quarter March-June 2020 was actually the worst of the year. The carrier reported a net loss of INR 28.443 billion on revenues at -91.9 percent to INR 7.667 billion. Revenue Passenger Kilometers (RPK) dropped by 93.8 percent to just 1.3 million as all airlines in India were grounded during the first lockdown. The airline operated at only 9.1 percent capacity.
The situation improved slightly during the July-September quarter when losses were reduced to INR 11.948 billion. Still, revenues were down by 66.2 percent to INR 27.410 billion and RPKs by 71.4 percent to 5.8 million compared to the same period in the previous year.CEO Ronnojoy Dutta compared the recovery to "stair-stepping our way back to normal capacity."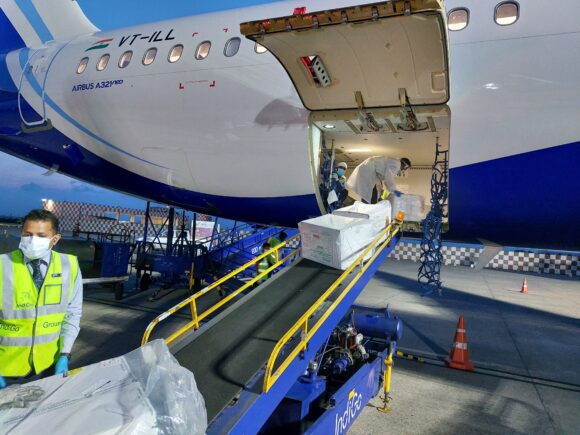 IndiGo's CarGo team dispatched many Covid vaccines and oxygen cylinders recently. (IndiGo)
The third quarter (October-December) was IndiGo's best. The net loss was reduced to INR 6.201 billion (still -225 percent), revenues from operations were 'only' 50.6 percent down to INR 49.100 billion, and RPKs improved to -51.3 percent or 11 million. Dutta was seeing a return of consumer confidence and predicted the reopening of its international network within months. He hoped this would push IndiGo back into profitability.
It didn't work out that way, as the fourth quarter (January-March) saw another after-tax loss of INR 11.472 billion, -31.7 percent compared to last year. Revenues improved and were just 25 percent of those last year to INR 62.229 billion. RPKs improved to 13.5 million but were still down by 29.4 percent, whereas capacity in ASKs was -16.7 percent. The recovery reported in December continued until February when the second Covid-wave set in causing a sharp decline in revenues in the two following months. Although the situation in India has improved, the Covid-crisis continues to have a deep impact on IndiGo. The carrier was operating 'air bubble flights' to ten international destinations, mainly in the Middle East. International capacity was up by 36 percent in Q4 compared to Q3. It also added four new domestic destinations to the network.
IndiGo or InterGlobe Aviation in full, took the page from the 'Covid-crisis airline book to recovery' by taking a disciplined approach to costs. These were down by 42.8 percent to INR 214.957 billion, which of course also reflects fewer flying. Employee costs were down by 29.3 percent.

The carrier kept its cash position stable, ending the year at INR 185.685 billion, of which INR 70.997 in unrestricted cash. This compares to INR 184.498 billion last June. In the same period, net debt went up from INR 235.516 billion to 298.597 billion. Lease liabilities increased to INR 257.387 billion. During an investor's call on June 7, Dutta said that IndiGo's Board has approved a qualified institutional placement that should raise INR 30 billion in fresh liquidity. The sale and leaseback of part of the fleet should bring INR 15 billion in cash, while the company is also working on securing credit lines from lenders which combined will bolster liquidity by INR 45 billion. Last April, GECAS said it had concluded a purchase/leaseback agreement for seven Airbus A320neo's and seven A321neo's (all CGFM LEAP-powered) for delivery between the final quarter of this year and mid-2022.
In its outlook for FY21/22, Ronojoy Dutta said that the recovery of domestic traffic to the levels seen in February (so before the second wave) might take until the October-December quarter. Any meaningful recovery of the international traffic is not expected until January-March next year. The current quarter will be worse compared to the March quarter with a higher cash burn per day, but Dutta is hopeful to see "steadily improving revenue trends for the rest of the year."
Follow-on order for 620 LEAPs
During FY20/21, IndiGo grew its fleet by 23 aircraft from 262 to 285. It took delivery of 20 Airbus A320neo's and 25 A321neo's to bring the fleet to 120 and 39 respectively. Out went 23 A320ceo's to reduce the fleet to 100. Last April, the airline said it would convert four A321ceo's into full freighters, with the first A321P2F to arrive in the first half of 2022. The carrier also added one ATR to its regional fleet.
IndiGo continues its fleet expansion, having placed orders at Airbus for 332 A320neo's and 398 A321neo's. While the first batch has been powered by the Pratt & Whitney GTF (and wasn't without troubles), the carrier selected the CFM LEAP-1A in 2019 for its next batch of 280 aircraft. The LEAP will become the favored engine, as the airline placed another order for 310 aircraft/620 engines on May 21 for delivery from 2023. These include the A321XLR.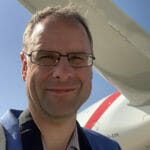 Active as a journalist since 1987, with a background in newspapers, magazines, and a regional news station, Richard has been covering commercial aviation on a freelance basis since late 2016.
Richard is contributing to AirInsight since December 2018. He also writes for Airliner World, Aviation News, Piloot & Vliegtuig, and Luchtvaartnieuws Magazine. Twitter: @rschuur_aero.