This morning, Daher announced the 500th delivery of a TBM900 series turboprop at the 2023 NBAA convention. This milestone underscores the global market demand for the high-speed TBM turboprop family.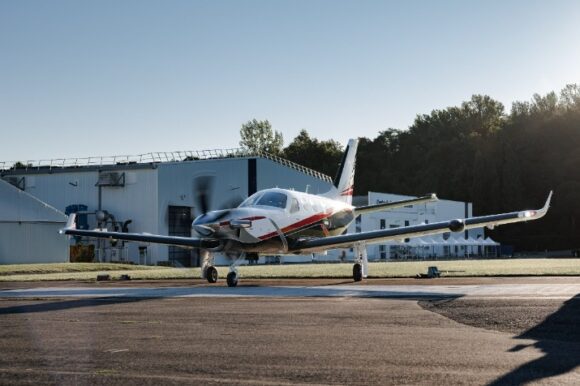 "The latest TBM program achievement underscores the success of Daher's constant enhancement policy in maintaining the competitiveness of our aircraft portfolio, with an emphasis on listening to the customer and a commitment to enhancing operational efficiency and sustainability," explained Nicolas Chabbert, Senior Vice President of Daher's aircraft division.

Daher has a backlog of 100 plus TBM 960s on order, exceeding two years of production. The 900 series is now the best-selling model in TBM history, exceeding the 324 TBM 700 and 338 TBM 850s.

Since its introduction, the TBM 900 family has been further enhanced with Garmin's touchscreen G3000 avionics and TBM's e-copilot technology that lowers pilot workload and provides better situational awareness. An auto-throttle was added as well as the HomeSafe™ emergency autoland system in 2019, and the latest models were upgraded in 2022 to the PT6E-66XT turboprop engine from Pratt & Whitney Canada. Combined with a new Hartzell five-bladed propeller and a dual channel Engine and Propeller Electric Control System (EPECS), the pilot workload is significantly reduced with efficiency improvements.

The latest TBM 960 has a full range of TBM e-copilot® functions, including ice protection, flight envelope monitoring through Electronic Stability and Protection (ESP), and Under-Speed Protection (USP) systems, the Emergency Descent Mode (EDM) function as well as the HomeSafe™ emergency autoland system.
Over the last decade, deliveries of TBM turboprops have remained strong, as shown in the following chart.  The substantial backlog for the aircraft should enable it to maintain its leadership position among high-speed single-engine turboprops for the foreseeable future.  With solid product improvement, Daher has maintained strong competitiveness in the single-engine turboprop market, which will face new competition once the Beechcraft Denali enters the market.  Nonetheless, we expect continuing success for the TBM 960 and future variants with a speed advantage over the competition.