Delta reaffirms CSeries commitment
In the quarterly earnings report yesterday, Delta's Glen Hauenstein announced the airline would base its first CS100 in New York.   The idea is to relieve that hub of the 76-seaters which be moved elsewhere to replace the 50-seaters which will leave the fleet.
The recent publicly released documents of the Boeing complaint against Bombardier indicated Delta's deal with Bombardier is for a low MTOW CS100.  This means the Delta CS100 will have less than its full range capability.  SWISS also has a "lighter" CS100 and their aircraft have a range of 1,900NM. The following map shows how far the CS100 can go from JFK with this range. That is a large market.  It is certainly far larger than what the 76-seaters offer which Delta will take out of JFK.  Indeed the CS100 could open several new markets.  (Something which will catch the eye of JetBlue)
Another important statement that came out was from Delta CEO Ed Bastian who addressed analysts on the call: "We do not intend to slow down any of the deliveries we have for the CSeries."  He added: "We will take the first delivery this coming spring."
There is a sense that the CSeries program has slowed down.  Company officials have spoken about a back-loaded 2017.  The Boeing complaint must have thrown some uncertainty into airlines (specifically American and United) considering the aircraft.
United changed its previous order for 737-700s, so a fleet gap there is open.  Moreover, United has 122 A319s (averaging 16.7 years) plus 40 737-700s (averaging 18.3 years). American has 250 A319 (average 13.2 years).  Although Airbus and Boeing continue to offer updated variants of these models in neo and MAX, the market has not been knocking the doors down to order them.
Which means that as these two airlines consider a refresh, Bombardier and Embraer are where they need to turn. Delta's reaffirmation helps Bombardier and incidentally, Embraer as well.  Smaller, lighter, aircraft with a useful range offer airlines the opportunity to develop new markets.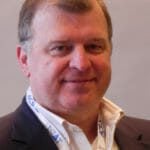 Co-Founder AirInsight. My previous life includes stints at Shell South Africa, CIC Research, and PA Consulting. Got bitten by the aviation bug and ended up an Avgeek. Then the data bug got me, making me a curious Avgeek seeking data-driven logic. Also, I appreciate conversations with smart people from whom I learn so much. Summary: I am very fortunate to work with and converse with great people.