[UPDATE]
Alaska Airlines responded today: "We want to reach out regarding your post about our fuel reporting. The best way to ensure a response moving forward is to connect with our media relations department through our newsroom. As for your post, we'd like to clarify a couple things:
We can confirm that our reports for Q1 and Q2 2023 were submitted with different unit measures (millions vs thousands). As soon as we learned of this discrepancy, we resubmitted the data using the standard measure.
For Q4 2021, we reviewed the data and our submission did not contain any errors. We have been in contact with the DOT to resolve the issue that is causing the data to show up erroneously. We understand that DOT is checking into whether there is a translation issue within their own reporting system that is misrepresenting our data. Although we confirmed our data was correctly submitted for Q4 2021, we did resubmit the same data to see if that resolves any DOT internal issue."
——
The US DoT requires airlines to file a lot of operational data. This is not a request or a suggestion; it's the law.  As regular users of this data, we find anomalies. Here's a recent one we want to share.
The airline involved is Alaska Airlines.  Their T-100 filing appears to have inaccuracies.  The T-100 is used to create the T-2, which we use to audit airline filings.  
Here is what we find.  The table shows the amount of fuel Alaska Airlines reported it used by aircraft type from the T-2.  The red highlighted periods are manifestly incorrect.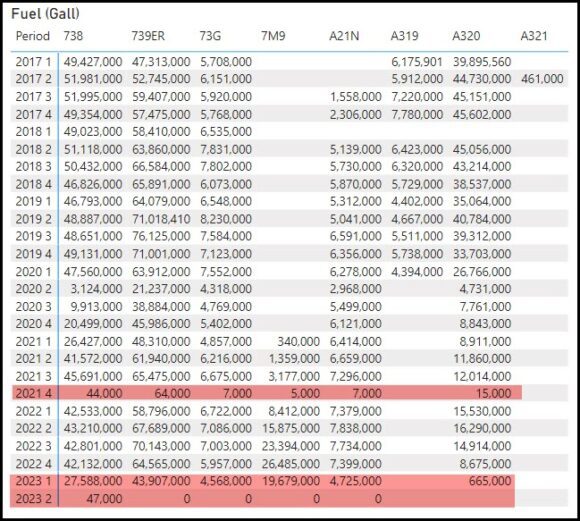 We sent a note to investor relations at the airline, and they responded: "My team is not able to recreate the issue you've shown." We replied with an explanation of the source and how we created this crosstab.  Hopefully, there will be more follow-up.
Bad data is a problem. Who wins from inaccurate data? Nobody, and we end up in the Commons Dilemma.
So, what happened here? There are two possibilities.
The airline filed inaccurate data. Based on its history, the data quality lapse is recent.

DoT data quality control is poor.
Did DoT get the correct data from the airline and miscalculate? Our experience guides us to inaccurate airline filing.  The answer is likely a combination of both possibilities.
However, the DoT is the regulator.  The regulator is responsible for what is published. You expect the regulator to have quality controls to audit airline submissions. Moreover, the regulator has the power to fine inaccurate airline filings.  The DoT can fine an airline $27,500 per day per event.
This is what that could look like.  By our estimate, the inaccurate periods add up to nearly $25m in fines.  That number rises by $27,500 daily, hitting $25m in five days.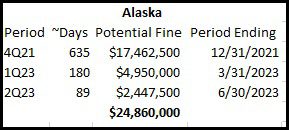 To get another perspective on our finding, we approached industry veteran Bob Mann from RW Mann & Co.  Bob remembers when the DOT data was hand-filed on paper. Therefore, his thoughts on the DOT's data quality issue are well-founded.
"Because I have always been in one form or another of 'fix it' consulting business, even as an air carrier executive officer. You can't fix what you don't properly measure and report, and that goes for agencies and air carriers.
I believe based on use of the data back to the late 1970s, during portions of which time I participated in systematizing and marketing the data to DOT, the ATA (now A4A), investment houses, airlines, and airframe and engine manufacturers, that every airline of size ( > 100 million revenue ) has the capability, not to mention the fiduciary and oversight need, to record, parse, and file accurate data per accounting rules and DOT specifications. 
Accurate detail-level data is imperative for carrier internal financial, marketing, operational and competitive analysis, including performance benchmarking, mergers and acquisitions, and for agencies (DOT, DOJ, DOE, others) to conduct proper policy analysis and docket processes.
Company officers are required to sign off on the accuracy of data filings under penalty of perjury. Not that it is legal to do so, one could see why a carrier might wish to shield its internal data and subvert competitive uses — even while trying to lobby agencies on policy and dockets.
I am disheartened when I find that data quality has declined, in some cases purposely (omitted from, smoothed, or averaged across accounts, equipment types, service types, geographical entities).  I am heartened that some carriers will step up when challenged, re-parse, re-file accurately, and improve their subsequent performance. It is infuriating when others refuse to remedy obviously inaccurate filings.
It is also infuriating when DOT fails to mandate their accuracy, mandate re-filing, or fail to enact regulatory penalties for refusal to remedy.
For decades, it has struck me as odd when the agency responsible for capturing, performing QA on, and vetting carrier filings does such an ineffective job, perhaps because it is using dated systems but fails to update systems and publishes poor quality data anyway, despite being given a heads-up that the data is missing, flawed, or smoothed across various dimensions. This is especially important given changes in the industry — not only carrier consolidation, but changes in alter-ego regional network flying, and the parsing of out-of-pocket consumer spending on air travel into taxed ticket revenue and un-taxed ancillary services and fees."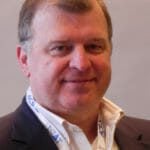 Co-Founder AirInsight. My previous life includes stints at Shell South Africa, CIC Research, and PA Consulting. Got bitten by the aviation bug and ended up an Avgeek. Then the data bug got me, making me a curious Avgeek seeking data-driven logic. Also, I appreciate conversations with smart people from whom I learn so much. Summary: I am very fortunate to work with and converse with great people.