The Mexican aviation industry received 79.5 million passengers between January and August, according to the latest data released by the country's Secretary of Infrastructure, Communications, and Transportation (SICT). Volaris continues to be the number one airline in the North American nation by passengers carried with over 20.5 million.
Domestic numbers
Mexico is one of the countries leading the post-pandemic aviation industry recovery (globally, the world will resume growth versus 2019 traffic levels next year!), and has done it through a mix of open borders, a strong domestic market, and a hot international market with the United States.
Between January and August 2023, Mexico received 42.45 million domestic passengers, an incredible 16% growth compared to last year. In 2022, Mexico fully recovered from the COVID-19 pandemic in terms of passenger levels.
The Mexican market is currently composed of seven airlines, with the top three being Volaris, Aeromexico, and Viva Aerobus. Mexico is set to have a new carrier with the imminent launch of Mexicana de Aviación, a State company.
Volaris carried 16.69 million passengers until August 2023, leading the Mexican market domestically. Viva Aerobus followed with 13.61 million passengers and then Aeromexico, with 11.696 million passengers. All of these airlines are well above pre-pandemic traffic levels.
The remaining four airlines operate in the regional market. These are Calafia Airlines, Aerus, Magnicharters, and Transportes Aéreos Regionales. They have carried 58,224, 5,320, 185,693, and 163,566 passengers respectively. Except for Aerus which was launched earlier this year, the remaining companies are well below pre-pandemic traffic levels.
International numbers
Mexican airlines operating in international markets have carried 9.95 million passengers this year. Aeromexico leads the way with 4.64 million passengers until August. Volaris has carried 3.83 million and Viva Aerobus 1.46 million.
Non-Mexican companies flying from abroad to the North American country had 27.17 million passengers until August 2023. This segment is led by North American carriers with 18.73 million passengers. Canadian carriers had 2.77 million passengers. Central and South American companies had 2.78 million passengers. European airlines had 2.66 million, and Asian airlines 204,411 passengers.
A look at Mexico-United States market
In September, the Federal Aviation Administration (FAA) gave Mexico the Category 1 safety rating after more than two years downgraded to Category 2. This will allow Mexican companies to add new routes and flights to the United States (we already have the first hints of this happening by Aeromexico and Viva Aerobus).
In August, the last month in Category 2, the Mexico-US market had 25.6 million passengers, well above 2019 and 2022 traffic levels.
The market was led by American Airlines with 19.4% share. Volaris had a 14.7% share, followed by United Airlines (14.5%), Delta Air Lines (9.6%), and Aeromexico (9.2%). US-based carriers had an overall 71.2% market share as of August 2023.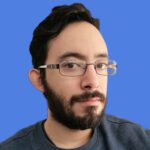 Daniel Martínez Garbuno is a Mexican journalist. He has specialized in the air industry working mainly for A21, a Mexican media outlet focused entirely on the aviation world. He has also published on other sites like Simple Flying, Roads & Kingdoms, Proceso, El Economista, Buzos de la Noticia, Contenido, and Notimex.