Day 3 of the Dubai Air Show has seen more multi-million dollar deals, but not all have been inked and await further confirmation at a later date.
Following an order from SunExpress on Day 2, Boeing continued its renewed interest in the MAX with a Letter of Intent from Air Astana for up to 30 MAX 8s. These aircraft will be placed with its low-cost subsidiary FlyArystan, which was launched only last May. The airline plans to build its network within Kazakhstan and expand routes to Moscow.
Airbus got a new A220-customer in Africa when Air Senegal signed an MoU for 8 -300s for delivery from 2021. The airline intends to use the aircraft on routes to Europe and within Africa and becomes the third operator of the A220 on the African continent following Air Tanzania and Egyptair.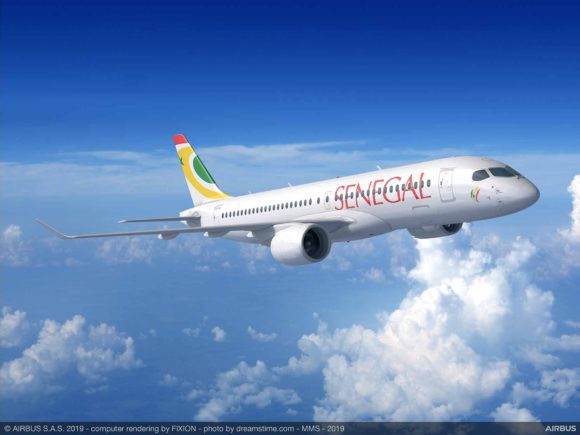 Closer to the Middle East, Saudi Arabian low-cost airline flynas confirmed its Paris Air Show MoU for the Airbus A321XLR. Actually, at that show, the airline said it wanted to buy 20 aircraft, either the LR or the newly launched XLR. After further consideration Flynas has decided to opt for 10 A321XLRs, as they have the extra range to operate deeper into Europe and possibly Asia, CEO Bandar Al Mohanna said. He loves to have the aircraft early, but the XLR will not be available until 2024. The 10 XLRs are in addition to the 80 A320neo's on firm order, bringing total orders for the family at 90.
Lessor GECAS ordered 12 A330neo's and 20 A321XLRs, of which 7 are conversions from an existing order for A320neo's. Not announced at the Dubai Air Show but a nice bonus for Airbus on Day 3 together with its FY19-results was the conversion by easyjet of 12 A320neo's into firm orders.
Dash 8 resurgence continues
De Havilland Canada had another successful day with plenty of announcements, which were a stark contrast to the quiet air show from its main turboprop-rival ATR. Again, most deals have to be firmed up, including an LoI from Russian airline and Aeroflot-subsidiary Aurora for 5 Dash 8-400s. The Sakhalin-based airline already operates eight of the type from the days they were still called Bombardier but needs the extra ones for expansion.
Ireland-based ACIA Aero Capital signed a 'conditional purchase agreement' for 3 -8-400s which it hopes to receive late 2020 or early 2021, depending on the availability of production slots at DHC. CCO Todd Young said they are fully booked until October 2020, but he is most happy with the interest from the lessor. ACIA has been in talks about the deal before Longview took over the Bombardier Dash Q-400 program a year ago. The lessor has an appetite for more Dash 8s and regards them as a long-time investment with strong primary and secondary lease rates and good residual value.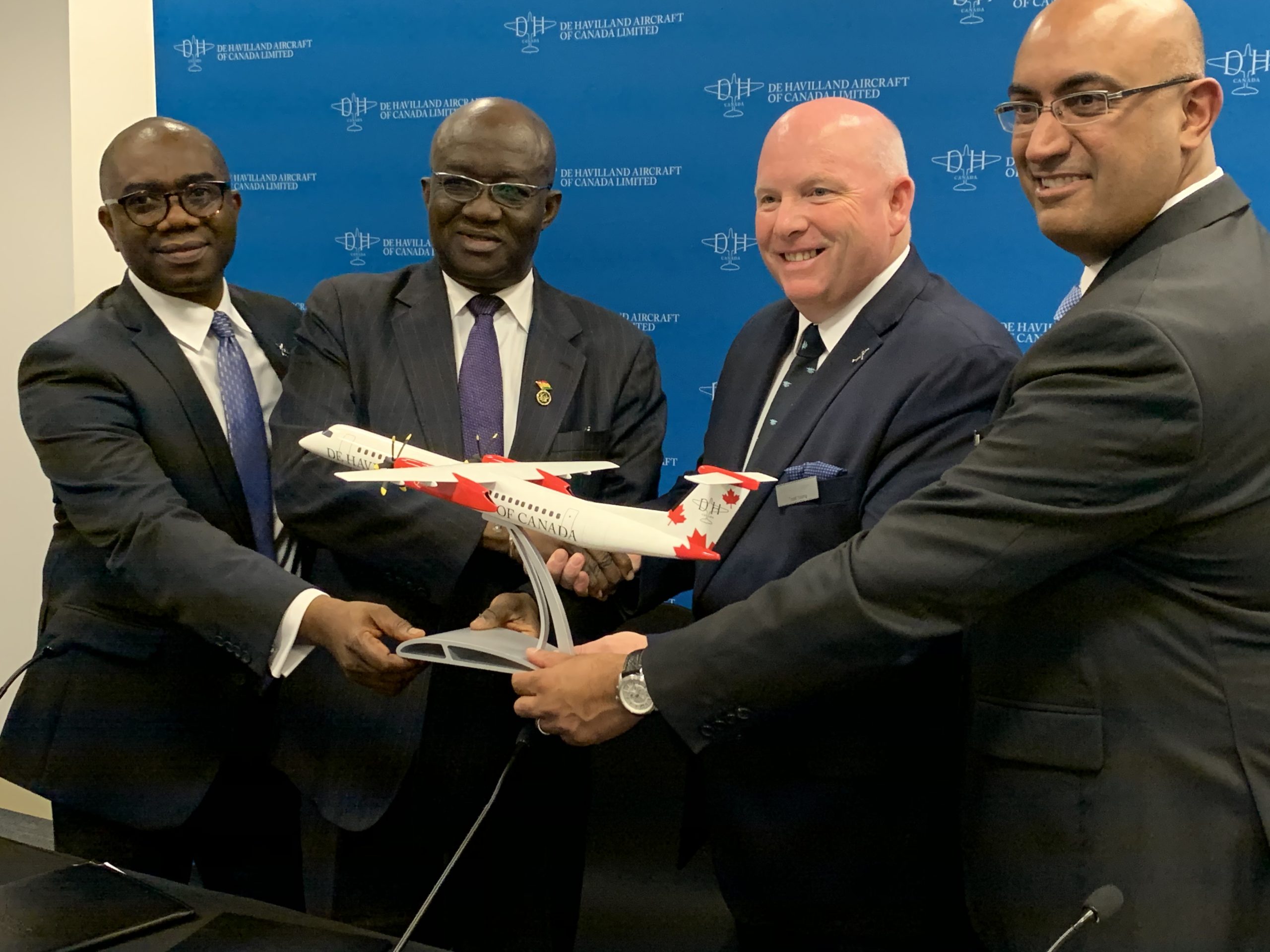 Ghana's Minister of Aviation Joseph Kofi Adda (second from the left) and DHC CCO Todd Young (second from the right). (Richard Schuurman)
When a country goes shopping
Sometimes not just an airline goes shopping, but an entire country. That happened when Ghana showed up at the air show. The party led by the minister of Aviation Joseph Kofi Adda initially was late for the first ceremony with Boeing, so DHC had the scoop. Since the demise of Ghana Airways in 2004, the country has been without a national airline. Plans to start a new one failed, but now the government wants Ghana to become a hub: "And you can't be a hub without an airline" Kofi Adda said.
The yet-to-be-named airline wants to start operations as soon as early 2020, but that might be a bit too optimistic if it expects to have the 6 Dash 8-400s for which it signed an LoI today. Koffi Adda subsequently went straight to Boeing to announce an MoU for 3 787-9s in order to have a long-haul fleet as well. You can watch an interview with Joseph Kofi Adda here later.
While many CEO's (and even journalists) are to leave Dubai Air Show already tonight, the show isn't over yet. Emirates has scheduled a media event on Wednesday morning that could include new on its Boeing 777X and 787-10 fleet plans.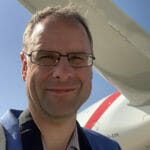 Active as a journalist since 1987, with a background in newspapers, magazines, and a regional news station, Richard has been covering commercial aviation on a freelance basis since late 2016.
Richard is contributing to AirInsight since December 2018. He also writes for Airliner World, Aviation News, Piloot & Vliegtuig, and Luchtvaartnieuws Magazine. Twitter: @rschuur_aero.