UK low-cost airline easyjet is at the forefront of some interesting headlines this September 9. It has announced a fully underwritten rights issue to raise gross proceeds of £1.2 billion. This followed the confirmation of media reports that it had rejected a preliminary offer from what appears to have been Wizz Air, one of its main rivals on the LCC market. easyjet rejects Wizz offer and bolsters liquidity on its own.
The identity of the bidder was disclosed by Bloomberg. It was highly conditional, all-stock, and had a low premium, the airline said in a statement that made no reference to the bidder. easyjet says that it has been unanimously rejected and the bidder has confirmed it is no longer considering an offer. Wizz Air hasn't responded.
Wizz Air, majority-owned by Bill Franke's Indigo Partners, has recently said it wants to double its fleet by 2030 from the currently planned 268 in FY26/27 to some 500 aircraft. While still suffering from the effects of the pandemic, Wizz said in July that it expected to be the first European airline to return to over 100 percent capacity compared to August 2019. This compares to on average 57 percent at easyjet in its July-September fourth quarter, although its UK domestic network and base at Amsterdam Schiphol are at pre-pandemic levels of 100-105 percent.
While there is overlap between the network of Wizz Air and easyjet, the two airlines would complement each other and make it the biggest airline in Europe on passenger numbers and fleet.
Getting stronger out of the pandemic
The rejection of the Wizz offer and the announcement of the rights issue confirm that easyjet wants to go it alone and plans to build its future on support from investors. In conjunction with the rights issue, the carrier also has secured a new revolving credit facility of $400 million. Both initiatives will bolster easyjet's financial position and strengthen its balance sheet.
By the end of June, the carrier had around £2.9 billion in unrestricted liquidity. Since the start of the pandemic, the airline led by Johan Lundgren has raised £5.5 billion in liquidity thanks to a bonds issue (£2.2 billion), sale and leaseback of aircraft (£1.4 billion), a UK Export Facility (£1.4 billion), plus loans and other revolving credit facilities. It repaid £1.1 billion from a previous credit facility, term loans, and £300 million of a Covid Corporate Financing Facility, with another £300 million to be repaid in November.
Easyjet has no other outstanding debt maturities until its financial year 2023. The carrier is also working on a cost reduction program that is on target to deliver £500 million in savings this year. During Q3 (April-June), it reduced cash burn to £34 million per week compared to £40 million per week in Q1.
The new rights issue, which should be completed on September 28, will accelerate easyjet's recovery from the pandemic and improve its ability to deliver long-term value to shareholders. The airline expects to return to pre-pandemic levels in 2023.
It sees opportunities to benefit from long-term strategic and investment opportunities in Europe as legacy carriers restructure their short-haul operations. British Airways has confirmed reports that it is looking at establishing a new low-cost short-haul subsidiary that could compete with other LCCs out of London Gatwick, an airport from where it suspended short-haul flights in March 2020. Easyjet said earlier its wants to strengthen its key markets in the UK, Netherlands, Switzerland, and Italy, but intends to add more seasonal bases in Ireland, Scandinavia, and Belgium.
easyjet's shares were down by 14 percent on September 9, later stabilizing around ten percent. It remains to be seen how the unsolicited offer will open up a discussion within its shareholders. Founder Stelios Haji-Ioannou reportedly would have been willing to sell part of his 25-percent share in the airline. He has been in conflict with the current Lundgren management on a number of occasions, notably early in 2020 when he opposed the airline's fleet plans.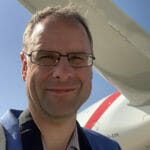 Active as a journalist since 1987, with a background in newspapers, magazines, and a regional news station, Richard has been covering commercial aviation on a freelance basis since late 2016.
Richard is contributing to AirInsight since December 2018. He also writes for Airliner World, Aviation News, Piloot & Vliegtuig, and Luchtvaartnieuws Magazine. Twitter: @rschuur_aero.