The European Commission is temporarily waiving the 80-percent slot rule to help airlines survive during the Covid-19 crisis, EC-chairman Ursula van der Leyen has said in March 10 in Brussels. On March 11, the US Federal Aviation Administration (FAA) followed suit with a similar waiver until May 31.
The European Commission will prepare legislation that will exempt airlines from the rule, which has received much flak from the sector in recent days.
In order to keep their slots at airports for the following year airlines are obliged to operate at least 80 percent of the slots. Following the outbreak of Covid-19 in northern Italy, there has been a drastic reduction in air travel within Europe.
The crisis deepened last weekend when the Italian government at first announced the lock down of a number of northern regions including Lombardia. Since Monday night, the whole of Italy is a restricted area where travelling is allowed only under strict rules. Air travel to Italy has plunged, with many airlines stopping direct services already today or in the coming days.
Yet, the 80 percent-rule forced airlines to operate almost empty flights only to guarantee them the slots for the following year. Not only is flying these 'ghost planes' costing airline unnecessary money, but it has also been critisized from an environmental point of view.
At last week's Airlines 4 Europe Aviation Summit in Brussels, airline bosses supported IATA's call for an exemption of the rule. Director General Henrik Hololei was unwilling to give in, because he was waiting for more fact-based evidence on the drop in traffic. Van der Leyen said today the coronavirus crisis team has reviewed the situation of the aviation sector and responded to its demand.
With airlines no longer forced to fly uneconomical routes to keep slots, expect a further plunge in traffic over the next days. While this saves airlines money on fuel, it means cockpit and cabin crew won't be needed either. Various airlines have implemented work-force reductions or have asked staff to take up (unpaid) leave.
FAA expects reciprocal relief
The FAA is waiving the 80 percent rule for US and foreign airlines that have affected flights. "In doing so, the FAA expects that U.S. carriers will be accommodated with reciprocal relief by foreign authorities at airports in their countries, and may determine not to grant a waiver to a foreign carrier whose home jurisdiction does not reciprocate", the FAA says.
The waiver applies to New York JFK and LaGuardia, and Washington Ronald Reagan.  Additionally, at four other U.S. airports where the agency has a formal schedule review and approval process – Chicago O'Hare International Airport (ORD), Newark Liberty International Airport (EWR), Los Angeles International Airport (LAX), and San Francisco International Airport (SFO) – the FAA will give credit to airlines for flights that were canceled due to the Coronavirus through May 31, 2020, as though those flights had been operated, when the FAA conducts future schedule development.
Airports worried by crisis
The Airport Council International (ACI) Europe expect the coronavirus to have a net effect of minus 187 million passengers using Europe's airports, down -7.5 percent from 2019. In Q1 the reduction in air passengers will be some 67 million, -13.5 percent compared to last year. Revenues for the quarter are expected to be down EUR -1.320 billion.
"The Covid-19 epidemic is turning into a shock of unprecedented proportions for our industry", ACI Europe director general Olivier Jankovec said. "Apart from Italy, we can't rule out that airports  elsewhere at some point need relief measures to address cash flow pressures and keep fulfilling their role as critical infrastructure. This will require the support of governments and European Commission."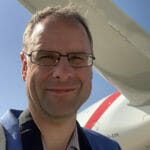 Active as a journalist since 1987, with a background in newspapers, magazines, and a regional news station, Richard has been covering commercial aviation on a freelance basis since late 2016.
Richard is contributing to AirInsight since December 2018. He also writes for Airliner World, Aviation News, Piloot & Vliegtuig, and Luchtvaartnieuws Magazine. Twitter: @rschuur_aero.