Embraer today delivered its first Praetor 500 to its launch customer Flexjet.  The Praetor 500 and the Praetor 600, both of which have received FAA, EASA and ANAC certifications less than one year after they were first announced at NBAA-BACE 2018, are the most technologically advanced aircraft in their categories. The Praetor 500 surpassed certification goals, achieving an intercontinental range of 3,340 nautical miles (6,186 km) with four passengers and NBAA IFR Reserves.The Praetor 500 is the farthest- and fastest-flying midsize jet, capable of true North America corner-to-corner, nonstop flights, such as Miami to Seattle or Los Angeles to New York. Its sibling, the Praetor 600, is the farthest-flying super-midsize jet in the world, capable of nonstop flights from Paris to New York or São Paulo to Miami. With four passengers and NBAA IFR Reserves, the Praetor 600 has intercontinental range of 4,018 nautical miles (7,441 km).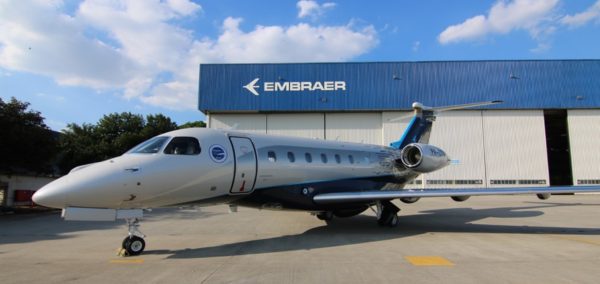 The Embraer DNA Design interior eloquently explores every dimension of the Praetor jets cabin, which feature a six-foot-tall, flat-floor cabin, stone flooring and a vacuum service lavatory, all in the same aircraft. The class-exclusive Turbulence Reduction technology and 5,800-foot cabin altitude, complemented by a whisper silent cabin, have set the highest standards in customer experience in both the midsize and super-midsize categories. The largest baggage compartment in the class is complemented by a generous wardrobe and a full vanity in the rear private lavatory.
Advanced technology throughout the cabin is also a trait of the Embraer DNA Design, beginning with the industry-exclusive Upper Tech Panel that displays flight information and offers cabin management features also available on personal devices through Honeywell Ovation Select. High-capacity, ultra high-speed connectivity for all aboard is available through Viasat's Ka-band, with speeds of up to 16Mbps and video streaming capability, another industry-exclusive in midsize jets.
Michael Amalfitano, President & CEO, Embraer Executive Jets said "ss the Praetor Fleet Launch Customer, Flexjet, once again, will lead the fractional ownership market with the introduction of the most modern midsize aircraft.  It is with much gratitude and pride that we deliver our first Praetor 500 to Flexjet, confident that Flexjet Owners will enjoy the ultimate customer experience in business aviation."
"We know what our Owners look for in an aircraft and the Praetor 500 hits so many of those features — from performance to fuel efficiency to ample baggage space," said Flexjet CEO Michael Silvestro. "And in keeping our commitment to have the youngest and most modern fleet on the market, soon we will begin upgrading all our Legacy 450s to Praetor 500s."