They are only four concepts that need a lot of work on before they will fly but Embraer has a clear vision of how it will develop a series of sustainable regional aircraft that should enter service between 2030 and 2040. The Brazilian airframer unveiled its Energia project during an online and live event from its Sao Jose dos Campos headquarters on November 8. The four Energia concepts include electric, hybrid-electric, hydrogen, and sustainable aviation fuel (SAF) as sources of power. Embraer unveils four 'green' regional concept planes.
President and CEO of Embraer Commercial Aviation, Arjan Meijer, reminded everyone that the OEM has set out its Environment, Social, and Governance (ESG) ambitions in August that include a drastic reduction of its carbon emission footprint. Both from its own activities and from the aircraft it makes, the latter by using more SAFs and reaching net-zero emissions by 2050 by using hydrogen.
"There has never been a more critical time for the world to make a leap to green. And that means us at Embraer too. Sustainability is not just a buzzword, it's something we live and breathe here at Embraer every day."
The Energia program was launched some two years ago but the engineering teams finalized the four concepts in the past year. The work coincided with the finetuning of the new turboprop 70-90 seater that Embraer is expected to officially launch in the second half of 2022. Vice President of Marketing, Rodrigo Souza e Silva, confirmed that the recently announced change of the TP concept to rear-mounted engines has everything to do with its long-term future as a hydrogen-based aircraft. Having a hydrogen tank at the back of the fuselage is the best technical option, which can also be seen in one of the four concepts. Until the TP is flying on hydrogen, Arjan Meijer expects it to be the first all-new regional aircraft to use 100 percent SAFs.
So what are the Energia concepts look like? Senior Vice President of Engineering, Luis Carlos Affonso presented them on stage in Brazil.
1 – Energia Hybrid: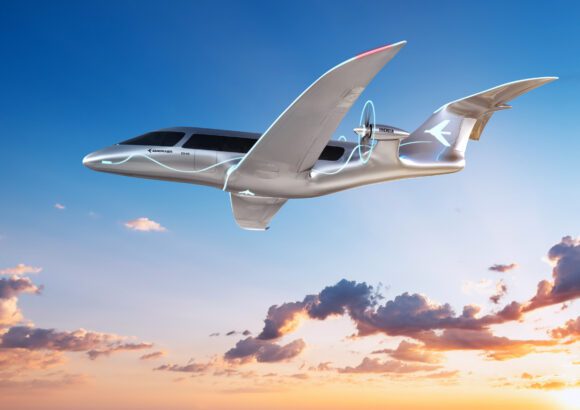 This is a nine-seater aircraft with a range of 500 nautical miles that could enter service by 2030. It has two propellers at the back, but there is a single piston engine plus two electric ones. "The electric motors operate during take-off and climb when a boost in power is needed. Once the aircraft has reached its cruising altitude, the electric motors are turned off and the small piston engine continues to operate. It is fifty percent more efficient than today's gas turbine." CO2 emission should be fifteen percent lower when using Jet A-fuel or ninety percent when flying on SAF.
The electric motors are air-cooled, which helps reduce the complexity of the thermal management system. A lot of attention has gone into making the aerodynamics as efficient as possible, with a clean and slender wing and retractable landing gear, while the position of propellors reduces the noise footprint by up to sixty percent.
2 – Energia Electric: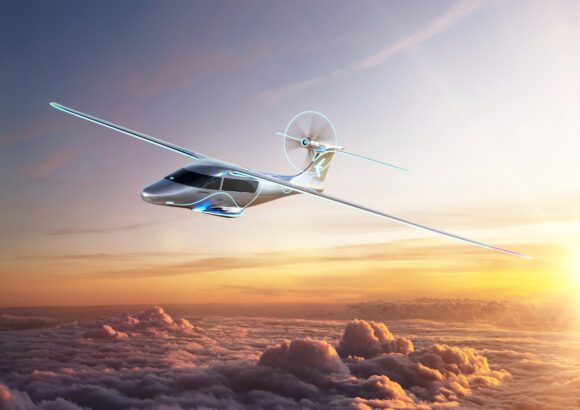 The Electric is a full-electric high-wing nine-seater with a striking tail-mounted propeller electric motor not dissimilar to the Britten-Norman Trislander from the 1970s and 80s. It has a range of 200nm, which should cover more than ninety percent of the targeted market. Which according to Embraer and based on recent trends and studies is evolving to become a new segment as more and more people seem to move outside the megacities back to the region again. There are similarities with Embraer's eVTOL EVE program, which should enter service in 2026.
Exchangeable batteries are located in the nose for easy use and reduce recharging time "There are excellent environmental benefits associated with this propulsion concept, with zero carbon emission and an eighty percent reduction in external noise", said Affonso. The Energia Electric should enter commercial service by 2035. Embraer counts on a huge step of at least three times better battery performance by then over the current generation of batteries.
3 – Energia H2 Hydrogen Fuel Cell: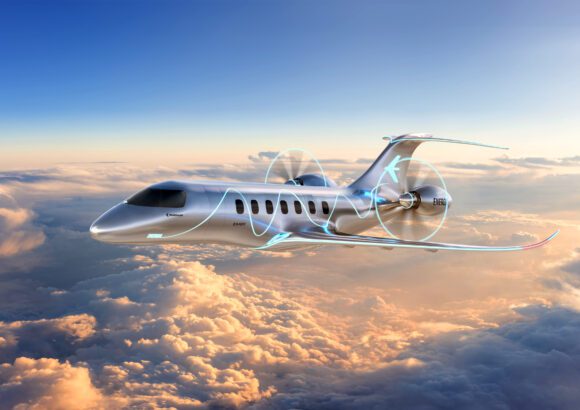 This concept should also be available around 2035. It is a 19-seater that looks like a regional jet version of the Praetor executive jet, with some noticeable exceptions. It has a range of 200nm which can be extended by fitting in a bigger liquid hydrogen fuel tank if the customer wishes. The hydrogen is used in an electrolyzer to convert it into electricity, which drives two rear-mounted electric motors with propellers.
Again, the focus has been on highly efficient aerodynamics with a clean wing and raked wingtips as on the Airbus A350. It is net-zero on emissions, with external noise seventy percent lower compared to current-generation 19-seaters.
4- Energia H2 Gas Turbine: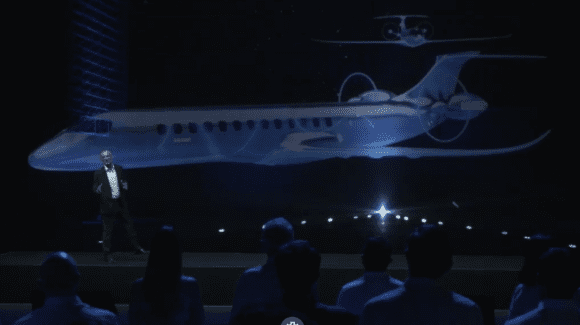 The biggest of the four concepts is the Energia H2 Gas Turbine, with a 35-50 seat capacity and a range of 350-500nm. Embraer targets the smaller regional jet market which has been underdeveloped in the past years. The concept uses dual gas turbine propulsion. "On short missions below 250nm, it will use only hydrogen. For long routes, SAFs or Jet A-fuel will be used." External noise should be sixty percent lower.
With its rear-mounted push propellers, this concept has the most similarities with the forthcoming turboprop, but it is expected to enter service only in 2040. That should be some ten to thirteen years later than the TP, which is scheduled to enter service around 2027.
In relation to the turboprop, there is a relationship between that one and the H2 Gas Turbine concept, said Silva e Souza. "As we progress on developing the TP, we keep checking that we learn from the concepts. If there is anything that we have to introduce into the TP design to make it future-proof, we will do that. Recently, we changed the configuration to have the rear-mounted engines to be able to introduce the hydrogen tank close to the engines.  So there is a relationship, but we don't want to wait for the TP to deliver a fuel burn reduction now and having to wait for the hydrogen aircraft that might be thirteen years away."  
From concept to launch will take some time
Embraer is eager to know how the market responds to the four 'green' concepts. "We would like to bring them all to service but the main work now is to actually understand the technical and commercial viability", says Rodrigo Silva e Souza. "So we still take some time to understand better the viability and then hopefully we will bring them into service. They aren't only technical demonstrators, they are pure intentions to bring those products to life." There could be a market of some 4.000 'green' regional aircraft out there, potentially, even more, said Meijer.
As on the turboprop, Embraer is looking for partners to develop the Energia project. These include technical partners that are already contributing to developing the Ipanema electric prototype that first flew in August. Embraer is talking to existing engine manufacturers but also to new entrants on the electric and hydrogen market as well.
"This is the first step", said Arjan Meijer. "The initiative here today is really to show the vision of Embraer but also to invite external partners to work with us on technological developments. And to talk to customers about how they see the future and what the best product for the future will be. So there is quite some work ahead of us. Eventually, we hope to launch all of those concepts. Depending on the technology, we are going to have to launch it in the next five to ten years to have an entry into service on time." Silva e Souza admits that it requires strong investments and support from governments and stakeholders to get the electric and hydrogen infrastructure up and running.
'Embraer ideally positioned for disruptive technologies'
Embraer is not alone in developing a new sustainable generation of aircraft. There are a number of projects out there for all-electric, hybrid-electric, or hydrogen airplanes. Arjan Meijer is not convinced all will make it. "There are a number of start-ups out there trying to get new propulsion designs off the ground. But it takes a lot of experience and know-how to get them certified on real commercial aircraft. I have seen some of their designs but I am not convinced of their performance goals. Personally, I think they are unrealistic and I am not comfortable with the aggressive timelines. On the other end, there are really experienced OEMs, but I don't think they have the cost structure to make a viable business case with such smaller aircraft. Embraer has the unique combination of regional market expertise and tremendous manufacturing efficiency, not to mention an extremely competitive cost structure. We are ideally positioned to bring these kinds of disruptive technologies to small platforms."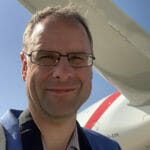 Active as a journalist since 1987, with a background in newspapers, magazines, and a regional news station, Richard has been covering commercial aviation on a freelance basis since late 2016.
Richard is contributing to AirInsight since December 2018. He also writes for Airliner World, Aviation News, Piloot & Vliegtuig, and Luchtvaartnieuws Magazine. Twitter: @rschuur_aero.