Yesterday we had a chance to view the E175-E2 in final assembly.  No pictures allowed.  Its engines were ready to be hoisted.  The aircraft looks great. Two or three will be assembled and used for the flight test program.  The second aircraft is in assembly in another part of the spread of factories in San Jose do Campos.
There has been chatter about the E175-E2.  With over 70% of the world's regional jet fleet operating in the US, and subject to Scope Clause, the E175-E2 looked like an aircraft without a market as bright as its predecessor has had.  The E175-E2 is over the weight limit for Scope.  This precludes it from the current US regional market.  The E175-E2 was slowed down from its earlier expected arrival.  This is understandable given the issue of Scope.
Embraer is confident though.  John Slattery, President & CEO of Embraer Commercial Aircraft,  was inspecting the aircraft when the small media group arrived to see it.  When he joined us, he was excited to show off the aircraft.  He believes the E175-E2 will be in revenue service in North America by the "end of 2021".  He also noted the aircraft has a substantial market beyond the USA.
The US regional market is in the midst of unprecedented change.  The departure of Bombardier means the market offers new opportunities.  There are over 1,000 regional jets in service.  Many are Bombardier aircraft.  The 50-seaters are aging and becoming economically ever less attractive.  De Havilland fancies its Q400 turboprop as a potential replacement.  There is no 50-seater regional jet in the market ready to step in to the gap.  It may be that the future 50-seater will not be jet powered.
The air travel market is entering a long overdue slowdown.  This is going to force US regional airlines to reconsider their seat production costs.  How many more communities can they shrink away from?  There is no obvious solution ready to deploy – other than the Q400.  Smaller markets means focusing on trip costs.  This may give the Q400 a boost. But it will also start to force another look at Scope.  While US airlines are awash in profits and fuel costs remain low there is no need to "rock the boat".  However, those days will come to an end.  Business cycles still occur and fuel prices will rise.  Moreover, airlines are increasingly sensitive to green issues.  Older aircraft are not "green enough" and denial of the state of art technologies in air travel will start to weigh.  And we think it is the pilots who will have to give up some of their Scope limits.  Slattery is not alone in sensing this.
But for Embraer these sea changes are the start of great times.  With no Bombardier to compete with, US airlines have one Scope compliant option, the E175.  Already a market favorite (we saw several being readied for delivery), Embraer's hybrid production allows for the simultaneous production of the "E1" and E2 versions.  The only competitor on the horizon is the Mitsubishi M100.  But that aircraft is only expected in 2024.  Embraer has a few years to harvest the market by itself.  And by the time the M100 achieves EIS, the market will probably have changed some more.  Embraer looks ready for any change with a combination of hybrid production and market flexibility.  Add to that Embraer's 50 year history as a reliable and consistent vendor.  No matter when Scope moves or how it moves, Embraer has a solution and an unmatched track record.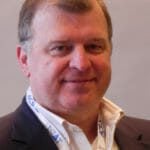 Co-Founder AirInsight. My previous life includes stints at Shell South Africa, CIC Research, and PA Consulting. Got bitten by the aviation bug and ended up an Avgeek. Then the data bug got me, making me a curious Avgeek seeking data-driven logic. Also, I appreciate conversations with smart people from whom I learn so much. Summary: I am very fortunate to work with and converse with great people.