Emirates ended its fiscal year 2019-2020 with a Group profit of AED 1.7 billion ($0.5 billion), but unless a miracle happens this has been the 32nd and last consecutive year in profit for the Dubai-based airline group.
Emirates has been hit hard by the impact of Covid-19 restrictions and expects it will take at least eighteen months to recover and return to pre-Covid levels, Chairman Sheikh Ahmed bin Saeed Al Maktoum said on May 10 in its annual results press release.
The Group's profit of AED 1.7 billion is down -28 percent from AED 2.3 billion, the lowest since FY2008-2009 (AED 1.1 billion). The operating profit was AED 6.9 billion, up from 3.9 billion. Revenues were AED 104 billion from 109 billion and its profit margin decreased from 2.1 to 1.5 percent.
Emirates airlines recorded a net profit of AED 1.1 billion, up from 0.9 billion. Revenues were lower at AED 92 billion, down from 97.9 billion the previous year. Its profit margin improved from 0.9 to 1.1 percent, EBITDAR stood at AED 2.5 billion (down from 3.4 billion). Fuel costs were down -14.6 percent to AED 26.3 billion.
Worldwide airport ground handler and caterer dnata saw a significant drop in profit: to AED 0.6 billion from 1.4 billion despite two percent higher revenues to AED 14.8 billion. Operating costs increased by eight percent in line with organic growth. It handled 11 percent fewer aircraft in Dubai thanks to the April 2019 runway closure at DXB. Yet, dnata was the most group's profitable segment margin-wise, recording a margin of 4.2 percent (down from 10 percent).
Negative currency effects of the dirham against the US dollar cost the Group AED 1 billion.
Fewer pax due to runway closure and Covid
Looking in more detail at Emirates airline, it carried four percent fewer passengers at 56.2 million. This can be explained by two factors: Q1 in April 2019 was impacted by the closure of the southern runway for 45 days at its main hub Dubai International (DXB), which resulted in a reduced network with less capacity. The second impact has been Covid-19, which has impacted traffic from mid-February and hurt results in the final 1,5 months of its April 1 – March 31 fiscal year. Overall, seat capacity was down -8 percent to 58.6 billion ATMK with overall load factors up 0.6 percent to 67.4 percent.
Both factors also impacted Emirates SkyCargo, which reported a -14 percent lower revenues at AED 11.2 billion and -10 percent fewer cargo at 2.4 million tonnes. Both the runway closure and Covid-reductions resulted in fewer belly-hold space to be available. SkyCargo also retired one Boeing 777F.
This retirement is one of six 777s that were taken out of the fleet. With six Airbus A380s arriving, the total fleet size remained static at 270.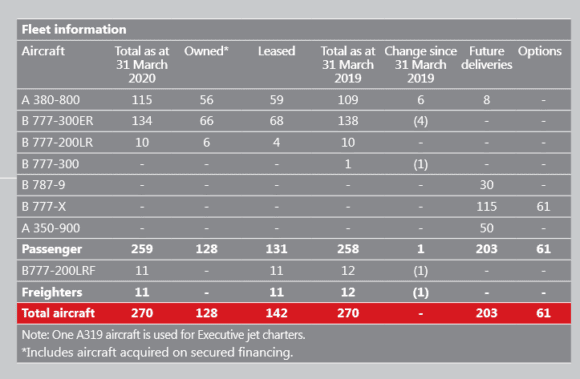 Emirates fleet plan for the next years
Emirates remains committed to its orders, confirming it will accept the final eight A380s to bring the total number of purchased aircraft from 2000 to 123. However, the airline hasn't disclosed if it plans to early-retire A380s in the current Covid-environment as the type seems too big to meet demand.
Also in the order book are 115 Boeing 777X. As reported last November, Emirates reduced its 777X-commitment by 30 aircraft from 156 to 126 when it announced an order for thirty 787-9s. The difference between the 126 and 115 can be explained by eleven aircraft needing additional confirmation, a spokesperson told Airinsight at the time. Last November, Emirates said it still wanted the 777-8 but the type's time schedule is unclear now that Boeing has prioritized the 777-9, and demand for widebodies is expected to be low for at least the next two to three years.
Also confirmed is the arrival of fifty Airbus A350-900 from 2023, a type like the Dreamliner that is much-needed in the current market situation.
Long-haul network hit hard
As the world's biggest long-haul airline, Emirates is particularly hit by the travel restrictions and drop in demand for this specific segment. Its forecast that travel might recover to a 'semblance of normality' in eighteen months is even a bit optimistic about what other major airlines have said in recent weeks.
To cope with the situation, Emirates has put a large part of its 59.519 staff on unpaid leave and imposed salary cuts as part of aggressive cost management measures plus other necessary steps to safeguard the airline's future. 2020 will be a lost year and everything that will be earned in the second half will be a bonus, President Sir Tim Clark recently told The National UAE.
The airline is relying on its 777s to operate on a reduced passenger and cargo-only network, although the schedule sees the A380 return to service from July 1 if the situation allows.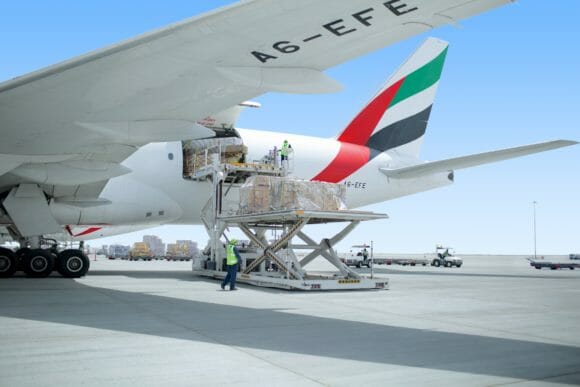 Eleven 777Fs and additional passengers 777-300ERs keep Emirates' reduced cargo network running since April. (Emirates) 
Liquidity bolstered by AED 4.4 billion
Like all airlines, Emirates has bolstered its liquidity position from AED 17 billion to 20.2 billion. In the last quarter, it raised AED 4.4 billion in additional loans, revolving credit facilities, and short-term trade facilities. How much of this has been provided by the Dubai-government is not clear from the annual report but in March the government said it was planning additional funding to the airline. This could include an additional equity injection.
Emirates says its cash position remains 'under pressure' in the current market situation, so it will continue to tap the bank market for additional funding. By the end of March, the airline's net debt to equity-ration stood at 381.2 percent, up from 209.8 the previous year. Emirates has AED 172.062 billion in total assets.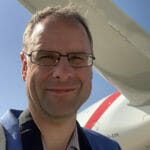 Active as a journalist since 1987, with a background in newspapers, magazines, and a regional news station, Richard has been covering commercial aviation on a freelance basis since late 2016.
Richard is contributing to AirInsight since December 2018. He also writes for Airliner World, Aviation News, Piloot & Vliegtuig, and Luchtvaartnieuws Magazine. Twitter: @rschuur_aero.