Emirates has reduced its half-year-loss and is "well on the recovery path with healthy revenue and a solid cash balance at the end of our first half of 2021-22", it reported on November 10. The Dubai-airline group reported a net loss of AED 5.7 billion ($1.6 billion) compared to AED 14.1 billion between April and September 2020.
Group EBITDA improved to AED 5.6 billion from AED -43 million. Group revenues including dnata were up to AED 24.7 billion compared to AED 13.7 billion.
Emirates airline reported an AED 5.8 billion loss compared to AED -12.6 billion last year. Revenues were AED 21.7 billion, an improvement from last year's AED 11.7 billion as the carrier benefitted from reduced travel restrictions on its key markets. It carried 6.1 million, up 319 percent from the same period last year.
Revenues also reflect the continued growth of SkyCargo, with tons carried up by 39 percent to 1.1 million. Operating costs for HY1 were up by 22 percent, reflecting the ramp-up in capacity but also the doubling of the fuel costs as prices were higher and the fuel uplift increased by 81 percent. As the group ramped up capacity, it slowed down its reduction of staff numbers to two percent to 73.571.
By the end of September, Emirates had 139 destinations on its network and operated its entire Boeing 777 fleet plus 37 of 118 Airbus A380s. It added a few more A380s to the roster since October as it increased frequencies or replaced triple sevens with doubledeckers on routes like Sao Paolo, Johannesburg, Madrid, or Hamburg. This promises an even stronger Q3 and Q4 of FY21-22.
"Across the Group, we saw operations and demand pick up as countries started to ease travel restrictions. This momentum accelerated over the summer and continues to grow steadily into the winter season and beyond", said Chairman and CEO, Sheikh Ahmed bin Saeed Al Maktoum. Last year, Emirates reported its first-ever loss.
Emirates ended September with AED 18.8 billion in cash, down from AED 19.8 billion by late March. The airline was helped by the Dubai government, which provided AED 2.5 billion in equity. The media release doesn't say if this is conditional.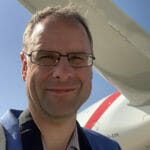 Active as a journalist since 1987, with a background in newspapers, magazines, and a regional news station, Richard has been covering commercial aviation on a freelance basis since late 2016.
Richard is contributing to AirInsight since December 2018. He also writes for Airliner World, Aviation News, Piloot & Vliegtuig, and Luchtvaartnieuws Magazine. Twitter: @rschuur_aero.