Airbus announced today that it has seen some promising results on the first long-haul formation flight of the A350s under its Fello'Fly program. The test confirmed that flying three kilometers apart can reduce carbon dioxide emissions and save fuel. Formation flight A350s looks promising.
The long-haul flight was done by two Airbus test aircraft, A350-900 MSN001, and A350-1000 MSN059. Flight AIB1 departed Toulouse at 8.57 am on November 9, followed one minute late by 059 on AIB2. They were heading for Montreal in general air traffic regulated airspace that was coordinated by five air service navigation providers. The A350-900 was flying at FL400 while the -1000 was trailing three kilometers behind at FL395.
The purpose of the flight was to get confirmation that when flying in formation as geese do, the aircraft trailing the leader will benefit from less drag and turbulence. Special software positions the follower aircraft safely behind the other.
Chief Test Pilot Malcolm Ridley told journalists in September that the first trials of Fello'Fly were looking promising. The project was announced in 2019 and formation flight was first tested in March 2020 with a couple of A350s. Ridley said that the projected fuel efficiency of five percent seemed to be possible, especially when the trailing aircraft is some 1.5 miles behind the leading one. But it takes careful preparation, sequencing, and scheduling to get aircraft in the correct position, Ridley said, although once programmed into the flight management system, the aircraft executes all maneuvers by itself.
Today's test flight, which was observed by A350 pilots of SAS and FrenchBee, produced a six tons reduction in CO2. This confirms that a five percent fuel burn advantage is possible. However, formation flying will require adaptations in the way air traffic control handles aircraft, so the operational concept needs to be certified before it can be implemented.
Both A350s will return to Toulouse on Wednesday, but Airbus hasn't communicated if they will do another formation flight.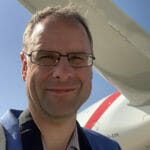 Active as a journalist since 1987, with a background in newspapers, magazines, and a regional news station, Richard has been covering commercial aviation on a freelance basis since late 2016.
Richard is contributing to AirInsight since December 2018. He also writes for Airliner World, Aviation News, Piloot & Vliegtuig, and Luchtvaartnieuws Magazine. Twitter: @rschuur_aero.