Mitsubishi Aircraft Corporation (MAC) didn't wait until its scheduled Paris Air Show press conference on June 17 to unveil the re-badged SpaceJet, instead already giving away major details a few days earlier. The Mitsubishi Regional Jet (MRJ) is dead, long live the 'new' SpaceJet family.
But how do the old and new types compare?
The MRJ-family as conceived some ten years ago consisted of the 'baseline' model MRJ90 with 88-92 seats, available in a Standard, Extended Range, and Long Range version. Of this type, five Flight Test Aircraft have been doing flight testing in Japan and out of Moses Lake in the US since November 2015, until the infamous redesign of the avionics bay and wiring forced MAC to do a redesign in 2017, delaying first delivery to ANA by two more years until mid-2020. Since then it also became apparent that scope-clause issues between US pilot unions and airlines would remain unsolved, making the MRJ90 too heavy for its US-customers to operate. Bring on a re-think.
The original MRJ90 would have two sisters: the smaller 76-80 seat MRJ70, again available in three range variants. The first MRJ70s were on the assembly line as long ago as 2017 before MAC started the re-think.
The third sibling would be the MRJ100X, a 100-seat version that as Mitsubishi president Hisatazu Mizutani said two years ago at the Paris Air Show was still on the radar but only after the MRJ90 and MRJ70 would have successfully entered service.
With the re-branding of the MRJ into the Mitsubishi SpaceJet come a raft of changes, some small, some bigger. The MRJ90 is now called Spacejet M90, while the smaller MRJ70 has become the slightly bigger SpaceJet M100. The MRJ100X is now the M200 with up to 100 seats, but still a study model.
Comparing Mitsubishi documentation allows us to see where the differences between the MRJ70 and M100 are:
Dimensions: the MRJ70's length was 33.4m, this has grown to 34.5m for the M100. At 10.3m tail-tip height the newer version is 10cm lower than the previous design. A noticeable difference is in the wingspan, which has come down from 29.2m to 27.8m by using different wing tips.
Seating: the MRJ70 seated 76 passengers in a single-class Economy cabin with 31in pitch, 80 passengers in a maximum configuration at 29in pitch or 69 passengers in a dual-class layout with 9 Business Class at 36in and 60 Economy at a 30-inch pitch.
The M100 seats 84 passengers in a single Economy cabin at 31in, 88 pax at 29in maximum capacity and 76 passengers in a triple class-version, with 12 Premium Class at 36in in a 1-2 layout, 12 Premium Economy seats at 33in in a 2-by-2 layout, plus 52 Economy seats at 30in. This increase in seat numbers should make the M100 more competitive against its main rival, the Embraer E175-E2.
Weight: Extending fuselage length to accommodate for a few extra passengers has resulted in a higher Maximum Take-off Weight (MTOW), growing from 36.850-40.200kg for the MRJ70 to 42.000kg. To comply with scope-clause restrictions of 39.010kg, the M100 North American 76-seat version is capped at 39.008kg. At 36.200kg maximum landing weight has remained unchanged.
Range: in its MRJ70 guise the Mitsubishi certainly wasn't a range-beater, with the standard version going just 1.880km, the Extended Range 3.090km and the Long Range 3.740km.
The M100 flies 3.540km, or 99.5 percent of all routes at full payload.
Take-off field length has increased to 1.760m from 1.450/1.620/1.720m, while landing field length is at 1.550m from 1.430m on the MRJ70.
As for the M90, Mitsubishi lists only one version whose specs are unchanged from the MRJ90LR. So 76-92 seats, MTOW at 42.800kg, MTLW at 38.000kg, range 3.770km, take-off field length 1.740, landing field length 1.480m.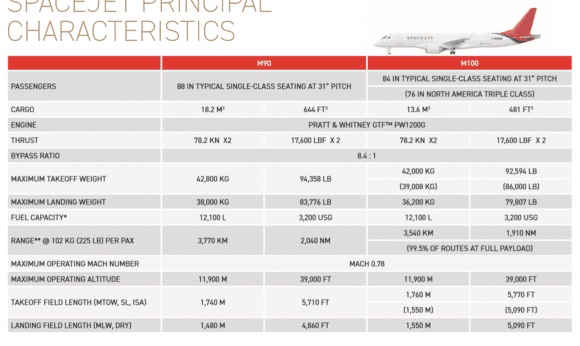 The cabin gets update too
What else has changed on the SpaceJet? Mitsubishi will unveil a mock-up of the revised cabin in Paris, so we have to wait and see what's really new. Luggage bins are slightly bigger, ceiling height at 2.02m one centimeter lower, but seat-width (47cm) and aisle width (46cm) are unchanged.
The MRJ90 mock-up shown at previous air shows looked a bit outdated compared to its competitors, but it seems Mitsubishi has caught up on this by including new technology. This includes the latest generation seatback-fitted inflight entertainment, wifi, live-TV, cameras that show you the outside view on your IFE screen and ambiance mood lighting.
Cockpit and avionics systems seem identical to that on the MRJ90 but could differ as newer versions have been developed. The same applies to the engines, with Mitsubishi benefitting from the higher maturity as the Pratt & Whitney PW-1200G geared turbofan has left most of its initial troubles behind it. Both the M90 and M100 will use the same 17.600lb thrust-version now where previously the MRJ70 was offered with a downrated GTF-version.
Mitsubishi will further detail the SpaceJet family next Monday. We also have to have confirmation if existing (US) customers will swap orders to the SpaceJet or that the models are successful in attracting new customers. Stay tuned then for updates.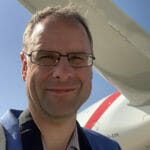 Active as a journalist since 1987, with a background in newspapers, magazines, and a regional news station, Richard has been covering commercial aviation on a freelance basis since late 2016.
Richard is contributing to AirInsight since December 2018. He also writes for Airliner World, Aviation News, Piloot & Vliegtuig, and Luchtvaartnieuws Magazine. Twitter: @rschuur_aero.