GTF Advantage Flight Testing Starts
Pratt & Whitney and Airbus have started flight testing of the GTF Advantage, the updated version of the Geared Turbofan. The engine is tested on the port side A320neo testbed MSN6101 (registration F-WNEO), which took off from Toulouse at 10.36 am local time this morning.
Pratt says in a media statement that "this early flight test campaign will continue to mature the engine by testing it in a variety of environments, including hot and cold weather and operation from high-altitude airports. (…) Engine certification will continue through the first half of 2023, including flights currently underway on the Pratt & Whitney flying test bed in Mirabel (Canada), as well as extensive endurance testing to ensure product maturity at entry into service. The engine has completed more than 2.400 hours and 7.800 cycles of testing, including a successful test on 100% sustainable aviation fuel (SAF)."
The Advantage was launched in December 2021. "GTF engines already offer the lowest fuel consumption and CO2 emissions for the A320neo family," said Rick Deurloo, president of Commercial Engines at Pratt & Whitney. "The GTF Advantage engine extends that lead. It also enhances aircraft capability by increasing thrust and protects durability by running cooler. For airlines, this means new revenue opportunities and better operating economics. Our revolutionary geared fan architecture is the foundation for more sustainable aviation technologies in the decades ahead, and the GTF Advantage engine is the next step in that journey."
The GTF Advantage engine has one percent lower fuel consumption and CO2 emissions compared to the current model GTF engine, which entered service in January 2016 with Lufthansa. The new version has a four percent higher takeoff thrust at sea level and could enable a longer range and higher payload. This makes it the standard spec for the A321XLR, which Airbus hopes to certify in early 2024. In addition, P&W says that the engine will offer an increase of up to eight percent takeoff thrust at higher altitudes. The Advantage will be intermixable and interchangeable with the current GTF engine to ensure maximum operational flexibility.
Pratt & Whitney claims the GTF engine with Collins Aerospace nacelle already has a sixteen to twenty percent lower fuel consumption and CO2 emissions compared to previous generation engines. Nitrogen oxide (NOx) emissions are up to fifty percent lower and the noise footprint by up to 75 percent. The GTF is certified for operation on fifty percent sustainable aviation fuels (SAF) and successfully demonstrated it can fly on 100 percent SAF. 
Fuel burn data
Based on the US DoT data (T2) we show the LEAP with marginally better fuel burn than the GTF on the A320neo family.  For the A321neo, the GTF has marginally better numbers – no doubt because of the long hauls flown by Hawaiian and JetBlue. This is clearly shown in the second table below.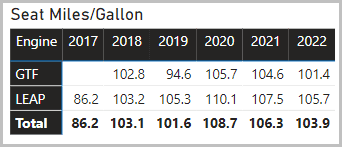 There is a caveat we need to mention – we discovered some data anomalies in the T2. The table below clearly shows where there are oddball numbers. It appears some of these are being fixed, but as yet there has not been a data update.  In the US, the A320neo is flown by ULCCs and this obviously impacts the metric we use given the dense LOPA.  To break down the numbers for both engines in US airline service, we offer the following table.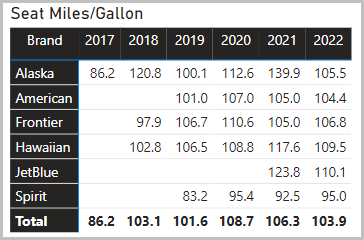 The imminent arrival of GTF-powered A321neos at Frontier is going to mess up our model.  We will not be able to differentiate these aircraft within Frontier's fleet.

Based on Pratt & Whitney's claim of one percent improved fuel burn, we would expect to see a seat mile/gallon of ~102.4. This still puts it behind the LEAP number we have. Almost certainly Pratt & Whitney will dispute these numbers.
The test flight over Southwest France today was 3 hours and 26 minutes.