It was hailed at last year's Paris Airshow as a clean sheet regional aircraft design particularly attractive to the US market, but the future of Mitsubishi's SpaceJet M100 70-seater is in doubt after Mitsubishi Heavy Industries has suspended development work on the type. MHI announced the decision on May 11 at its FY19 results presentation.
Mitsubishi Aircraft Corporation and MHI's aviation and defense & space segments reported a Yen -208.7 billion loss compared to -37.4 billion in 2018. This includes Yen 122.4 billion in impairment costs of previously capitalized assets on the SpaceJet plus Yen 140.9 billion on development costs incurred on FY19. The total loss for the SpaceJet program was Yen -29.5 billion. MHI also deferred tax assets on the program worth Yen 233.1 billion.
Revenues for the Aviation segment were Yen 704.9 billion compared to 677.5 billion the previous year. This includes production for Boeing as Mitsubishi delivered segments for 166 787s (2018: 148) and 54 777/777X (48). This is about to change as Boeing has announced rate cuts for both widebody programs following the impact of Covid-19 on long-haul traffic.
More losses expected this year
With the airline industry to enter a prolonged crisis, Mitsubishi has reviewed its SpaceJet program that is expected to produce another Yen -110 to -130 billion loss in FY20 amidst 'ballooning investment.'
Capex for the M90 will be reduced to an 'appropriate budget' of Yen 60 billion. The type was supposed to be busy on its final certification flight test schedule but Covid-19 has all changed this. Flight Test Vehicle 10 is still in Nagoya instead of in Moses Lake, resulting in delays in the certification program. First delivery of the M90 to All Nippon Airways has already slipped from this year to FY21 or even beyond.
And now work on the M100 is put on hold as Mitsubishi continues a detailed review of the SpaceJet schedule in view of the severe market conditions. The modified version of the original MRJ70 was set to be ready in 2023 but it is obvious from Mitsubishi's wording that in the current 'challenging financial headwinds' it is unwilling to invest more in the SpaceJet program.
It is too early to tell what this all means for the future of the SpaceJet program. But last year, Mitsubishi made it clear that if it wanted to succeed in the regional market, Mitsubishi would have no option but to develop the M100. With just the M90 available, the Japanese seem unable to successfully exploit their three-fold strategy that consists of developing global presence, building strategic partnerships, and developing products and services.
The question is too: can Mitsubishi still go it alone? Even with the integration of Bombardier's CRJ-program from June, Mitsubishi is still a midget in the airliner market. It still has a long way to go before it gains trust and acceptance within the airline industry, something reflected in its order portfolio. So when Mitsubishi speaks of a 'detailed review' of its activities, rest assured all options will be on the table.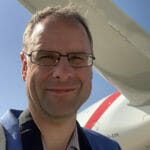 Active as a journalist since 1987, with a background in newspapers, magazines, and a regional news station, Richard has been covering commercial aviation on a freelance basis since late 2016.
Richard is contributing to AirInsight since December 2018. He also writes for Airliner World, Aviation News, Piloot & Vliegtuig, and Luchtvaartnieuws Magazine. Twitter: @rschuur_aero.