Boeing provided an update on their ecoDemonstrator program.  The program started in 2012 using an American Airline 737-800.  Since then they have utilized several other models: 2014 was the 787, 2015 was the 757; 2016 an Embraer E-170; 2018 used a FedEx 777F, 2019 used the Boeing company's 777-200, in 2020 they used Etihad's 787-10 and this year they are using an Alaska Airlines MAX9. Boeing has used eight aircraft on 195 projects associated with this program.
The Alaska MAX9 has several things happening as the chart below illustrates.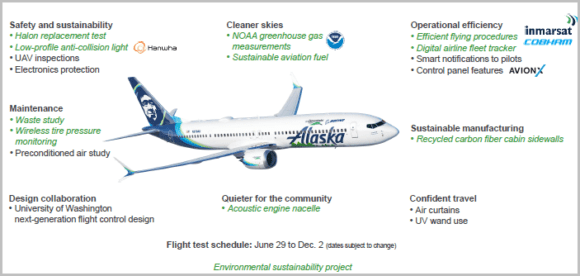 An important part of the MAX9 tests includes measuring atmosphere emissions. Boeing says the tests are focused as follows:
The National Oceanic and Atmospheric Administration (NOAA) measures greenhouse gas levels in the atmosphere to help improve climate modeling and long-term forecasting.

ecoDemonstrator testing is focused on an optimal air sampling strategy to minimize equipment installation cost and effect on aircraft operations while maximizing measurement quality.

Ultimately, the greenhouse gas measurement equipment will be installed on various commercial airplanes to gather data for NOAA
There is also a program to make engines even quieter.  As the chart illustrates, Boeing is adding materials to the nacelle.  Boeing explained that: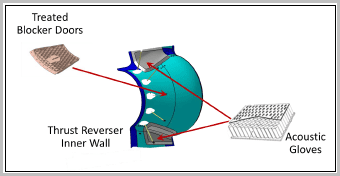 The right engine nacelle has been modified to help make commercial airplanes quieter. Advanced acoustic liners and other treatments were made to the thrust reverser, which could be implemented on current nacelles. These refinements will also help address the different noise footprint of next-generation ultra-high bypass engines and compact nacelles, which will be shorter and have larger diameter fans than today's models.
There is also a project to reduce the effects on the ozone layer. 
International environmental and aviation regulations have imposed cutoff dates for using Halon1301 —the standard agent for extinguishing airplane engine fires due to its ozone-depleting properties.

The industry has identified a replacement, CF3I, made by Meggitt PLC that offers the same extinguishing capability and significantly reduces effects on the ozone layer.

CF3I discharge performance is being validated with a ground test in order to complete its certification.
Something that is very important as commercial aviation moves into carbon fiber – how does one recycle this material? Boeing has a project focused on this as well.
Carbon fiber recovered from Boeing composite airplane manufacturing has found new life in cabin sidewall panels.

Acoustic testing is being conducted to ensure the panels made from this material meet performance requirements, including noise and weight reduction.

Recycled panels are intended for future airplane designs, which will reduce waste going to landfills.
One of the items in the briefing that attracted a lot of attention is fuel.  While Airbus has decided to focus on hydrogen, Boeing decided to focus on sustainable fuel as something they can implement faster.
All ecoDemonstrator test flights are powered by a blend of sustainable and regular jet fuel.
This sustainable fuel is produced from agricultural waste by World Energy in Paramount, California.
The sustainable portion of this blended fuel lowers CO2 emissions by more than 75% over the fuel's life cycle.  Boeing plans to have its entire commercial line be able to operate on SAF by the end of the decade.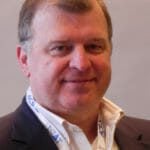 Co-Founder AirInsight. My previous life includes stints at Shell South Africa, CIC Research, and PA Consulting. Got bitten by the aviation bug and ended up an Avgeek. Then the data bug got me, making me a curious Avgeek seeking data-driven logic. Also, I appreciate conversations with smart people from whom I learn so much. Summary: I am very fortunate to work with and converse with great people.