August 10, 2022, will go into aviation history not as the most significant day, but as a very important one to Boeing. The airframer has delivered the first 787 since the production pause in May 2021, and will – hopefully- be able to close the book on one of the worst crises it suffered in recent years. Hurray, Boeing 787 deliveries are going again!
American Airlines took delivery of the 787-8 in North Charleston, the first of two it expects this month, with six more to join the airline until the end of the year. MSN66000 (registration N880BJ) is the 47th Dreamliner for American, with 42 more on order with Boeing and lessors until 2027. The aircraft, which has been leased from BOC Aviation, was assembled in April/May 2021 and made its first flight on June 12, 2021. This was five days before the last 787 was actually delivered, a -9 to Turkish Airlines, despite the FAA forcing Boeing to suspend deliveries a few weeks earlier. Delivery of the Dreamliner to Turkish on June 17 was approved as inspections confirmed that there were no quality issues on this frame.
The restart of deliveries was already anticipated a couple of weeks ago when news agencies reported on it as well as AirInsight. Sources told Bloomberg that the first 787 would be delivered on August 8 but this slipped by two days until today. However, the FAA did confirm on the 8th that it had approved the extensive production review and changes that should prevent production quality issues from happening again.
AirInsight asked Boeing to specify what lessons have been learned and what changes made to the production of the Dreamliner, but the airframer is unwilling to share these (very technical) details with outsiders. Expect changes to include technical ones, with a close look at tolerances and fault rates of automated processes in final assembly, as well as a further step in final inspection. For the foreseeable future, the FAA will have the final call when a 787 is ready for delivery. The agency will individually approve all rework on the 119 aircraft that are still in inventory, of which a sizeable number (estimated to be some 40-45 percent) need rework done in various areas of the fuselage, doors, and nose.
The remainder of the 787 inventory should be about ready for final inspection and delivery to Boeing's long list of Dreamliner customers that have been patiently and eagerly awaiting today's delivery restart to happen: American, Lufthansa, Vistara, Qatar Airways, Gulf Air, Korean Air, British Airways, Air New Zealand, ANA, Turkish Airlines, Arik Air, Bamboo, Etihad, Emirates, KLM, Saudia, EVA Air, Jet Airways, Hawaiian, Aeromexico, Oman Air, Ethiopian, LATAM, Okay Airways, Air Europa, Air Astana, WestJet, Vietnam Airlines, Shanghai Airlines, TUI, MIAT, United Airlines, Qantas, Royal Jordanian, The Republic of Iraq, Tanzania, Singapore Airlines, Scoot, plus various lessors like AerCap, Air Lease Corporation, Avolon, BOC Aviation. In Boeing's latest update on unfilled gross orders from August 9, there are 473 Dreamliners still to be delivered, although this number includes 'questionable' orders that might not materialize. Therefore, Boeing uses 400 in its backlog.
If reports are correct, the FAA still has to decide if it will require additional inspections of all 1.006 Dreamliners that have been delivered since the first one to ANA ten years ago. This would be a huge effort that will keep airlines, MRO companies, and Boeing busy for many years to come, either with dedicated checks or those included in regular service programs.
Update September 14: Boeing contractually delivered two 787-8s to American in August, but they have not been shown in its deliveries list for the month. The airframer says that the aircraft have been delivered to American for onward customization and will only show as 'delivered' once this work has been completed. The August list showed one 787-9 delivered to Lufthansa and one 787-10 to KLM.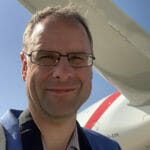 Active as a journalist since 1987, with a background in newspapers, magazines, and a regional news station, Richard has been covering commercial aviation on a freelance basis since late 2016.
Richard is contributing to AirInsight since December 2018. He also writes for Airliner World, Aviation News, Piloot & Vliegtuig, and Luchtvaartnieuws Magazine. Twitter: @rschuur_aero.