Of Europe's Big 4 airlines' groups, International Airlines Group (IAG) has delivered the best net-result in HY1. It reported a net profit after tax but before exceptional items of EUR 806 million compared to 803 million last year or 806 million versus 1.408 billion including exceptional items. By comparison, Lufthansa Group and Air France-KLM presented net losses in HY1 and Ryanair a 21 percent lower net result while easyjet's HY1 from September-March was also loss-making.
Willie Walsh presented his results on August 2. HY1 total revenues increased 7.9 percent to EUR 12.089 billion, but expenditures were up 10.3 percent to EUR 10.994 billion. Fuel was a 'significant headwind' at +20.5 percent or EUR 500 million, resulting in an operating profit before exceptional items of EUR 1.095 billion compared to last year's EUR 1.240 (or 1.860 billion after special items).
British Airways' net profit before exceptional items was EUR 873 million (868 million statutory last year), Iberia 109 million (102), Aer Lingus 78 million (104) and Vueling 5 million (-11 million). LEVEL's results are included within Iberia's and Vueling's results.
Q2 sees improvements
Like at Air France-KLM, IAG's airlines British Airways, Vueling, and to a lesser extent Iberia and Aer Lingus faired better during Q2. On 9.5 percent higher revenues to EUR 6.771 billion but 10 percent higher costs to 5.811 billion the net operating profit was EUR 960 million versus 900 million last year. Walsh was happy with the increase in passenger unit revenues of 1.1 percent for the quarter that included Easter, while unit costs were up 1.9 percent. The biggest growth in revenues was on domestic (+10.3 percent) while Latin America and the Caribbean – the area where LEVEL grew most at 15.7 percent – remains weak with -11.5 percent lower revenues.
Through the opening of new routes and adding frequencies capacity grew in HY1 by on average 5.7 percent year-on-year for all IAG-brands. This was supposed to be 5.3 percent for HY2, but Walsh said average growth for FY2019 will be 5 percent in line with previous announcements. The biggest contribution will come from LEVEL at 89 percent which reflects a further expansion of the airline at Barcelona, Paris, Vienna, and Amsterdam. Iberia's growth will be 8.0 percent, Aer Lingus 4.7, Vueling 3.9 and British Airways 2.0 percent.
IAG's guidance for 2019 is unchanged with a net operating profit before exceptional items in line with that of 2018, while passenger unit revenues are expected to improve further. This doesn't take into any effects of the potential strike from BA's pilots which the airline and BALPA-union are still trying to avert.
With Brexit now likely to happen during Q4, Walsh stressed that while IAG is 47.5 percent non-EU-owned it is a Spanish-based company with its airlines operating under EU and UK AOCs. He counts on both the EU and the UK to reach a comprehensive air transport agreement that won't restrict any of the IAG airlines. With strong bookings ahead, Walsh sees nothing that will affect British Airways profitability post-Brexit.
BA hopes to get first MAX in 2022
On fleet plans Walsh said that while the Letter of Intent with Boeing for 200 MAX 8s and 10s for British Airways needs confirmation, but talks are 'very constructive' and he hopes to receive the first aircraft a year early in 2022. For 2023 128 deliveries are included in the previous short-haul fleet plan. The first 15 Boeing 777-9s of 18 on firm order for BA are up for delivery in 2022-2023. Also expected in 2023 are 7 Airbus A321XLRs of 14 ordered for Iberia and Aer Lingus. Walsh hopes Airbus by then will have got its production right, calling the current delays on A321neo-deliveries 'unacceptable' and having caused BA to postpone the opening of new routes to next year.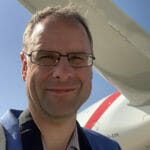 Active as a journalist since 1987, with a background in newspapers, magazines, and a regional news station, Richard has been covering commercial aviation on a freelance basis since late 2016.
Richard is contributing to AirInsight since December 2018. He also writes for Airliner World, Aviation News, Piloot & Vliegtuig, and Luchtvaartnieuws Magazine. Twitter: @rschuur_aero.