Trujet has temporarily grounded operations
Regional carrier Trujet, which is based in Hyderabad, India, has temporarily grounded operations as of February 16, 2022. Ostensibly, this is on the back of the financial troubles of the airline.
Trujet began operations in July 2015 and operated 7 ATR turboprops at the height of its operations. However, many of its aircraft were taken away by the lessors over time. Just a couple of days ago, one of Trujet's ATRs was leased away from them and to recently launched, Flybig, with the paint being done in India itself. Initial reports also are emerging that the CEO, CCO, and CFO at the airline have also resigned.
Trujet seeks to deny this. In a statement issued by the airline, the airline claimed to be getting set for a new tranche of investments into the airline in the next few days, to the tune of USD 25 million, and states that the new investor would like to bring in their own management. In the meantime, Trujet stated they "will appoint a new CEO in March and has been awaiting investments The operations are temporarily hampered because of various administrative and technical reasons and expects to resume its operations at short notice."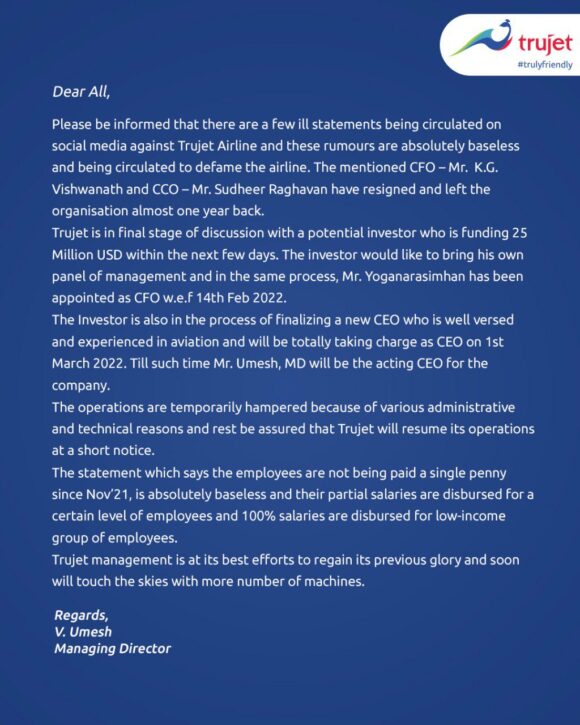 As per data placed in the Parliament of India, TruJet has recorded an operating loss of INR 143 crore ($19 million) in the financial year 20-21, while in the financial year 19-20 the loss was INR 10.1 crores ($1.35 million) and in the financial year 18-19, it was INR 17.56 crores ($2.33 million). Clearly, the high losses are on the back of the pandemic and the associated groundings.
Trujet was a big player in the UDAN Regional Connectivity Scheme, whereby the Government paid a subsidy and offered exclusivity on routes to the lowest bidder for the first three years in exchange for them operating flights on the route. Airports such as Salem, Bidar, and Kadapa were receiving only TruJet flights, and it will be a big blow for them.
India is considered to be the graveyard of airlines, and many airlines have perished in India before this. Jet Airways, which grounded in 2019, is still trying to get back in the air.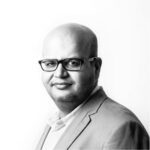 Ajay Awtaney is the Founder and Editor of Live From A Lounge (LFAL), a pioneering digital platform renowned for publishing news and views about aviation, hotels, passenger experience, loyalty programs, travel trends and frequent travel tips for the Global Indian. He is considered the Indian authority on business travel, luxury travel, frequent flyer miles, loyalty credit cards and travel for Indians around the globe.