Over the years Mitsubishi Aircraft Corporation has announced numerous personnel changes within its MRJ regional jet aircraft program. This week their 'update to the corporate organization' includes a significant change: Head of Program Management Division and Program Director Alex Bellamy is moving to a different position.
From April 1, Bellamy will take on a new position that focuses on MAC's global strategy, "with responsibilities including product development and customer support, and future business development".
This move can be interpreted in two ways: a promotion or demotion. Bellamy joined MAC exactly three years ago from Bombardier to become Flight Test Program Manager. He was tasked of leading the MRJ90 test program, five months after the first Flight Test Aircraft did her maiden flight in Nagoya.
Not long after his arrival and having reviewed the program, Bellamy discovered the infamous design flaws in the avionics bay and wiring harnass that forced Mitsubishi to do a major re-design and delay deliveries by two years until 2020.
While the four test aircraft racked up flight hours at Moses Lake in 2017 and 2018, Bellamy's team decided to build two extra aircraft that, according to the final specifications, will be used for the certification phase that is to begin soon.
With this job done, it is logical that Bellamy moves on to concentrate on different matters. Which is preparing the MRJ for commercial services. Bellamy's position as Head of Program Management Division will be taken over by Hiroyuki Tatsuoka, who will also be responsible for completing the development phase and entry into service with ANA in mid-2020.
But once passengers step on board the 90-seater and airlines start operating the aircraft, customer support should be on hand to deliver assistance. As such, it seems Alex Bellamy's new position will concentrate on this most important role, which in March 2016 was given to ex-Rolls-Royce and Delta Airlines' Peter Lund as Deputy Head for the Customer Support Division. He presented his plans at the 2016 Farnborough Air Show, but his tenure in Japan lasted only a few months.
Bellamy's role on future business development seems to include any new initiatives coming out of Nagoya and go beyond the MRJ70, MRJ90's little sister that currently is developed as a clean sheet airliner for the US market to circumvent the yet unresolved scope clause issue.
Hiroyuki Tatsuoka will not only become the new head of PMD but will also take on the position of senior vice president on the MAC board to strengthen the corporate governance in program management and engineering. Keisuke Masutani will join him as SVP and Director Business Department. Hisakazu Mitzutani will continue as MAC's president, with overall responsibility for the program. Three previous managers will step down.
The first four MRJ90 test aircraft are all still at Moses Lake and over the past months have been modified to the latest standards, with some having been airborne again in recent weeks. In Nagoya, the new dedicated test aircraft 10007 and 10010 are nearing completion. With MAC receiving Type Inspection Authorization from the Japanese JCAB in December, the certification phase is imminent. The US government shutdown delayed some of the communications with the FAA but is on-track again.
The order book for the MRJ90 still stands at 213 aircraft plus 174 options and purchase rights.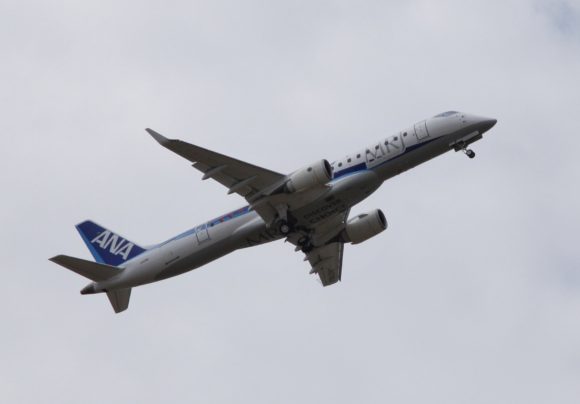 MRJ90 FTA-3 showing her flying skills at the 2018 Farnborough Air Show. (Richard Schuurman)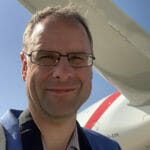 Active as a journalist since 1987, with a background in newspapers, magazines, and a regional news station, Richard has been covering commercial aviation on a freelance basis since late 2016.
Richard is contributing to AirInsight since December 2018. He also writes for Airliner World, Aviation News, Piloot & Vliegtuig, and Luchtvaartnieuws Magazine. Twitter: @rschuur_aero.