UK regional carrier Flybe has taken another step towards relaunching services early next year by taking delivery of its first aircraft. Lessor Nordic Aviation Capital (NAC) delivered the first of twelve De Havilland Canada Dash 8-400s to the airline's new base at Birmingham airport on November 26. New Flybe another step closer towards relaunch.
Flybe announced Birmingham as its new headquarters and crew base on November 17, expecting to create 200 direct jobs in the city and the West Midlands over the next three years. This depends on the speed at which the carrier will build its regional network across the UK and European network.
The new Flybe is built on the name of its predecessor that voluntarily ceased operations on March 5, 2020. The airline had been struggling pre-pandemic and ended the 2019-2020 financial year with a £215 million loss. Following the shutdown, unsecured creditors filed claims worth £317 million. The airline used to operate in 81 airports in the UK and European Union, offering crucial regional connections to underserved regions. It carried some eight million passengers per year. Regional connectivity in the UK was dealt another blow last July when Stobart Air went into liquidation and stopped all Aer Lingus Regional operations.
After months of legal procedures, the administrators in September 2020 successfully secured Flybe's operating license and Airline Operating Certificate (AOC) from the CAA, paving the way for negotiations with investors. In October last year, certain assets and Flybe jobs were sold to Thyme Opco, a company wholly owned by Flybe's previous shareholder Cyrus Capital. The transaction was completed last April and Thyme Opco was renamed Flybe Limited. The plan was then to resume services by the summer of this year, but this was dependent on vaccinations and the lifting of travel restrictions.
The latest plan announced earlier in November calls for a re-start next Spring. While the old Flybe was located in Exeter, the new headquarters in Birmingham should offer many advantages, not the least the network to over 150 destinations worldwide. This should benefit Flybe and Birmingham Airport as the carrier could develop into an important feeder, generating not only traffic for itself but also for other airlines.
Smaller fleet build around the Dash 8-400
In 2019, Cyrus Capital together with Virgin Atlantic and Connect Air had advanced plans to develop Flybe into the regional feeder airline of Virgin. These plans are now a thing of the past as the new Flybe aims to start as a much smaller airline than its predecessor. Instead of some 65 Dash 8s and Embraer E170s and E190s, Flybe will relaunch with twelve Dash 8-400s, "a fast turboprop-powered aircraft that can complete short journeys almost as quickly as a regional jet, but with lower CO2 emissions", as it said in a statement.
This news was welcomed by De Havilland Canada as the return of Flybe gets at least a dozen aircraft back in service that has been in storage for over a year. "De Havilland Canada is delighted to welcome the new Flybe Ltd to the Dash 8-400 family of operators, and to see the return of highly efficient regional air service to the communities it will serve," said Philippe Poutissou, Vice President Sales and Marketing in a media statement. Danish lessor Nordic Aviation Capital has a managed fleet of ninety Dash 8s. Some former Flybe 8-400s have been converted to firefighters.
The UK regional under new CEO Dave Pflieger expects to share further details about its network and exact launch date. According to its LinkedIn page, the workforce is now between 51 and 200 but Flybe isn't hiring at this moment.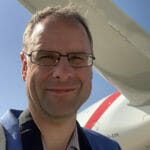 Active as a journalist since 1987, with a background in newspapers, magazines, and a regional news station, Richard has been covering commercial aviation on a freelance basis since late 2016.
Richard is contributing to AirInsight since December 2018. He also writes for Airliner World, Aviation News, Piloot & Vliegtuig, and Luchtvaartnieuws Magazine. Twitter: @rschuur_aero.