The reinstatement in its financial results of previously excluded pre-delivery payments to Boeing for the MAX 8 has helped Norwegian to get a net profit in Q2 and HY1. Without it, the low-cost airline would have produced a net loss. Norwegian said today that it is also considering the MAX 10 in its future plans. Norwegian benefits from Boeing payments and considers MAX 10.
The pre-delivery payments of NOK 2.099 billion are related to the order for fifty Boeing MAX 8s plus thirty options that Norwegian confirmed in June. The airline had a previous order for 92 MAX 8s, but following the outbreak of the Covid crisis in 2020 this order was canceled and it took a NOK 4.1 billion impairment on pre-delivery payments. This has now been partly reversed, with the PDPs being reinstated in the Q2 results.
The effect is a NOK 1.359 billion operating profit for Q2 compared to a NOK-849 million loss for the same quarter last year. The net profit is NOK 1.248 billion versus NOK -1.031 billion in 2021. For HY1, the reinstatement resulted in an operating profit of NOK 509.9 million (2021: NOK -2.228 billion) and a net profit of NOK 214.7 million (NOK 1.590 billion). A better indication of Norwegian's true performance is EBITDAR, which was NOK -214.2 million in Q2 (NOK -538.3 million) and NOK -682.1 million in HY1 (NOK -1.651 billion).
Revenues improved significantly year on year as travel restrictions disappeared during the quarter. They were NOK 4.869 billion in Q2 compared to NOK 335.5 million in the same period of 2021, of NOK 6.784 billion versus NOK 590.8 million in HY1. Norwegian rapidly increased capacity for the summer, which translated into the doubling of passengers carried from March (940.000) to June (1.9 million) and reached 2.2 million in July. In Q2, Norwegian carried 4.9 million passengers in total. This resulted in a marked increase in yields and unit revenues compared to the weak first quarter.
"It has been a fantastic summer", CEO Geir Karlsen said. It could have been even better, hadn't there been a ten-day strike from aircraft technicians that ended on June 28 through forced arbitration. Yet, despite the strike and with leased aircraft getting in slower than planned, Norwegian had "very few cancelations", Karlsen said. The carrier hasn't been short on staff either, with some 100-150 new employees in various stages of training. The problem is that not all were available, as procedural delays meant that many lacked the required IDs and documents in time to allow them to fly. This forced Norwegian to wet-lease in extra aircraft and crew.
Ramping up capacity when fuel prices reached record-highs have hit Norwegian big time, Karlsen said. The fuel bill for HY1 was NOK 2.972 billion compared to NOK 142.5 million. High prices will have a partly negative effect on the full year results. Like Lufthansa, Karlsen is particularly concerned about the jet crack or the price difference between jet fuel and crude oil. Total expenses increased to NOK 7.467 billion from NOK 2.242 billion.
Very good price for the MAX 8s
Norwegian ended HY1 with 65 Boeing 737-800s, including some wet-leased capacity. The fleet will grow to seventy before the end of 2022 and to 85 by the summer of 2023 as fifteen leased MAX 8s via AerCap come in. The newly ordered MAX 8s will not arrive until 2025 through 2028. Geir Karlsen said that Norwegian had negotiated a very competitive price for the aircraft: "We feel we have done a really good agreement with Boeing. The prices we are paying for the MAXs are more than ten percent lower than what we had back (on order) in 2018/2019. And more importantly, we have done a top of notch protection against inflation. (…) The thirty options we have from 2028 come at even lower prices."
With the order, Norwegian and Boeing ended their dispute on pre-delivery payments, resulting in the $215 million/NOK 2.099 billion reinstatements. This has been used in July to pay NOK 800 million in PDPs on the first batch of new MAX 8s. Norwegian has the vast majority of the equity for the fifty aircraft in place but is in discussion with investors to finance them, mainly through sale and leasebacks.
Karlsen said that his airline also has the option to take the MAX 10. "We haven't made a decision and are considering it. We will have to see how the market develops in the coming years, but those aircraft will be attractive for a company like Norwegian."
Strong bookings for this autumn
Although bookings are still late, they look strong for September and October. Corporate travelers are also coming back to Norwegian, although their share remains comparatively low. Karlsen said that he wants to work on that. Coming winter, the airline is flying 232 routes across Europe, but it is cutting capacity of the number of seats on sale by 25 percent as demand is expected to be lower. The airline also wants to build in extra redundancy to make sure it is able to operate its schedule. Karlsen said that the airline has made agreements with staff to fly fewer hours, while the power-by-the-hour agreements with lessors for nineteen aircraft give it flexibility within the fleet.
Norwegian has high expectations of the close cooperation with regional airline Wideroe that it announced as a Letter of Intent in July. Another agreement was signed with low-cost long-haul Norse Atlantic, which is a kind of remake of Norwegian's own long-haul operations that it stopped in 2021. Both partnerships should generate more traffic for all three airlines. The partnership with Norse comes into effect from September when connecting flights can be purchased.
Norwegian ended June with NOK 7.5 billion in cash and cash equivalents. Net-interest-bearing debt was NOK 2.7 billion, up NOK 561 million as it took on more lease liabilities.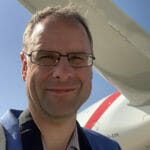 Active as a journalist since 1987, with a background in newspapers, magazines, and a regional news station, Richard has been covering commercial aviation on a freelance basis since late 2016.
Richard is contributing to AirInsight since December 2018. He also writes for Airliner World, Aviation News, Piloot & Vliegtuig, and Luchtvaartnieuws Magazine. Twitter: @rschuur_aero.